Today. Search Engine indexing is a challenging part on the web.
In the present online age, people are more to be important about getting their blog searchable on search engines to engage more valuable visitors.
Many professional developers have already started to implement advanced techniques that help their website to index faster in search engines.
If you're looking for some tips or techniques that your site got index fast in search engines.
Then here in this article, I'm going to help you get your site in search engine within shot time.
I will explain here a few tips and technique you must flow

How to Easily Index your website faster in Google Search
To check if your site is indexed in Google or any other search engine or not.
Go to Google.com and type site:domain.comReplace domain.com with actual domain name (ex: thedevline.com) and check if site is indexed or not.
If there are no results, it's time to work on following a given step and get your site in Google.
Here is a screenshot for the above query: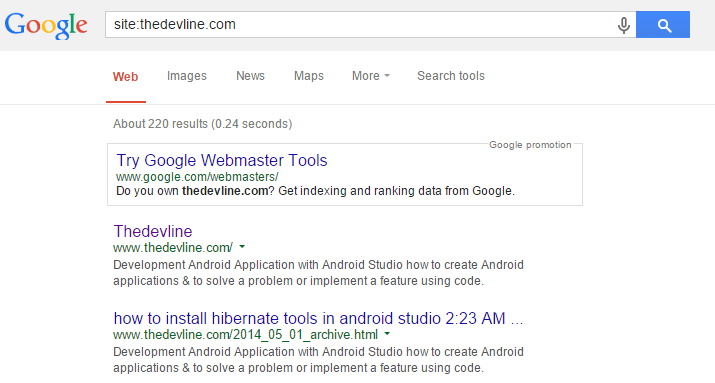 Submit sitemap to Google
What is a sitemap? A sitemap is the list of posts or pages that you've published on your site which helps search engine crawlers to index your posts according to its published dates.
By submitting a sitemap to Google, Yahoo, Bing, AOL and etc. you're inviting them to index your blog faster and efficiently.

If you haven't submit your sitemap to Google then do it today by going to the webmaster tool.
Commenting on Dofollow
After publishing your new posts find some column enabled websites and comment on those websites.
column enabled websites to take your latest post as a backlink and hence your post gets backlinks and also get indexed by google.
if those column websites are updated
Sharing on Social Communities
This is another method which is very effective for new blog owners. Facebook or even Google+ has active groups and communities that allow you to share your posts URL's on them.
When you're sharing those URLs on those groups, you are actually sending a social signal to your site.
This means the more you share, the more social signals it will send back to your site.
After publishing your new post, log on to the stumbleupon and share your post in SEO Category will get instantly more than 100 page views.it is practically proved. and even I do it for my posts.
Reason are Google re index stumbleupon in minutes because thousands of posts are added into stumbleupon.
Guest posting
If your budget is high or you have patience, prepare 5-10 quality posts and ask your fellow blogger on the same niche to publish on their blog as a guest author and enjoy the backlink.
If you doing it for a client, buy 5-10 articles and do the same.
Along with backlink it will also help to get some traffic for your blog. Try to guest post on popular , high page rank and regularly updated relevant website.
Ping Your Posts
Ping service is another working way to alarm search engines to index your newly published posts.
However, Blogger as well as WordPress automatically sends pings to search engines, but doing it efficiently by doing it yourself won't hurt much.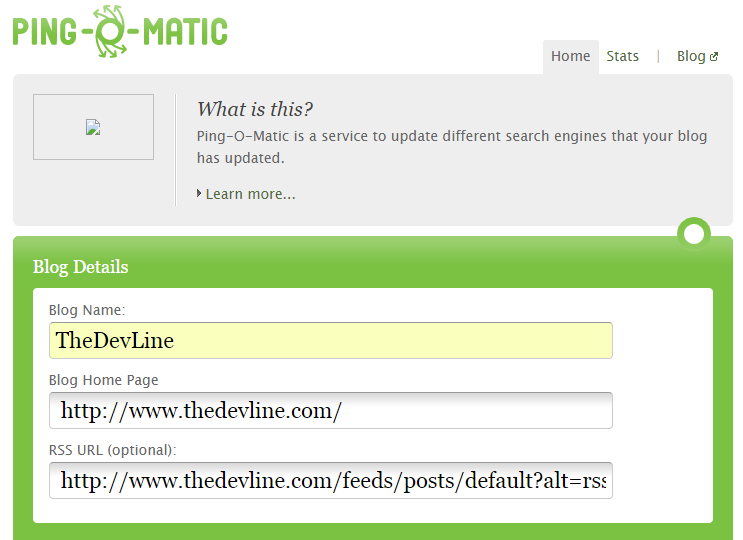 Popular website Stats program
How many of you know about Websites which keep stats of domain or show the price and value of any domain. This is a nice way to get your site indexed.
Though submitting to multiple stats site is not easy and we can use free tools like IMT website submitter.
All you need to add link and anchor text and IMT submitter will submit your site to sites like who.is, "website stats" and other such sites.

Here is the link : IMT Website submitter.
Submission to Blog networks
One more importance think. most of the SEO expert think to submit a blog to every blog network & the directory is good for SEO.
But time will change this past think,you should not submit your blog to every blog network or blog directories.
The better way is submit your blog to few selected blog network and directories.you must be avoid link exchange blog directories!. Here is an good example Blogcatalog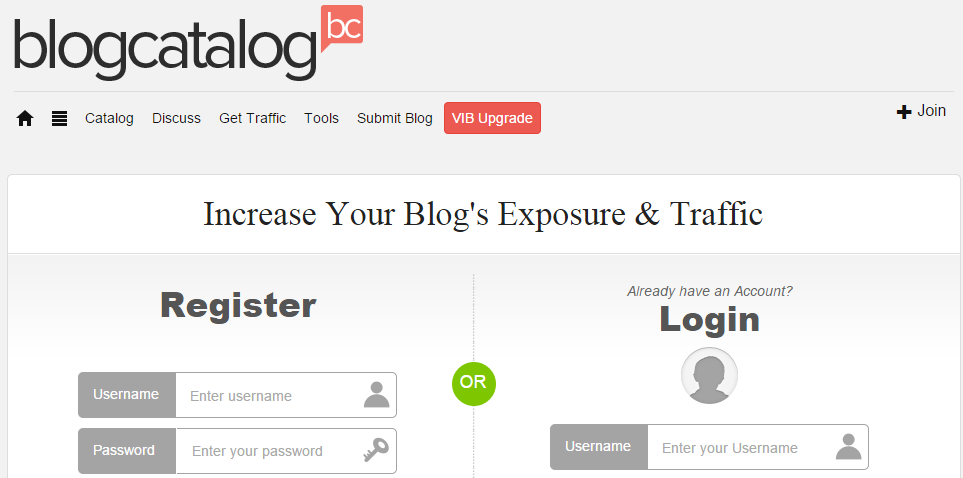 Conclusion
Hope this article has helped you in learning some of the unrelieved secrets of getting your site indexed faster in Google search engine.
I also suggest every post on your blog must share Google+ and add your website link or share your link publicly.
This will also be very helpful as I see when I will working, Reason as Google started following Google+ links really fast.
If you think you an idea please share your experience with here, after applying these tips by commenting your opinions below.
Affiliate Disclaimer : As an Amazon Associate I earn from qualifying purchases.