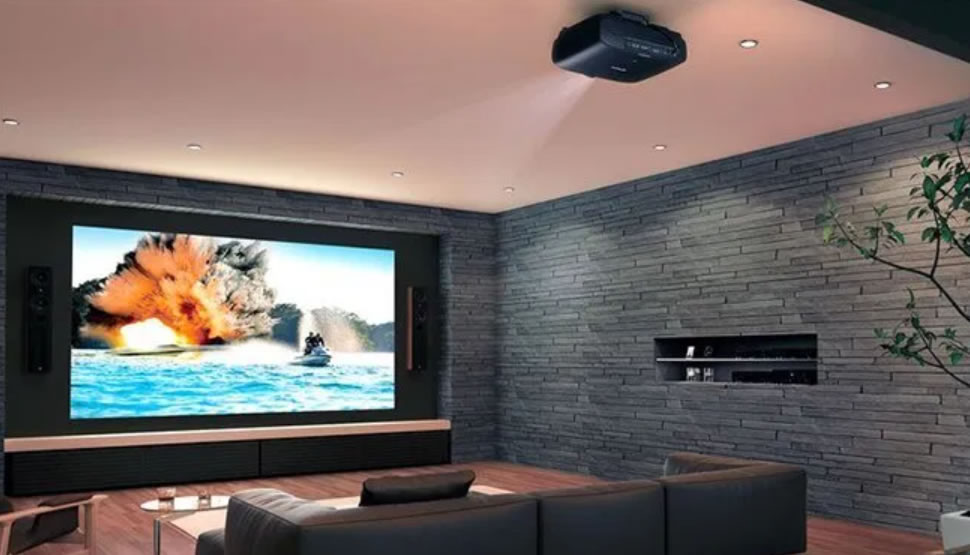 If you are like many other people who are thinking about buying a projector for your home or office, you may want to review the information provided in this article for the projector buying guide. The information will give you an overview of the things that you must think about what to look for when buying a projector.
First, determine how and for what purpose you want to use your projector. Thus, you can refine your search using selection criteria adapted to the projection environment and the field of application. As usual, we separate projectors for private use, for example, in your living room, or professional meeting room.
To help you buying guide for buying a projector adapted to your needs, we give you the key factors to think about when buying a projector.
The Essential part Of the projector
Resolution
It is recommended for a home theater projector to opt for a full HD 1920 x 1080 pixel projector. Choosing a 4K / UHD (Ultra High Definition) model is including an option, but the result is still relatively low.
Brightness
The brighter a projector, the less the prediction quality will depend on the room light. For use in a very dark room, a brightness of around 2000 lumens is enough.
Distance
Depending on the projectors (long or short focal length), the throw distance from the screen will be greater or less. The projection throw ratio allows you to know the projector's position according to the size of the screen (and vice versa).
The projector throw distance will vary depending on which type of projector you are using, but typically ranges from 3-10 feet for home theater projectors and 10-25 feet for commercial projectors.
Quality
More subjective, the appreciation of the projected image's quality depends on many factors (high resolution, contrast ratio, colorimetric rendering, etc.). to read the tests and customer reviews to get an idea.
Projector Buying Guide All Key Points
To find the projector that best suits your needs, you will find a list of the main selection below
Types of projectors
To find the multitude of models available, projectors feature can be classified into different categories according to their use (home cinema or overhead projectors for presentations in office) or their characteristics (size, resolution, length, etc.).
Home Theater / Office
The first question to ask yourself is the use that you will have of your projector. There are two main types: those for professional service and those for home theater use. However, the border between these two ranges is not clearly defined, and many models will have ready to use.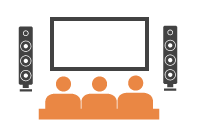 Home Theater
Presentations, graphics, …
4: 3 or 16: 9 format
Compact, bright, functional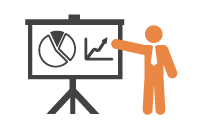 Professional
Movies, video games,
16: 9 aspect ratio, HD resolution
Image quality, silent, 3D
Business-type projectors like practicality (high brightness, wireless connection, etc.) while home theater projector stands out more for the image's quality (contrast, colors, etc.).
Specific Projectors
Depending on your requirements and your budget, you can find the following categories:
Short throw projector. Ideal for small spaces or to enjoy a massive image without many perspectives.
Portable mini projector. These are the small size models to slip into a bag or suitcase. Rather intended for occasional use, they can be convenient on the go.
Wi-Fi mini projector. The most basic offer a mirror mode (mirroring the smartphone screen), while the most advanced include an operating system for any one.
4K projector: With 4x higher resolution than Full HD devices, the projected image is incredibly sharp. While UHD / 4K is sure to be the projectors are still relatively rare and expensive today.
Laser projector (4K or HD resolution). It is very bright but still expensive today. Laser projectors typically are becoming more democratic (the number of models available is still minimal).
The comparison will allow you to view all the models and filter them according to several criteria (resolution, brightness, brand, etc.).
Technical Guidelines
The technical features of a projector can help you order all the available products.

Several projectors are available around the market they have advantage or disadvantage (which tend to technical progress). Overall, there are three type of projector:
DLP Projectors: It is the most widespread technology (Benq, Optoma, Acer), with the best value. The image is very qualitative (contrast, color, sharpness), but some people can notice a rainbow effect.
3LCD (or tri-LCD): The per-square of Epson, the designer of this technology, free from the rainbow effect. Home cinema models with good picture quality are still relatively expensive.
LCOS: The must of home cinema, called SXRD or D-ILA according to the manufacturers. The quality is exceptional, but the price is accordingly (> 2000 USD).
Regarding the DLP / LCD projectors selection, the two technologies are very efficient today, and this is no longer the first model for choosing a projector.
LAMP Technology
Not to be confused with projector technologies (see above). There are several types of lamp:
UHP (mercury lamp): This is the lamp model used in most projectors, especially home cinema. They are bright, and their lifespan is between 3000 to 5000 hours.
LED: Allows to design compact, light, and silent models but less luminous. They are most often projectors for office use. Also, the service life of lamps is on average 5x longer than that of mercury lamps.
LASER: Technology of the future, but still expensive. Laser projectors can be very bright, and the lamp life is 5 to 10 times longer than conventional lamps.
Format & Resolution
Except for strictly office use, you will opt for a 16: 9 format. As for the native resolution, it is advisable to choose a Full HD 1920 x 1080 definition to enjoy movies and video games on the big screen fully. If your budget is limited, you can go down to 1280×720 with an honorable rendering.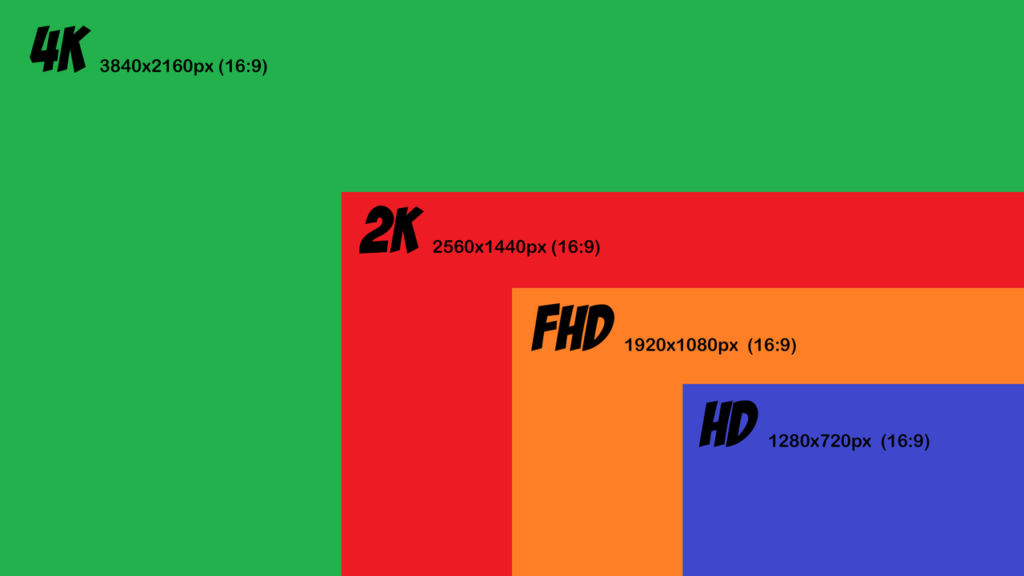 The UHD or Ultra HD (4K also called by abuse of language) develops gradually, but such resolution is still marginal: you will find relatively few 4K projectors, and although there are more films / UHD programs, the HD format remains the most widely used format.
Learn more about formats and resolutions
Brightness
The brightness of a projector is expressed in ANSI Lumens; it corresponds to its light output. The brighter the projector in the room, the brighter the projector will need to compensate for ambient light. For classic home cinema use, the brightest mode of 2000 lumens is generally sufficient for ambient light. They typically have a lower brightest mode of 1800 lumens and a wider zoom than projector types with built-in lenses.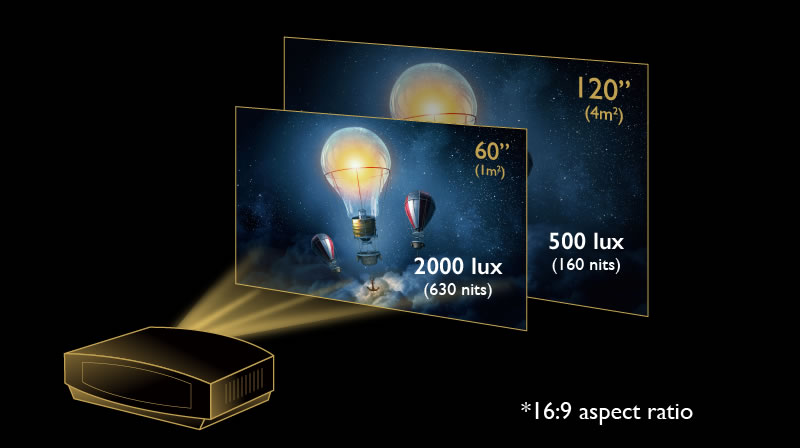 Often used during the day, office projectors sometimes need more brightness than home cinema models or big-screen gaming (where room lighting can be more controlled). Also, no matter how bright image the projector is, the darker the room, the better the picture.
CONTRAST
The contrast of an image is undoubtedly the essential element as regards the quality perceived by the spectator. However, measurements are highly dependent on ambient light conditions, and manufacturers' indications are not always representative.

Unfortunately, the measurement bases are different from one manufacturer to another (with or without dynamic iris, etc.), and it is difficult to compare the models with each other based only on the values ​​indicated. Product tests or user reviews will ultimately provide more information on image rendering (contrast and color).
TIPS: Choose a contrast of at least 5000: 1
HDR
The HDR (High Dynamic Range) is a technology with ultra HD and 4K. It makes it possible to obtain a superior projection quality partly thanks to better management of the image's high and low lights (more details in dark and light areas). There are different standards, the best known of which are Dolby Vision, HDR10, and HDR10 +.
NB: to benefit from it, you need a compatible projector and content (film, video, etc.) itself in HDR format.
Projector Installation
When choosing a projector, it is essential to think upstream about its installation concerning connection and placement (for the same projected image size, the distance between the screen and the projector will indeed be different depending on the models).
Placement and Projection Balance
The projection balance determines the relation between image size and the position of the projector. The balance between the distance and the screen width. Each projector generally has a projection ratio (mini and maxi), which indicates its placement possibilities.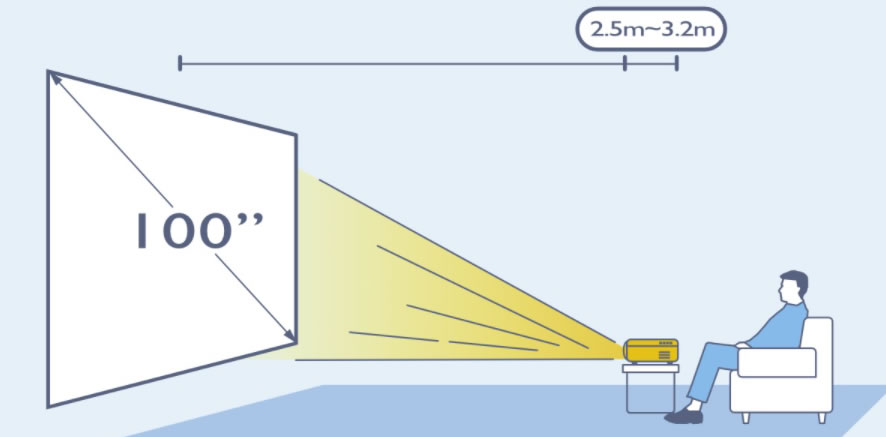 Projection balance less than 1: it is a short focal length. That is to say. We can place the projector very close to the screen.
It included in 1 and 2: the most frequent case. For a projection balance of 1.5, it will take a setback of 3 m for a screen 2 m wide.
Greater than 2: it is a long focal length. Will generally position the projector behind the viewer.
Choosing the right projection balance is essential to avoid unpleasant surprises during installation (small or large room, floor or ceiling mounting, big-screen gaming etc.). You can use our size/distance calculators to find out about the different possible arrangements.
HD ready resolution: Screen distance = Screen width x 1.8
Full HD resolution: Screen distance = Screen width x 1.5
4K resolution: Screen distance = Screen width 'screen x 1
Image Corrections / Adjustments
To help to position, projectors can (in addition to zooming) integrate large image correction systems, mostly if the projector and the screen are not aligned.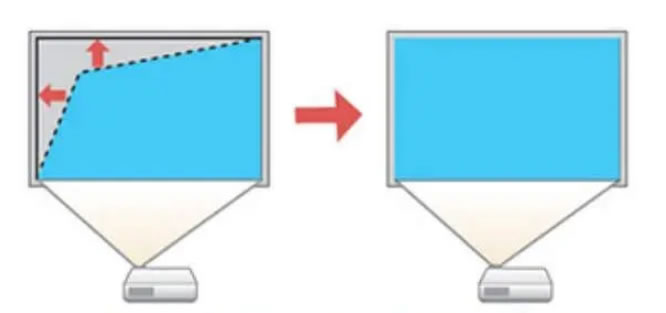 Zoom: allows you to change the image size (or move the projector, as needed). It is generally of low amplitude.
Lens Shift: this is an optical correction, that is to say, without altering the image's quality. The principle consists of shifting the image vertically or horizontally to "target" the screen if the projector shifted.
Keystone (or trapezoidal correction): this is a digital process intended to straighten the image when the projector to be placed at an angle to the screen (the image has a trapezoidal shape instead of a rectangle).
While most models incorporate keystone correction, this is not significantly the case with lens shift.
Connections
In the full configuration, your projector must be connected on the one hand to a content source (TV decoder, Blu-Ray player, game console, computer, etc.) and on the other hand to audio equipment to have sound at the height of the image (for home cinema use).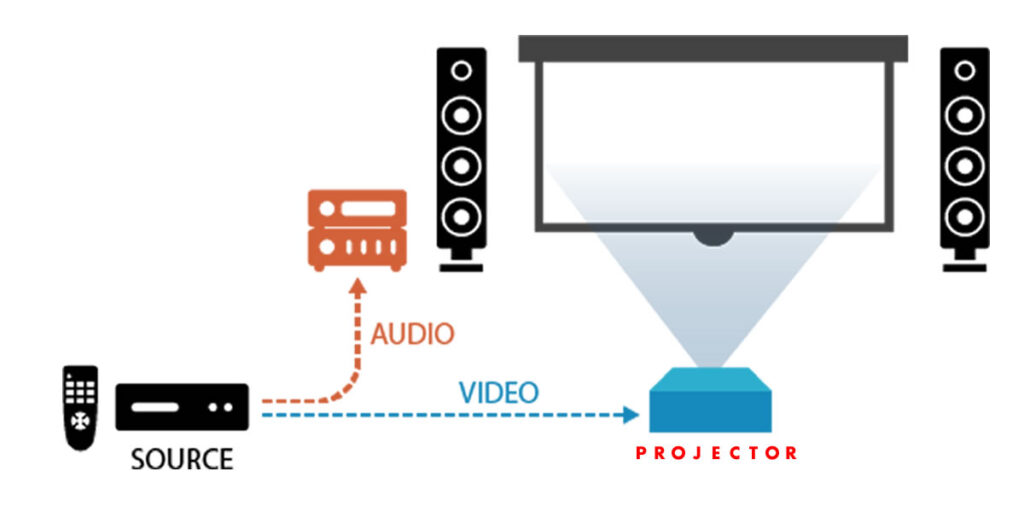 The connection between the source and the projector can be wired or wireless:
Wired connection: for home cinema use, HDMI is the standard for HD, whatever the resolution.
Wireless connection: for office use, Wi-Fi compatible projectors exist. It is recommended for superior quality to use the Wireless modules offered by the manufacturers, which are unfortunately relatively expensive (> 200 USD).
Mobile/tablet connection: there are several standards (MHL, Miracast) to view your photos and videos, with or without cable, directly from your phone.
The connection between the source and the audio equipment (hi-fi system, soundbar, amplifier, etc.) will depend on your equipment.
RCA (the classic red and white connector, found on all devices) for stereo sound
Coaxial, optical, or HDMI for 5.1 sound
Bluetooth if compatible
More information on the connection
TIPS: HDMI or DisplayPort connectors are considered to have the best picture quality
Sound
Standard projector lamps heat up a lot and must be cooled by fans. While the sound of a movie usually drowns out their operating noise, too loud ventilation can be annoying for some.
If you want a quiet model ( check out our top 10 quietest projectors for home and gaming ), you should refer to the sound level, indicated in decibels and generally located between 25 and 35 dB. Most projectors also offer an "eco" mode (with lower brightness) to reduce their sound level.
A complementary approach is to opt for a short focal length. As the projector is placed closer to the screen than to the viewer, the noise will be less noticeable.
Tips: Choose less than 30 dB for your projector
Screen
Fixed or mobile, the projector screen is an essential element of a home cinema installation. There are different kinds and formats (for cinema or games use you need a 16: 9 projection screen).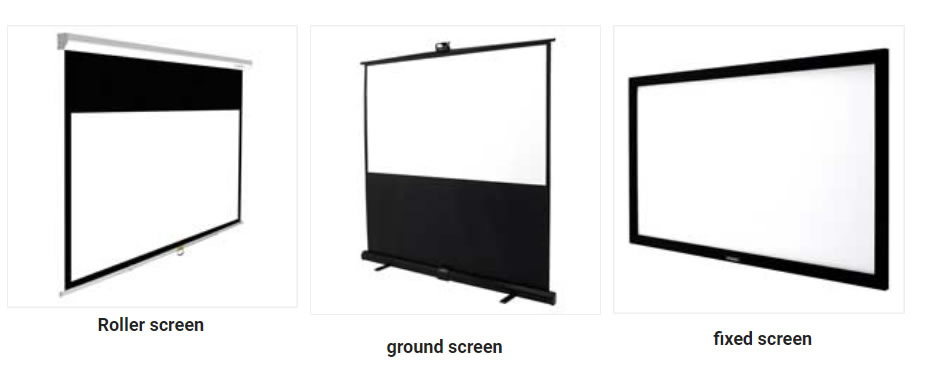 Roll-up projector screen: can fix it to the wall or the ceiling. The canvas is unrolled (manually or automatically) on demand.
The screen on the ground (pull-up): the principle is the same, but the screen support is just placed on the ground, and the canvas unrolls upwards. No fixing required.
The projector screen on a tripod: you can use it for mobile or office use.
Fixed screen: the best solution because the canvas remains stretched and does not deform. In return, the projector screen is always visible (ideal if you have a dedicated home cinema room).
You can also use a white or gray wall but with a very uneven result depending on the surface type.
See the projector screen buying guide
Which screen size to choose from?
The optimal screen width will depend on your preferences and the distance you have. If the choice of the ideal size remains very subjective, there are purely indicative "recommendations" (issued in particular by SMPTE and THX) that can help you choose.
Support
Although they can use the most projector by being placed on a table or piece of furniture (for occasional use in particular), they are often fixed to the wall or ceiling, especially in "home cinema" configurations.
You will find support available for all budgets: ceiling or wall, telescopic, motorized, etc.
Price
The projector offers, from less than $ 300 to more than $ 5,000, and one of the first selection criteria, will usually be the budget you have.
For a quality home cinema projector, the models with the best value for money are between 500 and 1000 USD. To facilitate your choice, we have selected the most efficient projectors of the moment (by price range), in particular, according to tests and user reviews.
If you are looking for a cheap projector, you can go for an unbranded model (or an "alternative" brand). However, be careful with an actual performance which is below that of projectors from major brands like BenQ, Optoma, Epson, or Sony for example.
Maintenance
When purchasing your projector, you can take into record the costs of buying a replacement lamp. Depending on the lamp, the price can vary from 40 to 450 USD.
Usually, the life of a lamp is between 2000 and 4000 hours. When it comes to mobile projectors, lamp life is much shorter, from 1000 to 1500 hours, due to the different constructions.
If you want to use the projector daily while minimizing maintenance costs, Hybrid Laser-LED projector is more interesting. It cannot change the latter's lamp, but its life can be up to 20,000 hours. In addition to the costs of purchasing the lamp, the costs for replacing the lamp, if you are not allowed to do it yourself (for example, if you are a school).
The costs for a replacement lamp can vary between 40 and 450 USD. LED spotlights have lamps with a longer lifespan.
Conclusion:
When it comes to buying a projector, there are many things you should consider before making your final decision. The type of room the projector will be in and how far away from the screen you'll be sitting in can affect what kind of technology is best for you.
For instance, DLP Projectors would work well if you have a large space that's dark enough or a smaller space with lots of lights on.
3LCD (or tri-LCD) projectors may not provide high-quality pictures but they do offer better color reproduction and contrast than their other counterparts such as LCOS projection systems which produce more natural colors without glass light filters and are often used in digital cinema production environments due to its excellent black levels.
Statistics Of The Projector Buying Guide
Calculate the distance from your screen to the device and choose accordingly. For a difference of only 50% in brightness, lose as much as 50%.
3D movies max out at a bright display that is much lower than the stated reading.
However, some projectors will advertise coverage of a specific RGB color gamut range like DCI-P3 or Rec. 709. Most 3D film content is shot in BT, so beware of that. The same goes for screens/projection surfaces which require special projection equipment to adequately bright display the projected light from a projector.
A good projector can deliver up to 95 percent of the DCI-P3 color gamut, and some higher-end models can perfect up to 75% of BT.
There are even some projectors that cover over 100% screen space, such as the Samsung LSP9T ultra-short throw.
For a projector with the highest coverage of BT.2020, which is the newest color standard created by the ITU-R and applies to televisions, home theater projectors, digital cinema projection systems, and more.
If you want the best possible picture quality, you'll likely end up spending between $6K to $25K.
It is 100% worth getting a video projector if you want to have the cinema in your living room.
A DLP projector can have a zoom setting of 1.2x, which will increase the size of the projected image by up to 20% over the minimum size.
Since lens shift preserves 100% of the resolution in the projected image, it's a better correction method than keystone distortion.
Frequency ask question
How do I choose a projector?
Choosing a projector depends heavily on what you plan to use it for. A projector's resolution, brightness, and contrast ratio all play a role in how good your video will look.
When you're thinking about how to choose a projector, it's essential to first think about where you'll be using the projector. Most people use it in their living room, classroom or office. 
You'll need to consider the size of the room and how well the projector will work in that space. Currently, the best projectors use LED light sources. They're highly energy-efficient, so they don't use as much power as older projectors did. They also last longer, and they're brighter.
How many lumens do I need for a projector?
To determine the number of lumens required, you must evaluate the size of your display area and the distance you will sit from it.
How to calculate the distance?
The shortest distance from your seats to your screen is called "throw" and it's measured in meters. To know how many lumens you need, divide the number of feet between projector and screen by 12 (feet). Example: If you are projecting onto a 100-inch display 20 feet away from your seat then that would work out as an equivalent 16 foot throw or 1200 total lumens needed.
What else do I need to consider when buying a projector for my classroom?
Lumens aren't everything! The brightness doesn't matter much if the student can't see what they're doing on their desk because there isn't enough light in the room. Projectors come with different features
Is 7000 lumens good for a projector?
The brightness of the projector's image is measured in lumens. A projector's brightness is measured in ANSI lumens. The ANSI lumens specification is the most commonly used measurement of illumination for a projector.
What projector should I buy for home?
Necessary features for projectors for home use include:
Native resolution: HD 1080p
4K Ultra HD is a perfect choice for home theater rooms.
Full HD (1920×1080) resolution.
2,000 lumens or brighter.
A contrast ratio of 5000: 1 or better.
Color support: 1.06 billion (8-bit) or more.
HDMI input – for home entertainment systems.
Are cheap projectors any good?
Low price projectors are typically not any good. They are usually low quality and have many issues. Even cheap projectors can be found that are excellent, but be wary of inexpensive models. While quality control often lacks affordable projectors, you can find some for as low as $100 that will work for your needs.
What is better for a projector, DLP, or LCD?
DLP projectors offer great value with their high contrast ratios and stunning colors. LCD projectors provide a wider viewing angle. If you are looking for a small projector and have the money for it, you should go with the DLP projector. If you are looking for a giant projector and are willing to spend a little more, you should go with the LCD projector.
What should I look for when buying a projector?
When purchasing a projector, you should consider the brightness, contrast ratio, resolution, and connectivity ports.
Brightness: The brightness of the projector will determine how well it can display an image in a dark room. Consider this when purchasing your next projector because you don't want to purchase something that is too dim or has poor contrast for watching movies in the dark. Look for projectors with light output between 2000 and 5000 lumens. A large percentage of projectors on the market today offer 2000-3000 lumens, but there are some that boast 6000+ (although these cost more).
Contrast Ratio:The higher the number here, typically, the better quality images it produces–contrast ratios above 1000:1000 tend to produce good results if you're planning on using your new projector mainly inside without much ambient light interference from windows
Is it worth buying a 4K projector?
4K or Ultra HD is the next step beyond Full HD. 4K is about four times as sharp as Full HD. 4K TVs and projectors have a resolution of 3840×2160 pixels.
It depends on how big the screen you will be projecting on is. The 4K resolution is not necessary if you will be projecting on a smaller screen.
Is projector better than TV for eyes?
The short answer is "yes." Projector screens are usually easier on your eyes than TV screens. Projectors are more beneficial than regular TVs due to their ability to create images over 100″ and the fact that they can display smaller objects.
What about 3D home theater projectors?
3D home theater projectors make it easier than ever to enjoy the ultimate in 3D movie entertainment. 3D technology uses two images and two projectors to create a realistic 3D image on the screen that appears to jump off the screen and into your lap.
Before you shop for a projector, you should consider the size of the screen, the brightness of the image, and the type of connection the device offers.
Why do screen size and throw distance matter?
What should match a projector's screen size and throw distance to the size of its audience to reach the largest group of viewers?
What is the throw ratio?
Throw ratio, the distance from the center of an image on a screen to the projector divided by the distance between viewer and screen, can help you determine what type of projector you need.
The ratio determines the size of the image projected and how far from it you need to be. If you want a nice big photo, then you want a low throw ratio.
Affiliate Disclaimer : As an Amazon Associate I earn from qualifying purchases.