With or without wire, there are several ways to connect a projector.
While connection via an HDMI cable is now the norm, there are wirel ess transmitters and projectors ( Wi-Fi and wireless HD models ).
Wired connection
Cable connection is the most common connection method today, especially in home theater.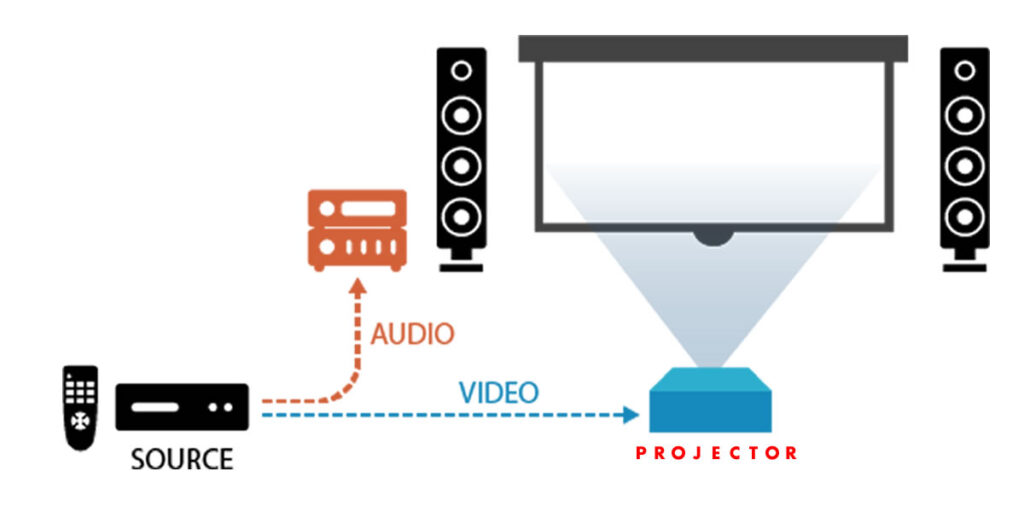 Video connection
There is a wide variety of wired video connectors, but only a few are essential (or even one for home cinema: HDMI)

HDMI: the ultimate HD connection
Allows transmitting a full HD 1080 signal with integrated sound and all types of video format: 720p, 4K (HDMI 1.4 or 2 for all functions), 3D (from version 1.4), etc. Indispensable for home cinema models, this connector allows you to connect set-top boxes, Blu-Ray players, game consoles, computers, etc.
VGA: the historic computer connection
Used to transmit an analog video signal from a PC. Usually used for presentations (Powerpoint)
Component YUV: an analog alternative to HDMI
3x RCA connectors (red, green, and blue) allow transmission of a high-quality analog video signal in HD.
Composite: compatible with all equipment
1x RCA connector (yellow), transmitting an analog video signal on a single cable, in the standard format (non HD). The quality is inferior, but this connector has the advantage of being present on almost all existing devices.
Specific connectors such as DVI or S-video are gradually disappearing in support of HDMI.
AUDIO CONNECTORS
Except for occasional applications, projectors are not intended to transmit sound. If present, the built-in speakers are usually not very powerful, and separate audio equipment is recommended (soundbar or home theater system). Most projectors, however, have the necessary audio connectors, input, and output.
RCA audio: 2x connectors (red and white) One cable per channel (left and right). The essential stereo connection for audio equipment.
Mini-jack: 3.5mm stereo connector Stereo audio in a single connector. We find mini-jacks on computers and portable devices (music players, smartphones, tablets, etc.).
Note: HDMI also transmits sound with video, without additional cables.
Others Connectors
USB: multi-function connector Standard (type A) or mini (type B), USB on a projector can have multiple applications.
RS-232: To control the projector. This 9-pin connector is an interface for controlling the projector remotely from a computer or an automated home cinema installation.
12V Trigger: Trigger this connector is used to send a trigger signal to other devices, for example, to roll out an electric screen or control the room's lighting (requires a specific installation).
Wireless connection
Very handy to get free of cables, whether traveling or for home theater system "light," the wireless video transmission comes in two forms: the wireless transmission and transmission "Wireless HD" using a specific frequency.
WIRELESS HD TRANSMISSION
The wireless transmission mode for home theater. The system can transmit a high-quality full HD signal via a transmitter and a receiver connected directly to HDMI.
There are models of projectors with HD receivers/transmitters supplied. Find below.
You can also order only the transmitter/receiver pack for use with your projector—BenQ, Optoma, and Acer, in particular, offer full HD transmission kits.
Optoma WHD200 Wireless HDMI 1.4a Transmitter and Receiver...
Wirelessly stream Full 1080p HD video via HDMI 1.4a with 5.1 channel digital audio and NO...
Connect up to 2 HDMI devices/sources to the wireless transmitter; use the remote control to switch...
Connect Cable Receiver, Satellite Receiver, Playstation Game Consoles, Xbox Game Consoles, Laptop,...
WI-FI TRANSMISSION
The transmission is then done from a computer, tablet, mobile to a Wi-Fi compatible projector or directly from the projector to the network. Usually, the Wi-Fi receiver is built-in, but some projectors require an optional dongle (USB stick).
Depending on the model, Wi-Fi projectors can operate in "mirror" mode (for example, by connecting a smartphone to display its content) and in "stand-alone" mode. They then embed an operating system allowing, for example, access to video-on-demand services such as Hulu or Netflix.
Mobile and tablet connection
There are several ways to connect a smartphone, a touchscreen tablet, or a computer to a projector, wired or wireless. Unfortunately, no system has established itself to date, and several technologies coexist.
A distinction is made between wireless ( Miracast, Chromecast, AirPlay ) and wired ( MHL ) technologies.
WIRELESS CONNECTION: MIRACAST, CHROMECAST, AIRPLAY
These technologies allow, among other things, the wireless transmission of HD audio and video content (via Wi-Fi) between 2 compatible terminals.
You can then, for example, do " screen mirroring " (the content of your screen is displayed via the projector), use video streaming services (Netflix, myCanal, etc.), or watch live television (the functions differ according to the devices).
Note that it may be necessary to install an application on your smartphone, tablet, or PC. Unlike televisions, very few projectors have these technologies integrated. It is generally required to use an HDMI box or dongle that will serve as a multimedia gateway with your mobile / tablet.
Xiaomi Mi Box S Android TV with Google Assistant Remote...
Powered by Android 8. 1 for Superior Functionality: Enjoy the latest Version of Android TV 8. 1,...
Access Tons of Content: Access to 3000+ channels and Apps, Enjoy movies and TV episodes from...
High Clarity 4K HDR: Chromecast built-in. Supports 4K Ultra HD resolution and High Dynamic Range...
Sale
No products found.
Which system to choose?
Find below the leading wireless audio/video transmission technologies.
Miracast (Wi-Fi Alliance)
This is direct Wi-Fi for multimedia content, in the form of an HDMI key or integrated into the projector. The principle is to display your projector the same thing as on your screen ("screen mirroring"). Miracast is sometimes referred to as wireless HDMI. This technology, although open, is still struggling to win. It is also not compatible with Apple products.
Google Chromecast
This small box plugs into your TV or projector's HDMI input and acts as a connected media player, thanks to which you will have access to streaming platforms such as Netflix or Youtube. Controllable by smartphone must connect the system to the Wi-Fi network (usually your home internet box) to operate.
Apple TV (AirPlay and AirPLay Direct)
Like Chromecast but in the Apple version, this box is supplied with remote control and perfectly fits the brand's ecosystem (iPhone, iPad, etc.). Connected to the Internet, the Apple TV connects via HDMI to your TV projector and allows you to access a wide range of services and applications (Netflix, CanalPlay, Prime Video, etc.) or directly stream the content of your mobile / tablet via AirPlay.
DLNA (Digital Living Network Alliance)
Depending on the manufacturer, the name used will be different (Allshare, PS3 media server …). The principle is still to broadcast via a router (livebox, free box) content from a "server" (PC or DLNA compatible mobile) to a "client" (TV or a projector).
Unfortunately, none of these technologies yet offers truly universal compatibility (such as Wi-Fi or Bluetooth, for example). The choice of one or the other system will depend on your equipment.
WIRED CONNECTION: MHL
MHL (Mobile High-Definition Link) allows a mobile device to be connected by cable to a projector or television. You can then view your images and videos in full HD 1080p.
MHL boxes/cables use different connectors (USB, micro-USB, HDMI, superMHL, etc.). It is necessary to have the adapter that corresponds to your smartphone to connect it directly to a projector (or a TV).
Conclusion
HDMI is the queen connection for projectors, whether for HD, 4K, and even 3D formats (from HDMI version 1.4). The cables transmit both video and audio.
Ready-to-use wireless projectors are relatively rare, but there are several wireless transmission systems such as Wi-Fi or Wireless HD.
Several technologies (Miracast, Chromecast, AirPlay) allow a wireless connection via Wi-Fi for your mobile or tablet. However, none has yet emerged, and the choice will depend on the compatibility with your existing equipment, particularly Apple iOS vs. Android. For a wired connection, will use the MHL.