This new technology, until recently still very marginal, is starting to make its appearance in consumer home theatre projectors. Although even relatively expensive, laser projectors have many advantages over conventional models. See the selection of the best laser projector.
Laser Technology
Although old, laser technology ( Light Amplification by Stimulated Emission of Radiation) has only very recently developed into projection. Laser models are generally more expensive than conventional projectors (those with mercury or LED lamp), but prices are falling, and they are now more accessible.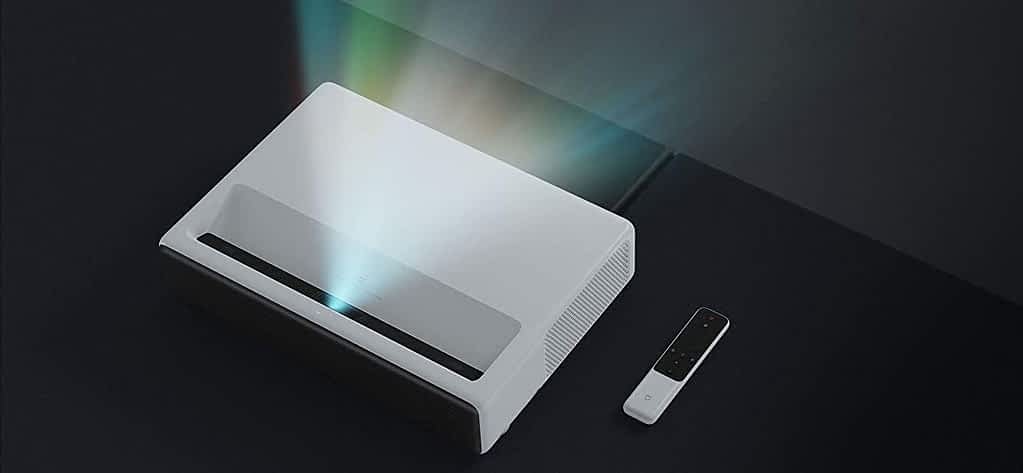 Depending on the device, one or more laser sources are used to obtain the red, green, and blue colors necessary to reproduce an image. On general public projectors, it is often a single laser (blue) from which the 3 necessary colors are reproduced (there are also hybrid models, LED / Laser for example). Compared with conventional UHP type lamps, the laser has certain advantages (see below).
What are the differences between DLP, LCD, LED and LASER?
The terms DLP and LCD (or tri-LCD) refer to projection technology while LED and Laser refer to the technology of the light source required to display the image. We should therefore speak of DLP projectors with laser light or 3LCD with laser light, for example.
Advantages and Disadvantages
Highly innovative, laser projectors do not lack advantages over traditional models. Find below the main strengths and weaknesses of this technology.
ADVANTAGES
Very bright: laser technology makes it possible to design very bright projectors (4000 lumens and more).
Lamp life: the life of a laser lamp is generally between 20,000 and 30,000 hours (over 10,000 films), which is 5 to 10 times longer than traditional lamps, which should be changed after 3,000 at 6000 hours. Laser projectors are therefore ideally suited for intensive use.
Quick start/stop: a laser projector turns on and off almost instantly, like a television. Conversely, a home theatre projector with a conventional lamp generally requires heating and cooling time (with the fans active).
DISADVANTAGES
More expensive: Although prices have come down lately, laser projectors are still more costly than their counterparts with a standard lamp. 
Few models available: the product offer in laser projectors is shallow, and you will have little choice if you opt for this technology.
You can also see the Projector Buying Guide – How To Choose Your Projector
How to choose the best laser projector?
If you are interested in purchasing one of the best laser projectors on the market today, then you should consider these simple tips to help you find the right model for your particular needs. In general, the cost is dependent on the number of features that you desire and also the size of the device. Keep reading to learn more about all of the different factors that can affect the overall price of a system.
If you're looking at the best priced projectors available today, you may want to look into ones manufactured by companies such as Cricut. Cricut has consistently offered at the lowest prices around. While their products are not the most powerful or the most innovative, they are among the most affordable. You can expect to pay anywhere from a few hundred dollars to several thousand dollars, though the number of features and capabilities will vary depending on the specific model that you choose. In addition, this company prides itself on offering the very best technology, including the best CRT technology available anywhere. With that being said, this is clearly a model that is designed to provide high quality picture quality and also the lowest cost per unit that is possible.
How to choose the best laser projector? This will obviously depend upon whether you plan on using it at home or in a professional environment. Before making any final decisions, you should take a little time to learn more about the specific features that each device has to offer.
For instance, you should ask yourself how often you will be using the projector. How often do you typically work with the technology? Are you going to be using it in a room without many distractions? If so, you may want to consider spending a little bit more money to purchase a model that is specifically made for this type of use. Fortunately, many models that are available are surprisingly affordable, so no matter what your budget may happen to be, you can find one that is suited to your needs.
When you finally begin to learn more about how to choose the best laser projector? You should definitely pay close attention to the display. What type of images do you want to display on your display? Do you prefer clear text or do you like to see images that are displayed in shades, such as green, blue, and red? These will certainly affect the type of technology that is used, so it is important to choose a model that can support your particular preferences.
How to choose the best laser projector? Once you have learned more about how to choose the best laser projector? You should also learn about the different types of models that are available. Do you prefer a monochrome device that displays black and white images, or do you want one that offers different color options, such as red, blue, or yellow? Price is likely going to impact your final decision, so it is a good idea to compare the different models you are considering to make sure that you are not spending too much money on an item that is not ideal for your needs.
How to choose the best laser projector? As you continue to read this article, you should soon know how to choose the best laser projector? You will learn that you will need to learn a little bit about the technology behind a particular model, but other than that, you should be able to figure out by yourself which features are most important to you. For example, if you are a student or a photographer who is looking to get the most out of the technology, then you should look for models that offer different capabilities to help improve your performance. If you plan to use the device in a scientific setting, then you will want to look for models that can provide the highest quality images.
It may be easy for you to think that learning how to choose the best laser projector? This is actually a very simple task, and once you start looking at all the different options, you will quickly understand that you need to know more about the item before making your final decision. When you have taken the time to consider the pros and cons of each model, you will be able to make an informed decision about whether or not it will work well for your needs. If you are not sure, you can always ask an expert for advice. In the end, you will be glad you took the time to learn about this important technology.
Laser technology is an option to consider if (among other things):
You expect to use the projector very frequently (the lamp life is very long).
You are looking for a very bright home theatre model.
Wish you could turn on / off your projector instantly, like your TV.
Also note that there are many laser or led/laser models intended for professional use (presentations, etc.). They are often very bright but are a priori not suitable for home theatre use (lower quality image: contrast, color rendering, etc.).
Best Laser Projector
The laser is undoubtedly a technology of the future in projection, but the few products available are still expensive. Find below a selection of the best laser projectors, sorted by price (from 900 to 3600 USD).
Bestseller No. 1
Optoma HZ39HDR Laser Home...
DEPENDABLE LASER LIGHT SOURCE: DuraCore laser light source eliminates lamp and filter replacements for up to 30, 000 hours of low-cost and virtually maintenance-free operation; IPX6 dust resistance rating ensures optical engine durability
4K HDR INPUT: HDR10 & HLG technologies enable brigher whites and deeper black levels for an enhanced viewing experience of images and videos
LIGHTS-ON VIEWING: With an incredible 4, 000 lumens of brightness, project in any room in the house, including family rooms, theater or game rooms
Bestseller No. 2
VAVA 4K UST Laser TV Home...
Ultra Short Throw: Cast a 100 inch image from only 7.2 inches away from the wall! With a space-saving design, quick and easy setup, and the ability to adjust your projection from between 80 to 150 inches on the fly, you can enjoy a cinematic experience from the comfort of your own home!
4K Resolution with HDR 10: Feast your eyes on awe-inspiring visuals with deeper colors, higher contrast, fuller saturation, and sharper imagery. The VAVA's 3000: 1 native contrast far exceeds the standard 2000: 1 native contrast found in movie theaters.
Advanced Laser Light Source: 2500 ANSI Lumens of brightness combined with state-of-the-art picture and color performance deliver up to 25,000 hours of maintenance-free operation. You can enjoy the projector up to 4 hours a day for the next 17 years!
Bestseller No. 3
Optoma CinemaX P2 Smart 4K UHD...
4K UHD + HDR10: Enjoy a high-quality, cinematic home theater experience with 4K Ultra HD, HDR10 technology and an incredible 2,000,000:1 contrast ratio
6-SEGMENT COLOR WHEEL: Experience richer colors and enhanced brightness with the six-segment color wheel; The RGBRGB color wheel brings accurate cinematic color to your home, reproducing movies, TV and games the way the director envisioned it
BRIGHT, RELIABLE LASER: Laser technology delivers outstanding brightness up to 30,000 hours of light source life that maintains stunning image quality throughout its lifespan; 3,000 lumens of brightness enable lights-on viewing in a variety of rooms, any time of day
Sale
Bestseller No. 4
Bomaker 2021 4K Ultra Short...
Awe inspiring, Realistic 4K Resolution: Featuring TI's 0.47" DMD chip and leveraging XPR technology for an incredible 8.3 million pixels (3840 x 2160), to achieve four times impeccable enhanced clarity, increased detail than that of Full HD
0.25:1 Ultra Short Throw: Thanks to RICOH wide angle lenses and advanced technology, Polaris cast a gigantic 120 inch image from only 11.0'' inches away from the wall! Don't need to move the device to around 15 feet away unlike traditional projectors of 1.5:1 contrast ratio. It's space-saving, compact design, quick and easy setup, and the ability to adjust your projection from between 100 to 200 inches
True 3 Channel Laser: The polaris 4k uses Three channel laser technology, supports wider color coverage while ensuring incredible color reproduction performances and eliminate any "rain bowing" or "color brightness" issues compared to conventional projectors (DLP, Laser and Dual Laser) that use a color-wheel to reflect colors from one color light.
Bestseller No. 5
Optoma ZH406ST Short Throw...
DEPENDABLE LASER LIGHT SOURCE: DuraCore laser light source eliminates lamp and filter replacements for up to 30, 000 hours; IPX6 dust resistance rating ensures optical engine durability
4K HDR INPUT: HDR10 & HLG technologies enable brigher whites and deeper black levels for an enhanced viewing experience of images and videos
SHORT THROW LENS: Experience a large 120" image projected from only 4'-4" away; placement closer to the screen is ideal for smaller spaces and easier setup
Last update on 2021-03-09 / Images from Amazon Product Advertising API
---
See the selection of the best Laser projectors
If you are looking for a more office-oriented laser projector, Casio offers many laser or hybrid LED / Laser models for professional use. See Casio projectors (on Amazon)