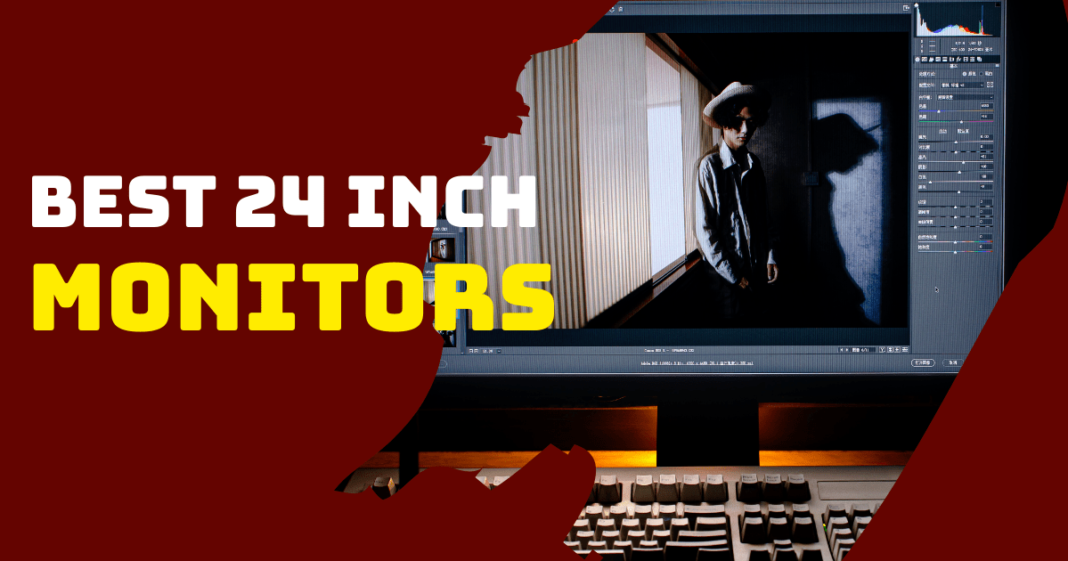 Last Update February 21, 2021: We improved the overall article.
A large number of desktops and laptops were sold worldwide daily. This means that monitors have a bright future ahead of them too. But how do you find the right 24 inch monitor? LED or LCD screens, many models exist on the market today.
Let's discover together the best 24 inch monitor for home office at the moment.
Editor's choice ➥

Best 24-inch monitor for work
Dell Ultrasharp U2415 24-Inch...
Virtually borderless viewing ideal for a multi-monitor set-up; with more vertical resolution available on the U2415 16:10 monitor
Fully adjustable features like tilt, swivel, height adjust including pivoting both 90 Degree clockwise or counter-clockwise, allowing the thinnest possible edges to be placed side by side
Connect seamlessly to other peripherals simultaneously without compromising on picture quality via digital connectivity. A high current USB 3.0 charging port supplies twice the power for charging and powering BC1.2 compatible devices, and DP1.2 supports multi-stream transport.
Last update on 2021-07-25 / Images from Amazon Product Advertising API
---
The Dell U2415 24-inch monitor takes full advantage of WUXGA LED technology to optimize image quality. Moreover, the light is diffused homogeneously over the entire slab. It consumes very little energy. Moreover, this 24-inch monitor is Climate Pledge Friendly certified.
With its 300 cd / m² brightness, this UltraSharp display stands out from the competition thanks to its static contrast of 1000: 1. Offering a short response time, it is ideal for graphic designers and gamers.
The monitor has a diagonal of 61.2 cm in size and offers a maximum refresh rate of 60 Hz. It should be noted that it has several connectors, namely HDMI, USB A, USB-B, DisplayPort, Mini DisplayPort, audio out port, and HDCP.
Best Cheap ➥

Best 24-inch monitor under $

3

00
Last update on 2021-07-25 / Images from Amazon Product Advertising API
---
The Samsung S24F352 is equipment that can offer serious arguments to get a better place in the category of the cheapest 24 inch monitor. Aside from its 60Hz refresh rate, this model also promises you a 4ms response time. It has enough to satisfy your needs fully.
With an adjustable tilt, this 24-inch VESA-compatible monitor mounts easily to the wall using a standard wall bracket. The matte PLS panel, the FHD resolution of 1920 x 1080 px, or even the AMD FreeSync technology make it a piece of quality equipment. And if you want to work without straining your eyes, activate the Eye Saver function, which reduces the intensity of the blue light.
Best high end ➥

Best 24 inch 4k monitor
Last update on 2021-07-25 / Images from Amazon Product Advertising API
---
This monitor is sure to win you over: the LG 24MD4KL-B features a 24-inch UltraFine IPS panel with a 4K resolution display of 3840 x 2160 px. Its response time is 14 ms, and this model suggests a viewing angle of 178/178 °. You will also benefit from the quality of the brightness announced at 540 cd / m².
Compatible with macOS only, the LG 24MD4KL-B features Thunderbolt 3 and USB-C connectivity, allowing you to transmit your videos and audio files in 4K easily. You will enjoy an optimal user experience since the device is equipped with two integrated speakers of 5 W each.
Excellent ➥

Best 24 inch monitor photo editing
Last update on 2021-07-25 / Images from Amazon Product Advertising API
---
The Samsung C24RG50FQU 24-inch monitors will make you enjoy a panel offering you several color modes: Custom, FPS, RTS, RPG, AOS, and Cinema. Do you want to treat yourself? Treat yourself to this right quality equipment for an incredible HD gaming or viewing experience. 
It promises you the most attractive features thanks to its 60.97 cm diagonal. The Samsung C24RG50FQU notably offers an exceptional resolution of 1920 x 1080 with a response time of 4 ms. Among other things, you benefit from its Samsung and RapidCurve curved technologies. It is also for these few specific reasons that it is among the most popular models for gaming enthusiasts.
For a range of great budget devices, check out our guide to the best budget monitor for graphic design & video editing
⇲ Best Selling 24 inch Monitor
Bestseller No. 1
HP VH240a 23.8-Inch Full HD...
RESOLUTION & PANEL — 23.8-inch Full HD monitor (1920 x 1080p at 60 Hz) with 16:9 aspect ratio and an anti-glare matte IPS LED-backlit panel (2 million pixels, 16.7 million colors)
RESPONSE TIME — 5ms with overdrive for a smooth picture that looks crisp and fluid without motion blur
BUILT-IN SPEAKERS — Integrated audio speakers provide great sound for your content (2 watts per channel)
Bestseller No. 2
Sale
Bestseller No. 3
Sceptre E248W-19203R 24" Ultra...
24" Ultra slim profile
Contemporary sleek metallic design
Slim bezel with thin chassis. Power Range (V, A, Hz)- AC-DC Adapter Input 100 – 240 VAC, 50/60 Hz, 1.0A (Max.) Output - 12V DC, 2.5A. Power Consumption (Typical)- 25.4W. Neck/Stand Detachable: Yes
Bestseller No. 4
Philips 246E9QDSB 24"...
Philips E-line 24" (23. 8" Viewable) LED monitor with full HD 1920x1080, IPS panel for wide-viewing angles and full colors
Philip Ultra Wide-Color technology with 129% sRGB & 108% NTSC color gamut coverage
AMD FreeSync technology provides fluid, artifact-free gaming performance with support up to 75Hz refresh rate
Sale
Bestseller No. 5
Sceptre IPS 24-Inch Business...
Wide Viewing Angles: Wide viewing angles keep all the action sharply in sight from almost any viewing position while gaming on large monitors or dual-display setup.
Fast Response Time: Playing fast action games and watching action adventure movies always require fast and accurate pixel response from an LED. With quick response times, ghosting and blurring are reduced so the user can enjoy the display with clarity and precision.
Multiple Ports: Two HDMI ports and one VGA port provide up to 75HZ refresh rate, refining picture clarity in all action-packed gaming sequences and graphic design projects. Audio In and a Headphone Jack provide diverse audio options.
Last update on 2021-07-25 / Images from Amazon Product Advertising API
---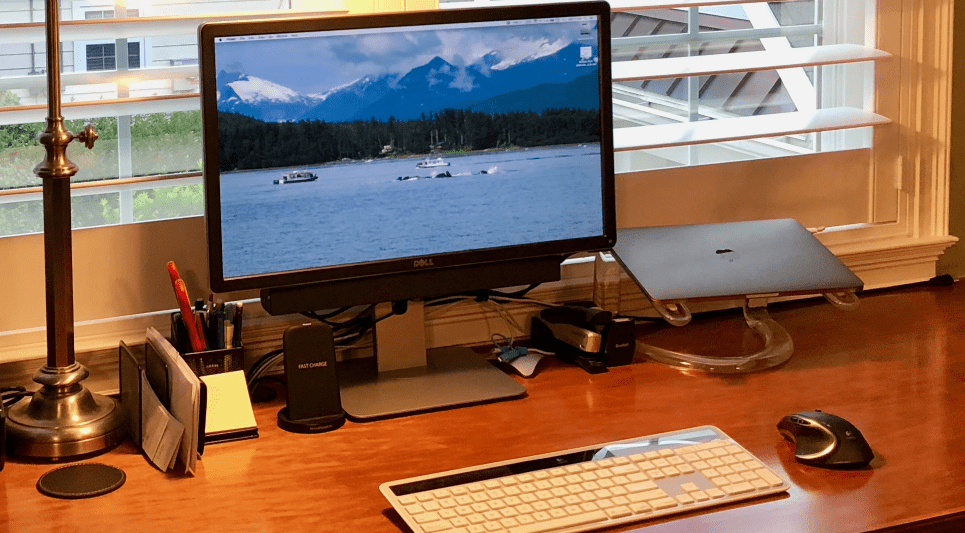 How to choose the Best 24 inch Monitor?
Knowing how to choose the right 24-inch monitor is of great interest. whether you use it for office or gaming, you can easily stay several hours in front of your PC monitor. however, the choice can vary according to your needs.
---
Here are some guidelines to find the best 24-inch monitor for you.
⇥ Connectivity
We Prefer models with DisplayPort and HDMI ports. Suppose you want to connect your monitor to a Mac. It must have a Thunderbolt port. Otherwise, you will need an adapter.
⇥ The type of chip
You have the choice between 3 types of parts, specifically the TN, VA, and IPS. The first is almost faster. It is best suited for games, although the contrast is a bit limited. Also, the VA allows better performance in terms of colors with much wider viewing angles. However, its response time is short. As for the IPS panel, it represents an excellent compromise between the two others.
⇥ Color accuracy
We recommended that you choose a precalibrated model if you want to take advantage of the best color accuracy. Indeed, many users will not always have the reflex to calibrate their monitor during the first use. Good picture quality is achieved by covering, at most, the 24-inch monitor with the standard RGB color palette. 
⇥ Resolution
The resolution, also called "screen definition," expresses the finesse of the images. If you want a Full HD or FHD display, go for a 1920 x 1080 px resolution. Currently, 2K and 4K resolutions (2560 × 1440 WQHD and 3840 × 2160 UHD, respectively) are the most popular. Although they are relatively high, your graphics card can easily support them.
⇥ Settings
Several adjustments must be possible for better user comfort. Adjustable feet, forward or backward tilts, and even a screen that can swivel and end up in portrait mode seems ideal. You can also install your 24-inch monitor on an articulated arm or the wall if it is VESA compliant.
⇲ Types of 24 inch Monitor
It is possible to differentiate a 24-inch monitor according to many criteria, such as the monitor's definition or the price. However, we will categorize them according to the display technology used to make your choice easier.
24 inch LED Monitor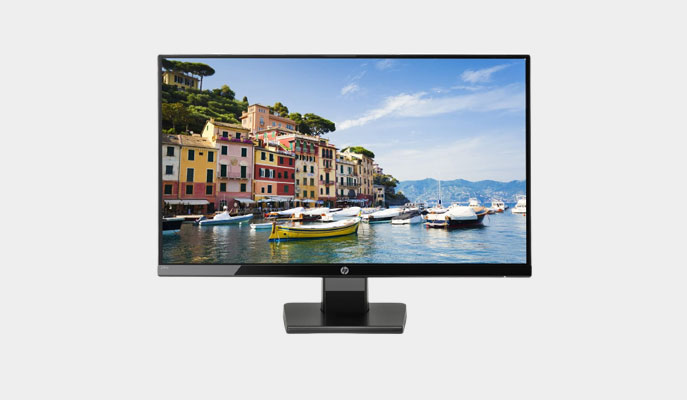 It is generally a flat or slightly curved digital monitor. This type of model incorporates LEDs (light-emitting diodes) as a pixel or sub-pixel, therefore backlighting. They diffuse colored light of varying intensity specific to them. Thanks to this technology, a 24-inch LED Monitor is increasingly versatile.
This type of 24-inch Monitor consumes very little power. The contrast is relatively high. However, it is very poorly suited to near vision.
24 inch LCD Monitor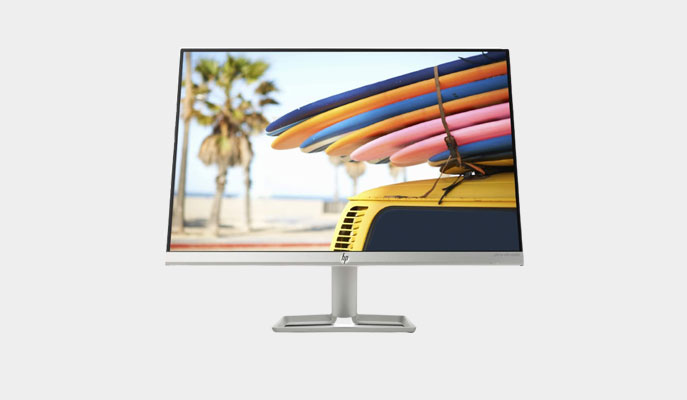 LCD technology, short for Liquid Crystal Displays, was invented by Friedrich Reinitzer. Acting as a PC monitor or television, it also equips your tablet or smartphone screens. As its name suggests, the LCD works with liquid crystals that act as a filter that can focus light.
The display system is thus passive. Light and thin screen offering reduced brightness, the 24-inch LCD monitor offers satisfactory display quality. Its lifespan is quite limited, as is its size and shape (the maximum diagonal being 2.8 m).
This type of monitor offers the most stable image. You will have no problem using a 24-inch LCD monitor in near vision. Best of all, it gives you better brightness and impressive clarity.
⇲ What is a 24-inch monitor?
A 24-inch monitor, better known as a 24-inch monitor, is a fundamental computer industry element. Essential for your computer's proper functioning, it allows you to watch videos, perform office tasks ranging from the simplest to the most complex, play video games, and perform graphic design.
Its versatility allows it to be used in many areas: in business, at home, for gaming. In short, a PC without a monitor is like life without the sun.
If the first models were CRTs, now the computer age swears by flat and curved monitor. It usually accompanies a central unit or CPU and cannot operate without a keyboard or mouse. The 24-inch monitor must be connected to the central unit using a cable that can be VGA, DVI-A, or DVI-I for analog connections and HDMI, DisplayPort, Thunderbolt, or USB Type-C for digital connections.
Comparisons of 24 inch monitor vs 27
A lot of people have jumped on the latest technological advances and have asked if the new monitors are any different than the older ones when it comes to watching movies. There have been several reviews that compare the monitors and their performance. However, many of these comparisons are not very fair. One reason why there are not very many good reviews when comparing these products is because of the difference in size.
You would think that a monitor that was only an inch thick would be easier to compare to the other ones since they would be the same size.
However, most of the comparison sites end up comparing the screen sizes using the diagonal screen measurement instead. This is because these devices are all different when it comes to the thickness of the screens.
The fact is that monitors with the same size screens will not have the same aspect ratio, meaning that the ratio between the sides and the top and bottom of the screen will not be the same either. These differences will always cause the screen to seem to jump around when you watch a movie or play a video game.
When looking at these monitors, you can find that they are not the same as before because the screen size is different. It does not matter what type of video games you play, and you will notice that the picture on one of these devices will jump around a lot more than the others do. The screen may be almost two thousand pixels by two thousand pixels, which is much higher than one hundred twenty-five pixels by one hundred twenty-five.
The reason why the screen size is so important to consider is that a smaller screen will make everything look smaller, but the aspect ratio is not as important as the other aspects of a computer device. If you want to look at something on your computer screen, then one of these devices will work fine. However, if you are playing a video game, then you should turn the system down to its minimum level because the graphics will be blurry if there is too much screen clutter.
Frequently Ask Question
What is the best 24-inch monitor?
The best 24-inch monitor depends on your needs and your budget. Read our buying guide to find the best products around.
What do we call "resolution"?
The resolution or definition of a monitor is defined as the number of pixels existing on the monitor. It is expressed in pixel per inch or PPP.
What is the difference between a monitor for gamers and a model for office automation?
The monitor intended for office use is often smaller in size compared to the one suitable for gaming.
What does "connectivity" mean in the field of IT?
The term connectivity includes all the sockets and connectors essential for a physical connection between the monitor, the central unit, and other peripherals (VGA cable, USB, HDMI, etc.). They are used on a PC monitor to establish an electrical connection and transmit data.
Is 24 inch monitor good for gaming
A question that I get asked a lot from computer enthusiast is whether a gaming computer with a 25-inch monitor is good for gaming or not. I will be honest and say that it can be, but you will need to know the basics about gaming and monitors to be able to tell whether it is worth the money or not. I will not go into detail about what a screen is capable of as I am sure you have learned all there is to know about monitors in school, so I will stick with the basics.
The most important thing to know is that a gaming computer with a larger screen can provide a more significant field of view than a standard computer can because it is stretched vertically instead of horizontally.The reason why is 24 inch monitors good for gaming is that it can stretch vertically, which allows the gamer to see more of the screen.
Is 24 inch monitor too small
When you are choosing a laptop, you want to make sure that your options are all good. You don't want to be buying a piece of equipment and then later find out that it doesn't work right because the screen is too small. While it might seem like a little detail at first, the way you interact with your computer can affect your ability to get the job done and make you more productive.
Since you probably spend at least eight hours a day using your computer, you should make sure that any computer you buy is going to be the best. If you think that you might not have a big enough screen to make it worthwhile, you can always consider getting a desktop-based computer. These are easier to use, and you will have more space to make things.
Is a 24 inch monitor big enough for gaming
So, is a 24-inch monitor good enough for gaming? The answer is a resounding, yes! Gaming monitors come in all shapes and sizes, but there is one out there that is perfect for your needs. The next question you may be asking is, "How much do these things cost?" While some gaming monitors can run into the hundreds of dollars, there are many gaming laptop models out there that are only a few hundred dollars.
This is not so much the price as it is the quality that you get. When you are getting something that will give you hours of super gaming fun, you want to make sure that you are getting the best deal. Make sure to look for reviews on the model you are interested in and read them.
Make sure that they have been personally tested and checked for quality and performance. If there is any doubt left after doing this, consider the next big question: "Is a 24 inch for gaming good enough for gaming?" If you answered yes to both questions, then you have yourself a fabulous gaming computer. Now all you need to do is find the model you like and start enjoying your games.