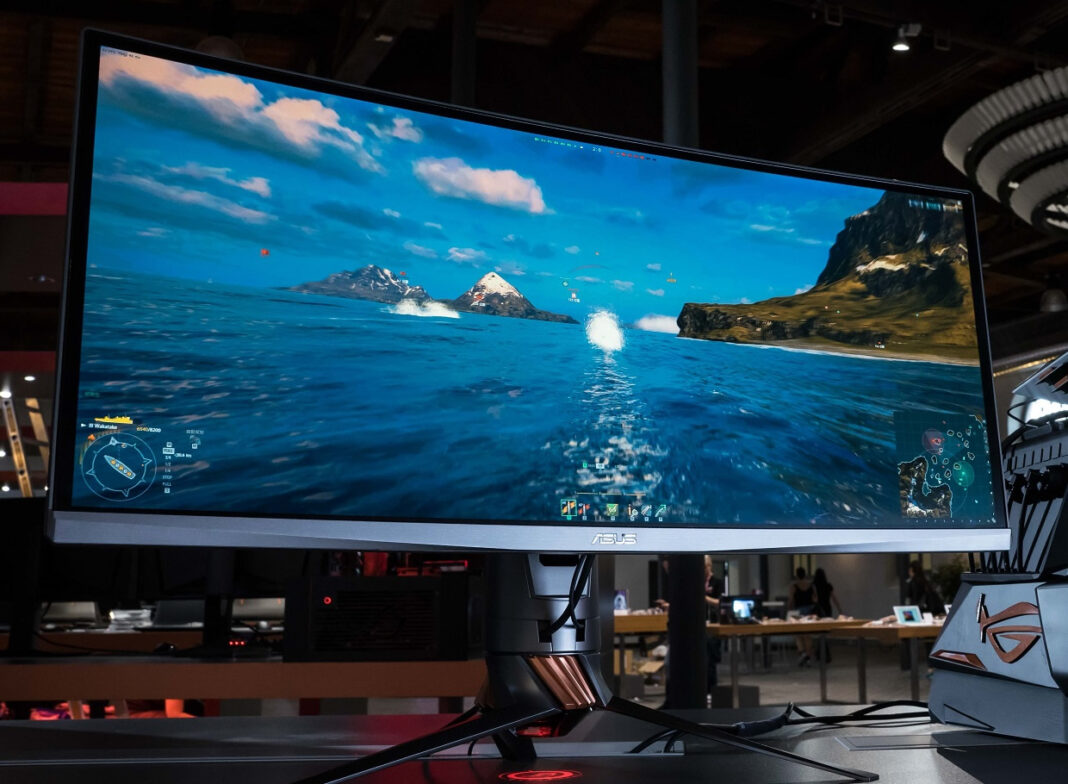 The ASUS ROG PG348Q monitor holds a privileged position in the gaming market. Why? Basically for 3 main reasons:
Spectacular gaming design and enveloping curve
100 Hz refresh rate
NVIDIA G-Sync Technology
If you need to know more about this spectacular ultrawide gaming monitor, keep reading our review.
Comparison of Table ASUS ROG PG348Q
Here, we made a comparison table with 2 other brand HP and LG.
OMEN 27 by HP 27 Inch Gaming Monitor QHD 165Hz 1ms NVIDIA...
LG 34UM69G-B 34-Inch 21:9 UltraWide IPS Monitor with 1ms...
ASUS ROG Swift PG348Q 34" Gaming Monitor Curved Ultra-Wide...



OMEN 27 by HP 27 Inch Gaming Monitor QHD 165Hz 1ms NVIDIA...

LG 34UM69G-B 34-Inch 21:9 UltraWide IPS Monitor with 1ms...

ASUS ROG Swift PG348Q 34" Gaming Monitor Curved Ultra-Wide...

First, in this monitor, it is technical specifications, since they are so many and so powerful that we do not know where to start. However, despite everything, we will start talking about the screen.
The 34 inches size in curved format, we are faced with a usual resolution of 3440 x 1440px with a 21: 9 aspect ratio, excellent both for games and productivity, being its measurements of 829 x 558 x 297 mm offering a greater surface vision than usual with a curvature of 3800R.
The ASUS ROG PG348Q Monitor offers a higher density than 1080p and 1440p panels , perfect for gamers and sharper for works of graphic design and video editing.
Design and Connectivity
The most differential aspect of this ASUS Ultrawide monitor compared to any competition is undoubtedly the design. Going to the ROG ( Republic of gamer) series, TOP in ASUS gaming design, the pg348q offers us a weight of more than 11.1 KG with a 100% futuristic image chrome metallic finishes that give it an impressive appearance.
At the front, the edges are unnoticeable and help to increase the immersion in the screen. From here, we see the robust base with 3 wide legs, with a wide round stand in metallic gray and burnt orange accents throughout, with which it resembles a kind of industrial drill.
This gaming base will allow us to give great support to the monitor, allowing us to adjust the height of the screen and its inclination within the maximum allowed ranges. As an additional detail, we have an LED light that comes out of the base and will project an image that will give even more that gamer point when we are playing (although we can deactivate it without problems)
The back is finished with a futuristic look, spaceship type in which a kind of circuit is integrated, looking for the ASUS ROG series's real gamer aesthetic. It will be here where we find all the connections that this ultrawide monitor Asus pg348q offers.
Settings control joystick on the front
1 x DisplayPort 1.2 (video with 100Hz refresh)
1 x HDMI 2.0
4 x USB 3.0 (Fast Charge)
As an added detail, this ASUS ultra-wide ROG pg348q monitor features a pair of 2W speakers, quite good, with decent volume and a reasonable midrange.
Buy the ASUS PG348Q at the best price.
If you want to buy this ultrawide monitor, you should know that the price of the PG348q being a really high budget for any person or company.
if you are a true gamer, this monitor is one of the best options you can find in terms of design and given its excellent sharpness and perfect curvature, and feeling of immersion.
In our opinion, the strengths of this ASUS PG348Q ROG display are:
3440 x 1440px resolution with 109dpi
3800R curved IPS panel monitor
USB 3.0 connectivity
Technology G-SYNC
100% gamer design
But perhaps the Pros or cons in this ultrawide monitor are quite striking as users have reported by some units with problems:
Considerable light leaks
Very high price
Color Banding
Some units with dead pixels
It can be said that the ASUS PG348Q monitor offers unparalleled image quality for use in games or other work with a unique design more geared towards Gaming. 
However, the reported problems of ASUS quality control, as well as its price, will make you think twice about making this investment in this ROG PG348Q ASUS monitor.
Affiliate Disclaimer : As an Amazon Associate I earn from qualifying purchases.