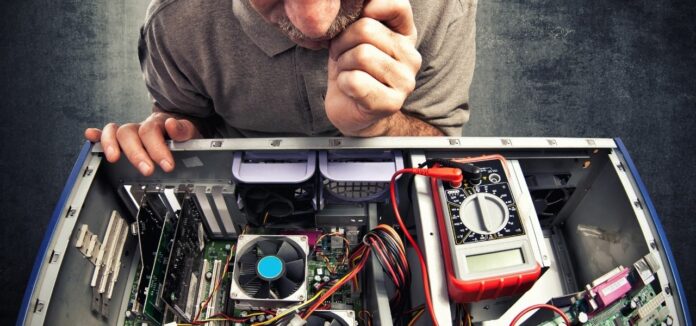 Now that you think of it, you recall having dropped the screen the day you had bought your personal computer. Could that be the reason that the display keeps turning off and on randomly?
The problem could even be with the circuit wire and not the main screen. In any case, your computer is still under warranty. You might as well be able to get the piece replaced or get a free repair on it. 
The situation above sounds a bit familiar, doesn't it? If you use a personal computer or probably an all-in-one PC, you know that these screen problems are very common. At times it can get very frustrating though.
You are in the middle of an important company meeting, and suddenly the computer display freezes.
You are clueless. What do you do?
Don't sweat. Given below are a few scenarios and a few relevant troubleshooting tips as well. These might help you out when you find yourself in such a pickle.
Let's have a look:
Blank Monitor After Bootup
What do you do with a blank monitor after boot up? Your computer has woken up and the fan in the CPU has started making that humming noise. But there is no display! What could be the problem? 
Probable Solution
The power cable could have come loose 
Check for any erosion in the pins at the back of the cabinet 
Look for any cuts or abrasions on the monitor cable
Restart your PC if the monitor doesn't light up. If this troubleshooting doesn't help, you might need the help of a computer repair expert after all.
Display Going Black And Back On
This is a problem with several all-in-one computers, especially with the 3rd and 4th generation processors. The display gets turned off and back on randomly.
There is no fixed pattern and you will notice that all your saved documents and other media operations are unaffected.
This could be a problem with the screen connector and the motherboard. If you have gotten your RAM extended, it could have become corrupted over time.
Probable Solution
Usually, a technician would recommend going for a motherboard replacement. If there is a problem with the connector and the screen, the former could be replaced.
The RAM slots cannot be repaired because they are soldered into the motherboard. You may have to get the RAM replaced if that is causing the issue.
Random Beep Noise On Boot Up?
Have you ever noticed how your computer makes that random beeping noise on booting up? The screen does not show anything.
The power button might light up in rhythm with the beeping sound. There is no display at all and the system seems to be almost dead.
Probable Solution
Again, there might be a problem with the motherboard of the system. This is not exactly a display-related issue and the only way out of it is to get the motherboard replaced. If your system is in warranty, all is good for you.
If it is not, you might be better off with a compatible second-hand motherboard.
Green Vertical Lines On The Screen
This problem is common for all kinds of computers. Those green vertical lines on the display tend to get purple as you click icons and move from one page to another.
These lines can be very disturbing, especially if you are viewing important documents.
This means that there might be an issue with the display adaptor or the laptop ribbon cable. If you are using a secondary display, this problem might arise now and then.
Probable Solution
Remember, every screen is made up of liquid crystals that are lit with a source of light. The back panel is what lights up these pixels to create an image on the screen.
Slightly pressing upon the screen might do away with minor issues and glitches with your display.
You may also choose to dampen a cotton cloth and apply gentle pressure along the whole line to get rid of this distortion. Restart the computer to make sure that there are no more lines on the screen. 
Pro Tip – At times, even overheating of the back panel and overuse of the computer system may also cause this problem. Remember to keep your PC in sleep mode whenever you are not using it to reduce power consumption. This also prevents excessive burnout of your screen pixels.
Rotated Display
Many times, you will notice that the entire display has gone awry. The picture is rotated at a very odd angle.
This could be due to some extreme graphic settings that you have probably activated while playing a high-definition game or while experimenting with the resolution.
Probable Solution
Go to the start menu and click on the control panel tab. Go to the graphics applet and then click on the rotation tab. Disable /uncheck the rotation checkbox.
Apply the settings and click on ok. Exit the control panel and you should be able to see your display reoriented to its original settings. If you do not see the changes take effect immediately, reboot your PC.
Picture And Pixel Distortion
You will find 2 major types of monitors in the market. The cathode ray tube is almost extinct. The liquid crystal display that we all talk about is the most famous these days.
Regardless of what monitor you have; you might witness occasional picture and pixel distortion. This could disrupt the opening and closing of various applications. It may even distort the color balance of your screen at times.
Probable Solution
Update your display drivers. Look for any updates that might be pending on your graphic cards and chipset drivers and update them right away. Several of such display-related issues are due to not updating display drivers on time.
If you still see any picture distortion, reset the resolution of your screen to its original settings. Restart your PC and you are done.
Final Thoughts
These were just a few issues that every other person faces with their computer. There could be so many problems that you haven't even heard of yet. Your picture might be too stretched or probably the exposure could go off balance.
The image may look distorted at the edges or maybe it could grow pale or yellow on either side.
There could be numerous difficulties with your computer display. Don't just fall into troubleshooting mode.
Restart your PC. Update your drivers. Flash the BIOS again. If that doesn't help, call a technician home or probably text him for any practical solution. Your personal computer is not just a piece of equipment.
It is a valuable investment. It is a prized possession. Take your next step wisely.
Affiliate Disclaimer : As an Amazon Associate I earn from qualifying purchases.