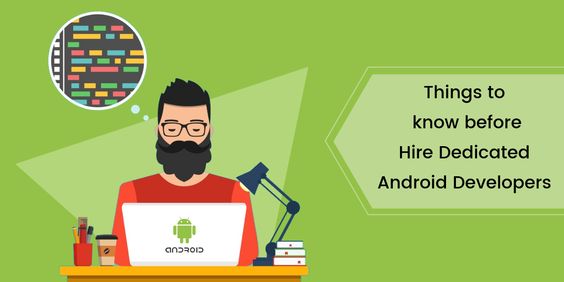 Hire Android Developer – 10 Detailed Tips To Follow
We are in the twentieth century which is the most competitive and technologically advanced era of the generation.
Due to this advancement,
a website and easy-to-use mobile application became the basic need for every online business.
To promote their services and products to their targeted customers.
Moreover, Android is the most emerging and powerful platform with more than 400 Android device manufacturers.
So, developing your company mobile app on this platform can be a key factor for your business success.
At the very first stage, you need to Hire Android App Developer with high qualifications and working abilities,
which can make your app a really useful one for the end-users and that, is the main competition you need to care about.
So, let us have a glance at some of the useful tips that can help you to choose the right person for your app development.
1. Hire an Experienced and Proficient One
Experience always matters the most in a web app developing segment.
Making your end-users happy is not everyone's cup of tea.
Your mobile application is going to be the face of your company for its users.
You need to hire some well-experienced developers with platform-specific expertise along with domain-specific knowledge.
2. Focus on Quality over Pricing
In your search to hire android developer,
you may find many low-budget android mobile app development teams or companies that can build your app with a limited budget.
But there is a high chance that people will dislike your app for its poor quality or lack of abilities.
That is why always try to keep the quality parameters at the top priority than pricing.
3. Go Through the Previous Projects
While hiring an app developer,
always ask them to show their previous projects and other app development works as a work sample.
It is the most effective trick to check all the developing capabilities of the developers.
It will help you to know all the functionality and working speed of the candidates.
Try to ask them some questions related to their previous projects to make sure about their working capability.
You can also check the reviews and comments from the users of the developer's app.
4. Open Source Platforms
Open source platforms and libraries are the most essential fact for any mobile app developers.
When you are going to Hire android developer for your project.
you need to have a clear idea about their knowledge of open source platforms.
It can give the developer some working flexibility and boost their working speed to create and design a mobile application as per your business requirements.
5. Chat with Previous Clients
When you are going to outsource your Android app development project to another company or agency,
do not forget to ask them to send the list of their previous clients as a reference.
Try to connect with those clients to get all the detailed information about the agency you are going to hire for your project.
This is the most effective way to make sure about the affectivity and project delivering ability of any app development agency.
6. Freelance Android Developer
You can hire a freelancer Android developer for your project but there are some risk factors that you need to be concern about.
A freelancer will never invest their entire time and effort on your project as an agency or hired person will do.
A freelancer has many other projects with them like yours.
which means there is a high chance of getting confused with the requirements and other factors.
Yes, you can save a lot of money by Hire Android Developer, but you have to take those risks.
You can go for the reference from your friend circle of close ones to get your job done by a freelancer but hiring one randomly can be a risk for your project.
7. Hire Certified Agency
This is not a very tough job to search-out some well-established and certified Android application development company or agency from the internet.
There are some effective facilities to go for the reputed company.
You can see their works easily from their website, read their blog section to know their regular activities over the digital market.
You can check all the reviews of their satisfied clients to confirm yourself about their working capability.
8. Privacy Agreements and NDA
Always start your business relationship with the app Development Company of the freelancer by signing an NDA or privacy agreements.
It works like a bond between you two that ensures the privacy, property rights and confidential factors of work.
It is always mandatory for all online business holders to avoid any kind of future discrepancies.
9. Versatility of Developer
Every mobile app development projects have its challenging factors for all the developers.
If you are running an app development company, then you must have the resource to deliver every kind of project on time.
So, before you hire someone.
try to check that he or she has a diverse range of Android apps creation ability or not by viewing all projects properly.
Read Also: Best Resources to Be a Skillful Android App Developer
10. Post Development Tasks
It is a vital matter to make some important chats with your hired developer.
agency about the post-development task clearly before handing over your project to them.
Some essential factors like app testing, submission of the app, support and maintenance factors, bug fixing matters and more like that need to be discussed.
It is better to make a written agreement about the entire task before the start.
Conclusions:
Hire Android Developer is not an easy job for anyone.
There are some vital factors to keep in mind while interviewing some candidates to get the best person for your app development work in an Android platform.
Those up-written points can be the most effective solution for you to find the perfect developer for your project.
Affiliate Disclaimer : As an Amazon Associate I earn from qualifying purchases.