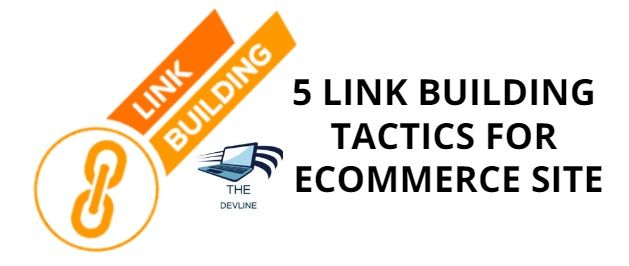 The idea behind this one as the name suggests is fairly simple. But, while trying to build high quality links most of the eCommerce sites struggle. If it's making you wonder, if you could do better without it, then you might want to reconsider as from where are you going to get the traffic?
That's right people, do all the on-site SEO you want and write excellent content, but without building links there'll be little chance of ranking as well as getting traffic. You didn't think it through, did you?
Seriously, there's nothing to be afraid of. With a little extra work in comparison to others, you can certainly build links to any commerce site you desire.
 How? By implementing the given 5 trusted link building tactics without fail.
Create specific community content
One of the best ways to create a quality link is to create something that targets a specific community, just like the educational content. Maybe create a link that houses the best clep study guides. Doing so can help you to tap into the hoards of link juice that hasn't met its potential yet.
By, simply outreaching to such bloggers and letting them know about your content can usually do the trick. If it's good enough including the complete conversation, such as a tremendous infographic, they might as well dedicate the entire post to it.
Infographics are very much capable of adding value to the website, especially when the data is hard to digest.
Give testimonials
Building links with testimonials can be said as a win-win situation for all. As it is not only a perfect way to build customer trust but also a great opportunity to get a backlink along with the potential traffic from the website.
Even better is the much higher approval rate than the standard link request. For this very reason give a testimonial to the companies for them to place on their website, while you get a back link.
So, next time take the opportunity to say a few words about your experience using other company's products.
Create your own blog
Creating your own blog may seem like a time-consuming task, especially with an eCommerce website to handle. But, no matter how amazing you turn it into with the help of Magento theme development, creating your own blog will generate high-quality links.
As it will be required to create content on a consistent basis which will not only build links internally but will also give you the ability to attract links to your content naturally.
Sounds simple enough, doesn't it? However, creating it alone won't do the magic, what you actually do with it as a blog is essential to various strategies.
Ask for a link from the ones you know
Be it your friends, relatives, colleagues, employees or anyone else, if they've got a website or a blog take an advantage of that and ask them for a link.
It's as straightforward as that. Reason being, more people are creating their own website and blogs as the digital age continues to trend upwards.
Isn't it true?
Thus, the chances to of not knowing more people increases. Which means getting links from relevant websites will get tougher.
Because if it's not relevant, those people will most likely be hesitant to link to you and even if they did it's not going to have much impact.
In trustworthy directories list your website
A lot of online directories provide no real value to the internet users, thus google excludes them from its search results. Since there are such pages on which you would not want your website to be listed, there are also those which in actual are not bad at all.
Thus, look for the directories which are trustworthy enough to not just only give you the chance to post a link to your website, but also provide useful information to the potential customers.
Niche directories and directories which are attached to specific industry informative websites are the best examples. Such directories can make it easier to get indexed in the major search engines, allowing people to find you online.
Which one of these are you going to implement today?
Affiliate Disclaimer : As an Amazon Associate I earn from qualifying purchases.