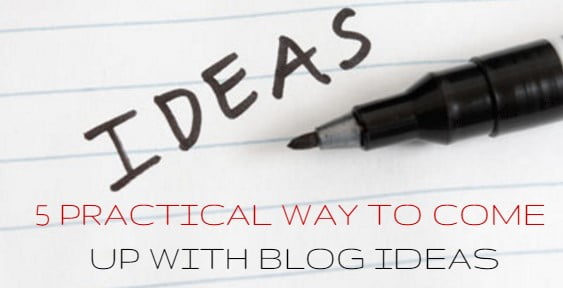 It can be a bit hard to decide on the main idea for your blog, especially if you have no particular hobby or if you are interested in a lot of things.  Some people will gravitate to writing what they have learned from school–like I did back in the day.
If you are planning to do the same, don't just yet–unless, of course, you are so interested in whatever you learned from school that you can imagine talking about those things in your sleep. No kidding.
Otherwise, a few days or weeks from now, you will no longer be interested in your own blog. Here are some things to help you with coming up with a great blog idea.
1
Think of a problem that many people can relate to and provide a solution.
In my case, I chose this topic because I know how painstaking it is for some people to actually set up a blog since they've never tried it before.  I have been there and it literally took me four days, maybe even more to complete my first post.
How much longer did it take me to set up Google Analytics and link it to my site is beyond me but it was worth it.  Even if I haven't earned a cent from my blog alone, I know I will in the future. And even if I didn't, at least I tried. How's that for persistence?
Your blog or site can answer or provide solutions to an issue/problem that you've encountered in your lifetime, like getting directions from point A to B, or a site that solely provides details on kitchen measurements, or my personal favorite:  a blog that helps students understand math/physics/chemistry problems, and even a blog that specifically targets plumbing issues.  The more specific your blog topic is, the better.
2
Document an interesting idea and share your talents.
A recent example of this is 'Forty Days of Dating' –I'm not in any way connected to the authors/artists but this is a great example of documentation of an idea.  They had a little help with social media and some news outfits covered the 'experiment' sometime last year(?), not so sure ,
But these people wrote about their experiences and they are now selling a book and have built a great number of followers.  So very helpful if you are an author or an artist. Most successful bloggers (in terms of earning potential) share their talents.
3
Share useful information.
People browse the internet to get information–whether it's about a particular movie or a recipe that you want to try, it can be found on the internet.  You can create a following by sharing what you know on the internet.  All the more if you have a special way to tenderize meat that works for you,
how to crochet a wedding gown, how to go about passing a driver's license test, or a simple way to build your own fort or install skylights for cheap.  You don't have to be hyper-and-multi-talented, just help someone find a specific type of information. The sky is the limit.
4
Invite people to your cause.
Having a cause is a great way to start a blog or a website.  People can believe and reach you better if you have a site that documents your exploits.  Nowadays, people are more interested in projects that they can also do on their own and those that are generally altruistic in nature.
I have recently become interested in homesteading and permaculture and the information that many of these individuals provide are so great and amazing that I even bought some e-books and started growing seedlings for our garden. You can also do the same in the future, but you have to build an informative blog/site first.
If you have something to inspire people with, go ahead and write about it.  People want to read about things that they can relate to and things that give them hope.  Through years of looking for money on the internet, I have come to the conclusion that POSITIVE sells.
Even big companies tie-up with people who have great causes and certainly with personalities who are able to inspire many with their work and life story.
These are the things that I think will help anyone come up with blog ideas.  Do not limit yourself to these suggestions, though, you can set up a website about anything.  Eventually, people will find out they like your ideas and will keep coming back.
Also, don't give up on your dreams of blogging or keeping a website, if you are lazy, don't write, if you feel like writing a little, then do just that.