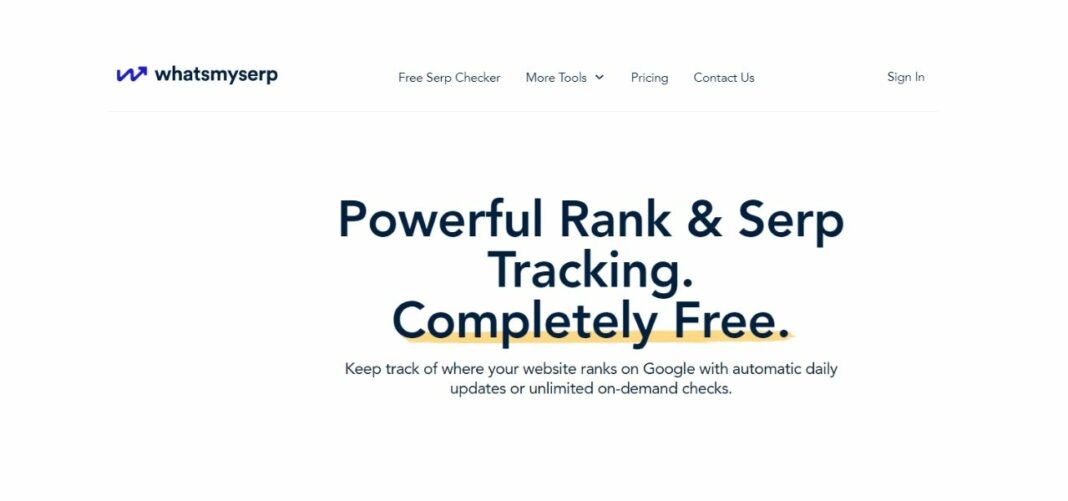 In this Whatsmyserp Review, we will go over Whatsmyserp features and what you can do with the tool. Whatsmyserp has three main options Rank Tracking, WMS everywhere, Free SERP Checker. But most important uses of these tools rank tracking and WMS everywhere.
I am personally a fan of these two sections. Whatsmyseorp rank tracking is an essential tool to know where your site is ranking for any keywords. Whatsmyserp WMS everywhere lets you use it for keyword research.
Whether you are a beginner or an experienced digital marketer, Whatsmyserp could be your new best friend in SEO!
What is Whatsmyserp?
It can be challenging to keep track of what is happening globally and how it applies to your site. Moreover, if you don't monitor the data collected from analyzing your traffic regularly, there's no chance of telling how the changes affect your rankings.
Whatsmyserp is an intriguing tool that keeps you up to date with your rankings on Google. The primary goal of any website or blog is to reach an audience. 
Then, you can use those keywords as content for your website. This is why it's essential to own a tool like Whatsmyserp, to see which keywords are the most popular on your website and what stage of the game they are targeting.
Whatsmyserp features
Now I'm going to explore 3 of the most beneficial features of Whatsmyserps.
1. Rank Tracking
Create a free Whatsmyserps account to take your SEO skills to the next level. The first page you'll see when signing in to my site is the domain section that takes up your screen's center.
In the following section, enter one keyword for each search you would like to do. Below the search box, you can choose which location to do your search and which type of device.
Recommending that you check your desktop version before jumping to your mobile one and then picking the option that best suits you. What will deliver the results right in front of you with all the information you needed.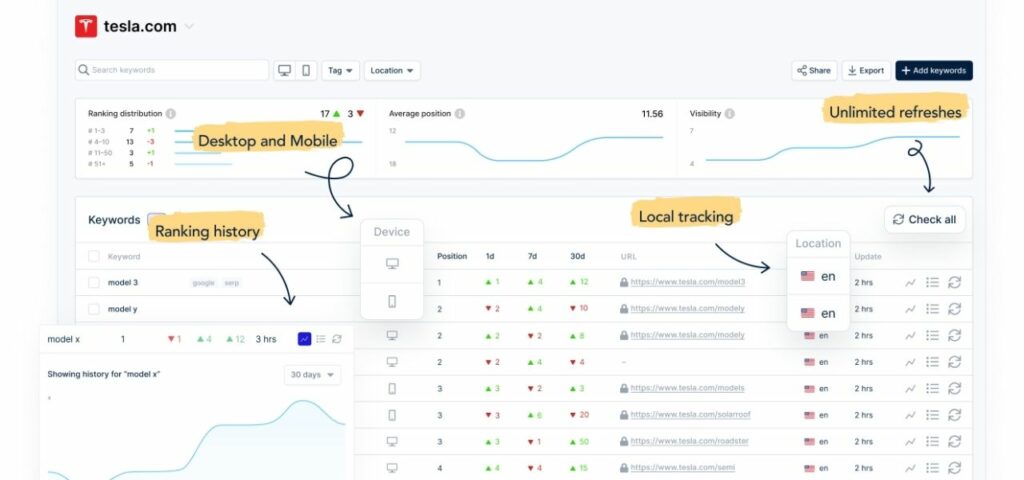 Whatsmyserps will now take over and show you the google search rank for your keywords every hour.
You will see the section with the ranking distribution. That tells you how you rank on the google search engine. If you are in the top 3, 10, or 50, then that is good. If not, that means your site does not have many people who come to it and visit it every day.
Next to your position, you will see the average position. You will also see how many people visit this website.
This Whatsmyserps has automatic updates that can be set to anytime during the day. Once you have added your google search console account and saved some keywords as favorites, this SEO tool will help you find out what those popular keywords are.
Searching for keywords can help you know what your target audience is typing. You can use that information to make your content better, so people will find you when they search.
Whatsmyserps does well-illustrated graphs that show your ranking progress. You can set the graphs to display data from a month ago or even a year ago.
The rank history is only three months long in the free version. If you want to see your whole history, then you need to upgrade to Pro.
2. WMS everywhere

Whatsmyserp has developed a helpful browser extension for checking your keyword search volume and cost per click. And, it's free!
To use the Whatsmyserp extension, you need to download the extension from their website. When you search, you can now find out how many times people searched for that keyword and the average cost of these searches.
3. Free SERP Checker
This tool is entirely free, and you don't need to log in. I didn't think this was a trick at first because when I typed in my keyword, it asked for my email address or name.
But it's not a trick. It is just like any other search engine with accurate results. You will only get 10 searches per day when you don't log in.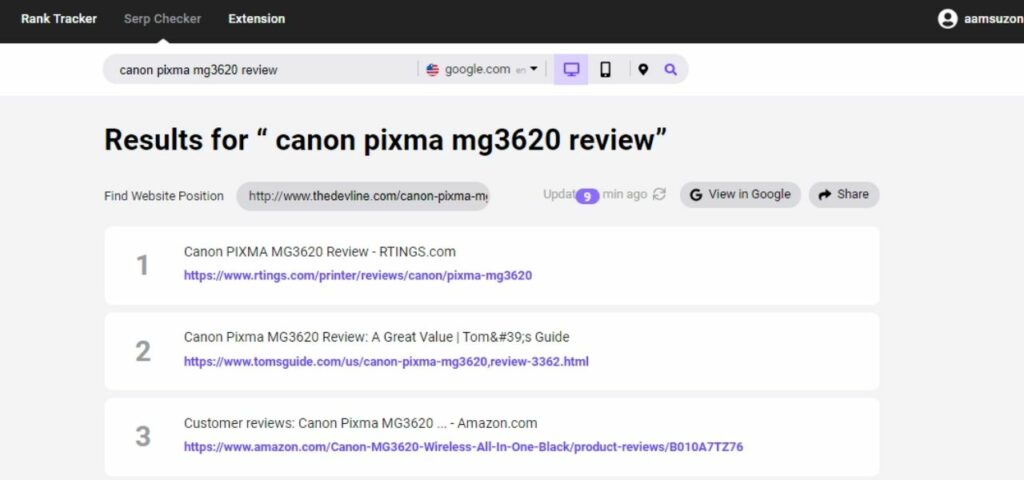 To get more, sign up or log in from your email address and password. You can find a free Website Position checker. 
It has four sections: the URL you want to check, the location, the devices it is for, and keywords. You need to enter the keyword, and then Serp Checker will show you the first 100 results.
To save you time, your google SERP is highlighted in blue. We also found that it helps to be able to switch between devices. 
A SERP checker tracks your website's rankings for either desktop or mobile search. Results may differ between the two depending on different ranking patterns on each device.
Pricing
It features two plans: Basic and Premium. A basic plan is free to use and has so much value, but you can add it in if you want more. It also lets you search for keywords and see how often they've been used on your webpage.
Package from Whatsmyserp.
25 keywords – $4.99 per month
200 keywords – $19.99 per month
500 keywords – $29.99 per month
1000 keywords – $59.99 per month
The paid version is worth the monthly cost if you're a serious SEO researcher because it eliminates the Captcha process, which can annoy some.
You can cancel your subscription at any time and refund within the first month of using it. If you are considering canceling your premium plan, we recommend trying it for one month and then deciding whether or not to continue paying.
Conclusion
A google search will find many tools that help you rank well on google. The best one we found was Whatsmyserp. A disadvantage is that it only works with Google. But we are hoping other search engines like Yahoo and Bing will work in the future too.
Affiliate Disclaimer : As an Amazon Associate I earn from qualifying purchases.