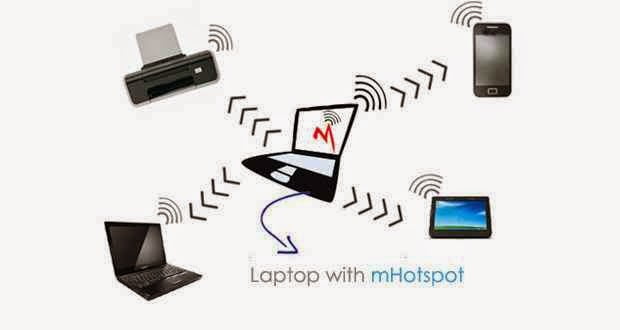 Today all smartphone have to support Wi-Fi Hotspot – mHotspot facility.
Now the laptop is available in our hands. Most people who have a laptop on the same side, they have a smartphone like Android or the iPhone.
If you are using a broadband internet connection on your laptop, then you can also use the same internet connection using your smartphone.
Because every laptop has a built-in wifi device to send and receive data So why you are using a mobile operator data connection when you are in the house. This way of saving you few money.
Today in this article I will show you a Free Wi-Fi hotspot software.
Using this software you can simply turn on your laptop to a wifi  hotspot device.
You can also check : Best Mesh WiFi Network Routers
Setup your Windows machine as a Wi-Fi hotspot:
1. Download mHotspot and install it. The installation is pretty straightforward and when the installation is complete, restart your computer.
2. Enter any name of your choice as Hotspot Name [YourName].
3. Choose a password of minimum of 8 chars.
---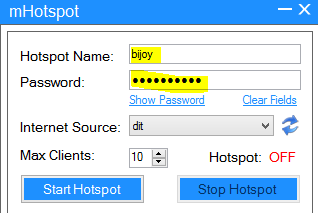 ---
4. Select your active internet connection from the drop-down list of connections.
this option is very important to access internet.
Here in this image show my internet provider name is dit that's why i select dit for my internet source simple down the list and select your provider name
---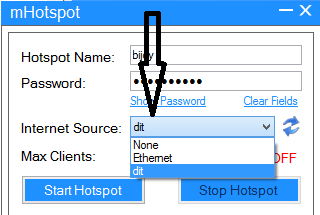 ---
5. Set the maximum number of clients that can be connected to the hotspot.
---

In this Option by default Max Client or user are 10 . if you think to set the 3-4 user can use only then simply change the number by clicking the drop-down button.
Internet Speed is multiplied by client access.

6. Finally… Click start hotspot to start your own personal wifi hotspot.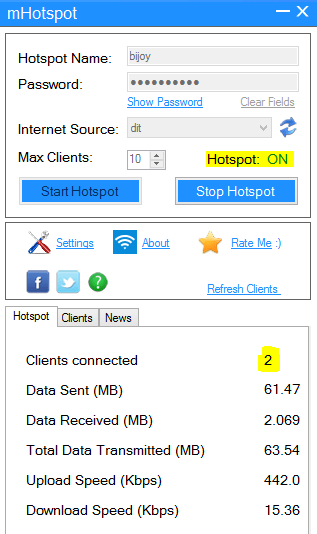 ---
fix for no internet access after connecting to the hotspot
After connecting mHotspot many users not able to access internet but connection is still running on your device.
This problem is for internet sharing may your PC are not properly permitted for internet sharing.
If you can face no internet access in your device please do the flowing Steep hope you are successfully accessing the internet connection.
Open Network and Sharing Center (Via Control Panel)

Click on the blue label of your active internet connection.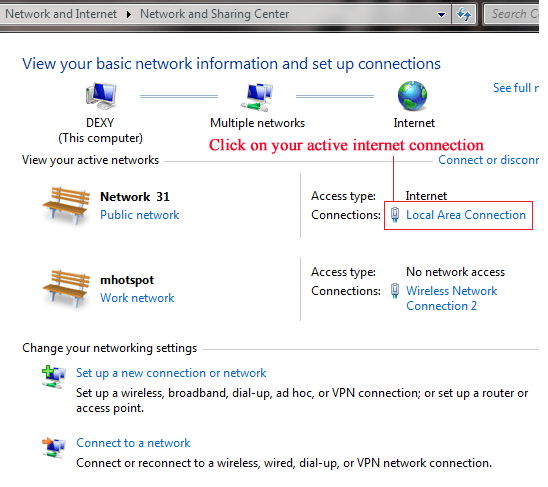 Then a status box will appear, click properties.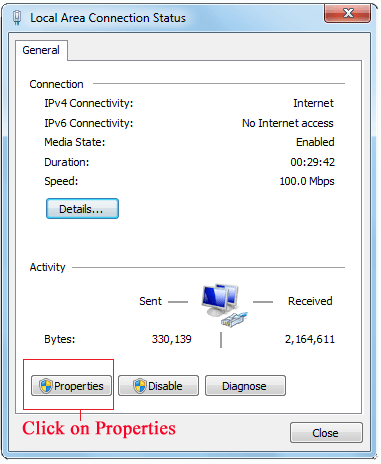 Go to sharing tab and tick the box,"Allow other users to connect through this computer's internet connection" and select the wireless network connection 2.
---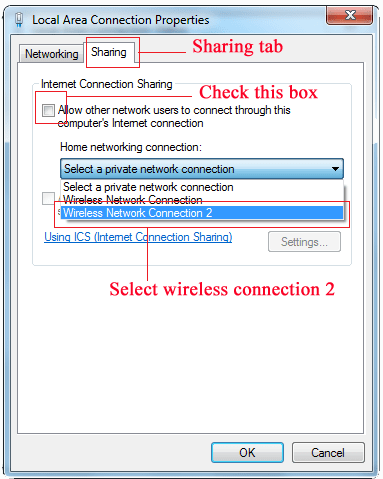 ---
Click OK
Conclusion
That's all for now. You'll be able to use the Internet on other devices now by connecting to the network you specified under Network Name.
That is how you turn your PC or Mac into a Wi-Fi hotspot. Are there any other ways that you used to get this done? Please do let us know via the comments
You can also check: Best Wifi Router For Apartment
Affiliate Disclaimer : As an Amazon Associate I earn from qualifying purchases.