You fail to open a folder with the following error message:
Access Denied
It can be a sign of deteriorating system health. To fix this error, as a first step, scan Windows 10 for issues in the registry.
The software most liked by many users who faced similar errors is Reginout System Utilities.
You can download it from its official website here: Fix Error.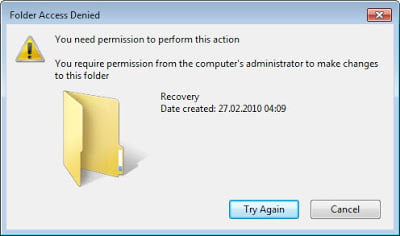 Here are also given manual ways of fixing the error:
1
Change Ownership Privileges
You're not the owner of the shared folder you're trying to access. Change ownership of the folder to another user by setting up advanced security settings.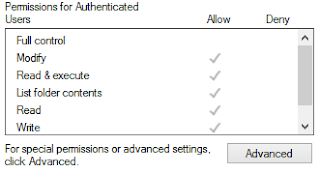 In the Folder Properties dialog box set full control to the current user from the Security tab. All you've to do is make sure adequate security permissions are allowed.
for example, modify, read & execute, list folder contents, read, write and special permissions.
Disk failure causes an error while accessing the contents of a folder. You can fix that problem using Disk Check-Up (commonly abbreviated as, ChkDsk) > Scan Drive.
3
Terminate the Corresponding Process
The folder you're trying to open, move or delete is already in use. Check the Processes tab in Task Manager to get a list of all active tasks, and end up concerning process.
Your Antivirus program may be preventing the folder from deletion. Choose the Pause Protection option after right-clicking its system tray icon, and your problem will be fixed.
5
Decrypt the Folder Contents
You're running into Access Denied problem as the folder contents are encrypted to protect information.
ust review the encryption settings from the General tab in the Properties dialog. Leave the "Encrypt contents to secure data" box unchecked under the Advanced category.
6
Try Accessing it using a File Compressing Tool
Use a free file compressor tool such as 7 Zip File Manager, and try opening the folder from its main user interface.
Using the System Configuration tool boot your computer in the Safe Boot mode. This prevents loading third party programs that are using the folder you're trying to open.
The Safe Boot option is located in the Boot tab of the MSCONFIG utility.
8
Rebuild Corrupted User Profile
A corrupted user profile is one of the reasons behind the Access Denied issue. Try rebuilding your user profile by deleting an existing user account from User Accounts > User Accounts > Manage Another account, in the Control Panel.
While re-creating a new profile, make sure you do not associate the old Microsoft Live account as your PC may obtain existing misconfigured settings that are saved on the cloud.