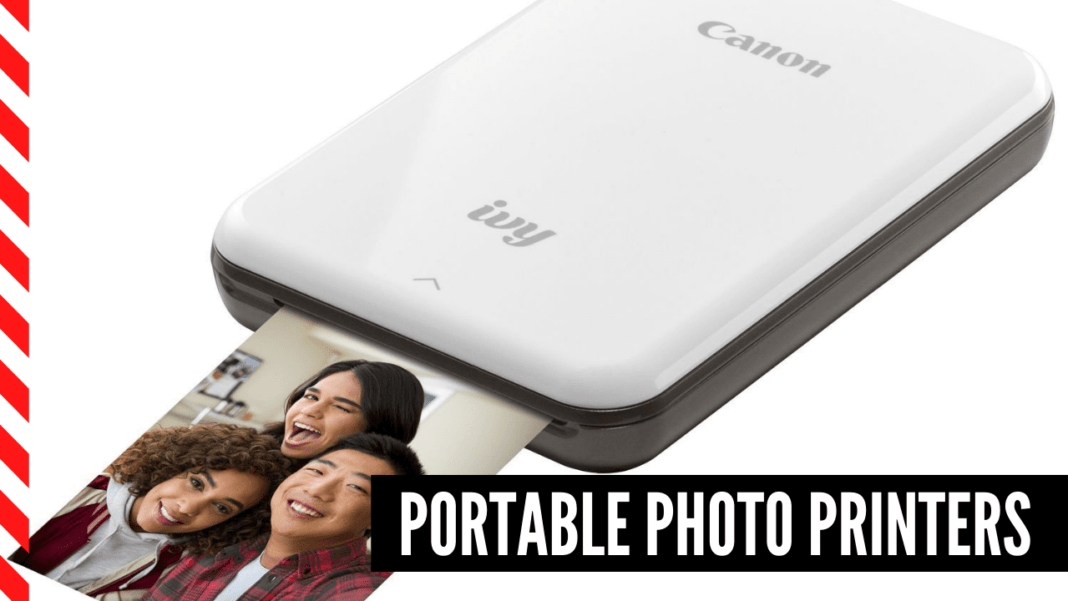 Last Update May 3, 2021: We improved the overall article.
Portable photo printers available in 2020 – 2021 are compact, easy to use, and transform your clicks into physical keepsakes within seconds.
Portable photo printers vary in size, working mechanism, and print quality.
While several portable photo printers use 2" x 3" Zink paper, others can produce 4" x 6" photo prints on the go.
Some printers use specialty instant films instead of paper.
Many professional photographers use portable photo printers to produce small photo prints on-the-spot for their clients. Some people use these devices to create photo albums, wall art, or vacation journals. Nowadays, many businesses and individuals also use them to hand out photos during exhibitions, trade shows, conferences, etc.
Whatever your reasons to buy a portable photo printer in 2020 – 2021, you'd want to make an informed decision.
Here in this post, we wish to help you with exactly that.
Top 7 portable photo printers Comparison Chart
Here are our top-rated picks in portable photo printers for creating photo albums, wall art, or vacation journals, and even our favorite budget-friendly options.
HP Sprocket Select Portable...
Canon IVY Mini Photo Printer...
Kodak Mini 2 HD Wireless...
Canon Selphy CP1300 Wireless...




HP Sprocket Select Portable...

Canon IVY Mini Photo Printer...

Kodak Mini 2 HD Wireless...

Canon Selphy CP1300 Wireless...

Last update on 2021-07-16 / Images from Amazon Product Advertising API
---
Let's take a look at the top seven portable photo printers in 2020 – 2021
HP Sprocket Select
HP Sprocket Select Portable...
Print 30% larger photos in an instant – Connect with the HP Sprocket app using Bluetooth, and quickly print photos 30% larger than those of the original HP Sprocket
Exclusive fashionable photo features – Curate your photos with the HP Sprocket app, and access exclusive designer features, frames, filters, and stickers for your pictures
Personalize your prints – Take a picture of your own doodles and turn them into custom stickers, using the free HP Sprocket app
Last update on 2021-07-16 / Images from Amazon Product Advertising API
---
This portable photo printer delivers reasonably good quality for a pocket printer.
Since Sprocket Select uses specialty (sticky-backed) paper, it does not require ink/dye cartridges. Loading the 20-sheet role is easy.
This ink-free portable photo printer connects only via Bluetooth. Printing your smartphone clicks is easy and hassle-free.
With a page speed of 1 page-per-minute (ppm), HP Sprocket Select is relatively slow. But you can always create good-quality wallet-size (2.3" x 3.4") prints on-the-go.
Compared to the original HP Sprocket printer, it can print 30% larger photo prints.
You can use the HP Sprocket app to quickly edit and print photos. Alternatively, you can learn how to process images without learning Photoshop or Illustrator. 
The built-in rechargeable battery is good for producing about 30 prints per charge. A micro-USB port on the device can be used for recharging the battery. An LED light serves as a battery-status indicator or print-job-status indicator.
HP Sprocket Select is a great choice for those looking to buy a portable photo printer for journaling. Running costs, however, are on a higher side.
Canon IVY Mini Photo Printer
Canon IVY Mini Photo Printer...
Print from Bluetooth and social media
Print 2 inches x 3 inches photos with peel and stick backing
Super portable. Print resolution 314 x 400 dots per inch
Last update on 2021-07-16 / Images from Amazon Product Advertising API
---
An inkless photo printer like HP Sprocket Select we discussed above, Canon IVY Mini can produce one 3.4" x 2.1" photo print with a maximum resolution of 314 x 400 dpi in about 25 seconds.
Weighing just 158 grams, IVY Mini is so small that can fit on the palm of your hand.
The device uses a Bluetooth connection for printing via the Canon Mini Print App. You can directly print photos from your device-memory or Internet; you can also edit or enhance photos before you print them.
Since this portable printer works with your tablet or smartphone, there is no control panel or user interface to speak of.
It is powered by a single lithium-ion battery that can be charged by a micro-USB connector. An LED light indicates the charging status.
HP Tango X
HP Tango Smart Home Printer...
LIMITED TIME OFFER: 4 MONTHS OF INK FREE, when you sign up HP Instant Ink service during printer setup. Offer ends 9/14/2019
THE WORLD'S FIRST SMART HOME PRINTER – If your life revolves around a smartphone, Tango is for you because it handles print jobs from anywhere – whether a coffee shop or a friend's house – with a modern design that blends with your home décor
VOICE-ACTIVATED, HANDS FREE PRINTING– From shopping lists to crossword puzzles, use your mobile phone printer to print hands free with Alexa, Google Home, and Microsoft Cortana so you can stay productive without interrupting your life
Last update on 2021-07-15 / Images from Amazon Product Advertising API
---
Positioned as a smart home printer, HP Tango X can be your portable printer of choice due to its compact size.
A multi-function consumer-grade photo printer, HP Tango X can print, copy, and scan.
This four-color inkjet printer uses two ink cartridges. High-yield HP printer cartridges are optional.
Although this printer is HP Instant Ink Ready, it is advisable to buy compatible printer cartridges to keep printing costs under control.
It supports dual-band Wi-Fi and voice-activated printing.
This portable photo printer can produce about 8 color prints and 11 monochrome prints per minute.
Kodak Mini 2 HD
Kodak Mini 2 HD Wireless...
Easy print technology – mini smartphone printer lets you print 2. 1 x 3. 4" photos direct from Android or iOS device; No cables or buttons necessary
Wireless connectivity – NFC one touch for Android Launches Kodak app to print in seconds; also compatible with iOS/Android via Bluetooth
HIGH QUALITY PHOTOS – Innovative 4 PASS D2T2 Dye Transfer Method Produces Beautiful, Detailed Black/White or Color Portraits That Dry Instantly & Stay Bright Up to 10 Yrs
Last update on 2021-07-16 / Images from Amazon Product Advertising API
---
Nearly the size of a smartphone, Kodak Mini 2 HD is highly portable.
You can carry it around in your pockets and print 2.1" x 3.4" size photos directly from your Android or iOS devices.
One of the best portable photo printers to buy in 2020 – 2021, Kodak Mini 2 HD produces beautiful-looking and detailed color portraits and B&W photos through dye sublimation thermal transfer technology that dry instantly.
The manufacturer claims that fade-proof and water-proof photo prints made with this portable photo printer can retain their sheen for up to 10 years.
You can use the Kodak Photo Printer App if you want to crop photos or apply filters; adding stickers or using templates is also easy.
The device uses a lithium-ion battery which can be charged through a micro-USB port. It can print about 20 photos per charge.
This portable photo printer takes around 50 seconds to print a wallet-size photo.
Canon Selphy CP1300
Canon Selphy CP1300 Wireless...
Not only will your photos be instantly dry, but they will also look great for up to 100 years4 and are even water resistant
Enjoy the simplicity of connecting your smartphone and tablet with ease, through the Canon print app3. You can even print directly from USB, or your camera's memory card2
The sleek, portable design lets you bring the SELPHY CP1300 with you and with the optional battery back you can print and share your memories wherever you are
Last update on 2021-07-16 / Images from Amazon Product Advertising API
---
Known for its expressive colors and brilliant skin tones, Canon Selphy CP1300 is an incremental upgrade to CP1200. The print quality has improved considerably in this version.
A portable photo printer on budget, Canon Selphy CP1300 is known for its low printing costs in comparison to other portable photo printers popular in 2020 – 2021 such as HP Sprocket.
This portable Wi-Fi photo printer can be used to print high-quality photos from your camera or smartphone anywhere, anytime. You can also print directly from your camera's memory card or USB.
The device features a 3.2" LCD screen.
The battery pack is optional. The battery can print up to 54 photos per charge.
Epson WorkForce WF-110
Sale
Workforce WF-110 Wireless...
The ultimate in portability — Ultra lightweight and compact, even with the external accessory battery.
Flexible battery charging — Choose from a variety of charging options, including via USB and AC adapter, or print on AC power.
Built-in battery — a rechargeable lithium-ion battery offers dependable performance in a small package.
Last update on 2021-07-16 / Images from Amazon Product Advertising API
---
A compact mobile printer, Epson WorkForce WF-110 can be easily carried in bags or briefcases for printing photos on the go.
The printer's built-in lithium-ion battery can be recharged by an AC adapter or via USB.
With an additional accessory battery (optional), it can handle even greater print-volume.
The device features a 1.4" color LCD and supports hands-free, voice-activated printing.
Marketed towards business travelers, Epson WorkForce WF-110 can be used to print 4" x 6" borderless photos, contracts, invoices, PowerPoint handouts, and more.
The printer uses pigment ink and supports resolution up to 5760 x 1440 (optimized) dpi.
Polaroid Originals Polaroid Lab
Sale
Polaroid Originals Lab -...
The Polaroid lab converts digital photos on your phone to real Polaroid prints through the Polaroid Originals app.
Original Polaroid picture Format for all of your photos.
The 3 element lens system converts digital photos to analog like magic.
Last update on 2021-07-16 / Images from Amazon Product Advertising API
---
An ideal portable photo printer for on-the-go snapshot printing, Polaroid Originals Polaroid Lab produces instant photo prints from your smartphone screen.
The optical lens and smartphone screen are used via the Polaroid App to expose an instant film for producing the print. You can also print images stored on your phone.  
The film, however, is pricey.
If you love Polaroid prints, you might just love this portable printer, available in 2020 – 2021
How to Choose the Best Portable Photo Printer
There are some important aspects to consider when you are trying to decide what type of photo printer to purchase. First, think about the amount of money that you would like to spend on your printer.
It is important that you find a printer that meets all of your needs.
If you need multiple photos printed at once, then you may want to go with a printer that has a larger ink capacity.
If you are going to use the printer to create high quality, large-sized printouts for presentations, then you will need to purchase the printer with an autofocus feature.
The best printers can create quality prints that are crisp and appealing.
Once you have decided on the number of photos that you want to be printed at one time, you will need to look at the different photo printer models that are available.
If you need several pictures printed at a time, then you will want to look into a printer that has a high-quality printing resolution.
A printer that is too low in resolution could cause your pictures to be blurry or not print out at all. You also need to look into the size of the printer. You will find that some printers have a large capacity that can handle multiple prints while others have a smaller capacity.
If you do not have space to store your prints, then it is important to get a printer that has a removable tray. Many printers also have built-in backing, so you should be able to take your printer apart and replace the paper if necessary.
The best way to choose the best portable photo printer is to take some time and consider all of your options. If you are planning to use your printer to create custom artwork, then it is best that you buy a printer with a high print resolution.
If you are printing photographs for personal reasons, then you will probably want to get a printer that has an auto-focus feature. These features make it easier for you to adjust the focus as you are moving the camera around.
After you have found the right printer, you will have great photos, and they will last for a long time.
How Does a Portable Photo Printer Work?
A Portable Photo Printer has become a necessity for those who have limited space in their home or office. A typical printer has a built-in card reader but there are also printers that do not have this.
With the advent of the Internet, it is not uncommon to see many people printing photographs right on their computer screen. There are also some printers that you can plug into your wall or put underneath your desk.
One of the benefits of using a portable photo printer is that it can be taken on trips to places where there is no Internet access. Many people find that being able to print photos while on the road saves them money on ink and paper because they do not need to bring the printer with them.
The way a portable photo printer works is by taking a photograph and then transmitting it to a printer on the computer. Once the image has been transmitted to the printer, the information is then converted into a format that can be used by the computer.
It is important for the computer to be compatible with the type of picture that will be printed. This is usually the case for many portable photo printers.
It is important to check with the manufacturer of the printer to ensure that it is compatible with the type of pictures that will be printed. Some printers can be easily connected to a computer via a USB cable. Other printers will require a serial port cable to be plugged into the computer and then hooked up to the printer.
When the photo is being sent from the digital camera to the printer, it is usually stored on the computer until it is ready to be sent to the recipient. Once it has been received, the printer usually sends it to the address that has been entered in the card reader of the printer.
Some printers will use a special card reader which allows the printer to scan the cards before sending them on to the recipient. The process of receiving a photograph has changed from using a paper roll to using the Internet.
A good example of a person who benefits greatly from having a portable photo printer is a woman who has her own home business and does not want to waste time going from one location to another to get an advertisement.
Inkjet Printers
Inkjet printers are a form of computer printing, which converts a virtual digital image into a physical copy by pushing droplets of ink onto paper or plastic surfaces.
These printers are the easiest to use and the most widely used type of inkjet printer, ranging from small and inexpensive consumer model printers to more expensive professional printers.
Laser printers
Laser printers are the latest and most popular method of printing images and text on paper. They are relatively inexpensive and have the ability to produce high-quality output that is perfect for almost any use.
This article will discuss some common misconceptions of laser printers and what they can do for you and your business.
Read on and discover the many benefits of laser printers today!
3D Printer
When you compare price and quality, a good idea is to consider the advantages of 3D printing. Although the technology is new, there are so many benefits to purchasing this type of printer compared to older technology.
The advantages of the new technology include the fact that it is a one time purchase, which reduces your operating costs, and the fact that you do not have to replace the printer as often.
The main advantage is that the price is right, meaning that you will be able to purchase an item that offers more for less money.
How We Tested
If you want to know how we tested portable photo printers, read on and discover all the secrets we uncovered! These devices are great for taking the best pictures possible, but what exactly are their strengths, and do they really offer a superior quality of picture compared to other photo printers?
When comparing the features of other printers and portable photo printers, you will find that there are many differences.
One is the portability factor. The ability to take photos on the go is a very important consideration, especially when you are looking for a device to take your pictures during business meetings and such.
Other advantages of these devices include their size. They can be easily transported to any location with ease and are even relatively small enough to be easily stored in your car. The fact that you can take them with you when traveling also adds to their usefulness.
Another big benefit is the fact that they are quite easy to set up, which is something that is certainly important if you are going to be using your printer often.
As you can see, portable photo printers have several advantages. For the most part, they have everything that any normal print machine should, including toner, paper, and a variety of options.
However, there are some definite downsides, and this is why we have put together this guide to help you find out how we tested portable photo printers.
Conclusion
Portable photo printers are perfect for a variety of reasons, particularly for individuals and small businesses. A lot of the time, when people get together, they usually need something to do other than simply talks or laughs. When you use a portable photo printer, you have a number of different options.
You can send out thank you cards, business cards, and event invitations with a portable photo printer. This means you can be in an incredibly comfortable position of being able to send a variety of different invitations to numerous people all at the same time, all with the same look and feel and with very little effort.
Of course, not all mobile photo printers are created equal. The fact is that some are quite cheap and some are not at all. It can also be difficult to know what features to expect from a particular model when you're trying to find one that's going to do the job for you.
Luckily, there are a few things you can look for when purchasing a portable photo printer.
First and foremost, it should have a portability factor. You don't want to have to spend hours trying to transfer a photo from one device to another just so you can print it out.
If you want to be able to print out a document on any computer without having to get up and walk all over the room, then you want a portable photo printer.
Also, think about how many pages you're going to print out. Some models are going to print out more than others, depending on what the printer has to offer.
Make sure that you are able to print out enough pages in a reasonable amount of time to get to work on your next project, whether it's a group photo for a school project, a holiday card, or a photo for your business.