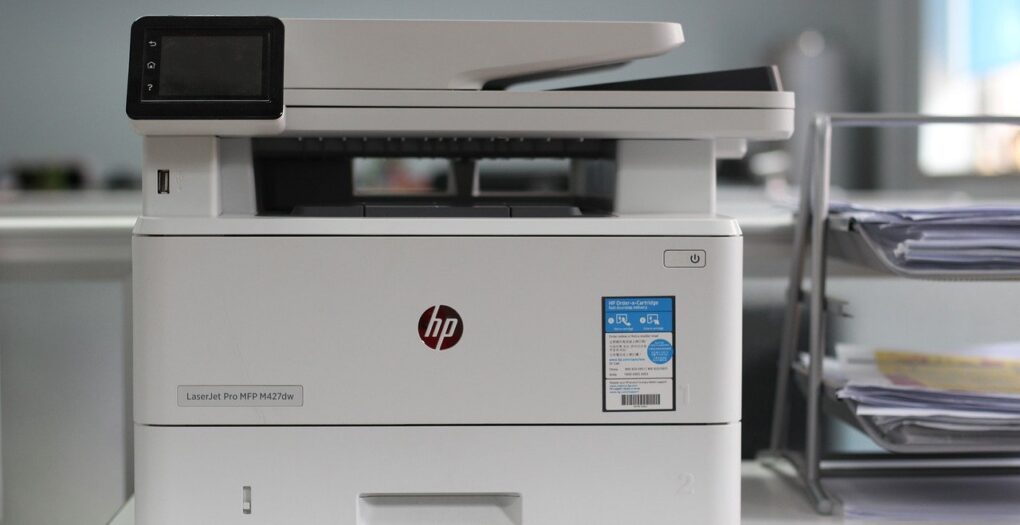 If you are a small business owner, you must have the best HP Printer for small business your needs. Choosing a printer can be challenging since there are several models to choose from. It would be best if you took time to research for the best model that matches your needs.
How much do you need to print? It will determine which printer is best suited for you. Many people use a simple printer because it is less expensive.
However, if you are going to print frequently, you should get the more expensive printer to get the best features at a lower cost. Below are some of the tips that will help you choose the best printer for your business.
Best HP Printers For Small Business – Comparison Table








HP OfficeJet Pro 9010 
Printer...
3-Years HP warranty at no extra cost
Print, copy, scan, fax
Print up to 22 ppm black, up to 18 ppm...
For small businesses looking for versatility and the need to save money, the HP OfficeJet Pro 9010 is the ideal solution. This multifunction printer offers all the flexibility demanded by intensive use. In particular, she performs printing, scanning, faxing, and photocopying work.
In terms of operating costs, the HP OfficeJet Pro 9010 is very attractive. It takes 9 s to print the first page in black and 10 for the first page in color. In two-sided printing, the HP OfficeJet Pro 9010 prints up to 14 ppm, which is very satisfactory. The resolution reaches 1200 x 1200 dpi in black and up to 4800 x 1200 dpi in color. 
HP Deskjet 3760
HP DeskJet 3755...
Main functions of this HP DeskJet 3755...
The power of your printer in the palm of...
Ink delivered to your home: get your...
Like a home printer, the HP Deskjet 3760 has something to seduce. Compact, it displays an attractive design with a mixture of blue and white that covers the device. And unlike most HP printers, paper here is fed from a rear tray to a front output tray, much like Epson printers.
The small control panel at the right end of the scanner bar has an LCD monitor that shows the number of copies. It also displays a variety of icons indicating device status and current settings. The printer has a single USB port on the back, but it is much more versatile when connected via Wi-Fi, giving additional printing possibilities access.
HP Color LaserJet Pro M283fdw
HP Color LaserJet...
Big multifunction performance with...
Print remotely with the HP Smart app:...
Save time with customizable shortcuts:...
The M283fdw's text rendering is incredibly crisp, with no noticeable pixelation and crisp, smooth borders. The print maintains this quality, regardless of the style or size of the characters. But what keeps this M283fdw model from getting a perfect score in this area is that it looks set back for fonts below 10pt. On the other hand, the laser printing speed and the capacity to reproduce the images are bluffing.
Compared to its predecessor, the M281fdw, the HP Color LaserJet Pro M283fdw is more massive. You can automatically load up to 250 sheets divided between 2 trays. What will use these bins for printing only? Note the built-in fax/scanner function, which has its 50-page automatic feeder, so you can scan long documents in a flash and print as you like.
HP Sprocket
HP has made many improvements to the Sprocket to meet the competition, including design and operating software. It is effortless to use. It offers excellent connectivity options (micro-USB cable, Bluetooth, and Sprocket app) and lots of fun features (filters, etc.) to make your photos even better.
This photo printer supports A5 (5 x 7.6 cm) photo papers, available in packs of 10, 20, or 50 sheets. Just lift the magnetic cover and drop the leaves the right way around. Printing a photo is simple: tap one or more images in the app's gallery, then tap Print.
Conclusion
The best HP printer will be the one that provides all of the functions you need at an affordable price. You must take your time and compare all the features on all of the printer models you consider before making your final selection. If you do your homework, you will be able to find the perfect printer for your needs at a price that fits your budget. Take your time, and you will find the best printer for your money.
Affiliate Disclaimer : As an Amazon Associate I earn from qualifying purchases.