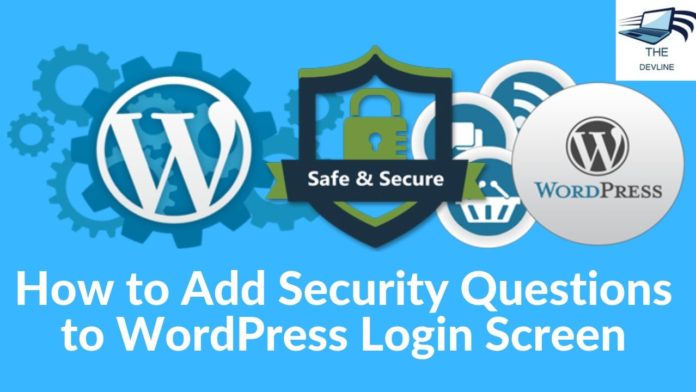 WordPress security has always been the top priority for users. Though it's true that most of the latest updates including WordPress 4.5.2 focuses on advanced security features of the CMS but there is more to improve its security part.
There is an infinite number of methods to consider for protecting the WordPress login page. Most of the companies prefer to add security questions on the account for the strict identity verification process.
Recently the question related to WordPress login page security was asked by a reader. In this post, steps to secure WordPress login page will be introduced step by step.
To do this, it is essential to download WordPress security question plugin that will be a perfect solution for the users. It is essential because most of the time, hackers reset users password using SQL injection method.
Steps to improve WordPress login page security
The first thing is required to install and activate the WP Security Question plugin. Here are few steps to install WordPress security question plugin:
> Upload the wp-security-questions-lite directory to the /wp-content/plugins/ directory
> Next, activate the plugin with the help of 'Plugins' menu in WordPress
Upon activation, visit "Settings" option and click on "Security Questions" page to customize the plugin settings.
---
---
There will appear a full list of security question setup. Next, add all the security questions by simply clicking on the "Add more" button at the bottom.
Alternatively, one can edit or remove all the existing questions accordingly. Right at the bottom of the settings pages, an option will appear to enable various security questions on login pages.
---
---
Always remember to click on the "save settings" button to store all the changes that are made.
That's all.
From now on-wards all the users on your site will be asked to select and answer their security question on the login page.
---
---
Registered WordPress users can easily visit their "Profile" page to choose a security question and add their answer accordingly.
---
---
Users who have not set their security questions will still be allowed to login by simply using their username /email and password details.
All new users will be able to select a security question during registration if they have enabled this option on registration page..
---
---
All the users will be asked to answer their security question to get the password reset email at the time of adding questions on forgot password page.
If a user's email ID does not match, then this would stop them from gaining access to their account by asking to access the reset password option.
---
---
Above are a few steps to add security questions that are needed to prevent your WordPress login page features for security purposes.
To enable strong WordPress security process, it is essential to hire WordPress developer who will add additional security layers to strengthen WordPress websites for the users.
These highly skilled developers take every possible step to secure WordPress websites from malicious users and dangerous hackers.
There are other big advantages of proficient WordPress developers. They develop updated themes and plugins to make sure that WordPress site is up-to-date and functioning properly with technology advancements. This surely reduces WordPress security risks to a great extent.
Conclusion
Securing WordPress login page was never an easy task before, thanks to WordPress security question plugin that has made this work easier for us. Following all the above steps to enhance login page security feature for WordPress site will surely make the task easy for everyone.
After this implementation, no matter what even if an attacker tries to obtain users' account credentials, they won't be able to do so. Of course the disaster recovery technique is quite helpful. All the above mentioned tricks will definitely help users monitor and protect their WordPress account in a much reliable method.
In order to prevent any credential WordPress account details, one should definitely look forward towards long-term security solutions and following the ones given above will exactly keep the account secure and safe.
Affiliate Disclaimer : As an Amazon Associate I earn from qualifying purchases.