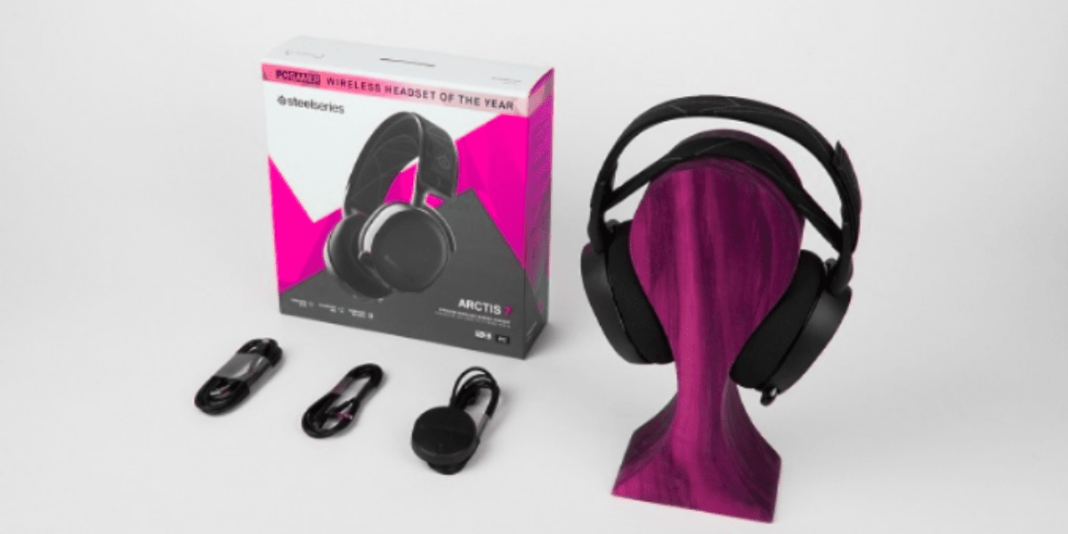 The Arctis 3 and Arctis 5, the Steelseries now offers the SteelSeries Arctis 7, which is at the top of the range. The end differs from past models in many ways, starting with a more glossy shine and better quality materials. 
The sound rendering has also been the subject of significant improvements for a more immersive environment. This new version can deliver a new generation DTS surround sound called DTS Headphone: X v2.0.
Table Of Content
Getting started with the Arctis 7 headphones
Steelseries offers its Arctis 7 model, high quality and complete gaming audio headset, but accessible to all budgets. It comes with all the essential accessories. 
So, we find in the box:
Circum-aural type headphones;
A wired transmitter for wireless connection;
A green micro USB charging cable USB port;
A cable for the wired connection with a 3.5 mm jack plug and a proprietary 4-pole connector;
A user manual.
These circum-aural headphones have semi-oval-shaped ear cups, this format being more suitable for better covering the ears. It also has two hoops, including an outer steel hoop and an inner hoop in stretch fabric, similar to the previous models in the Arctis range.
No products found.
Connections and settings 
To make your listening and immersion experience as pleasant as possible while offering you maximum flexibility, the Arctis 7 headphones are equipped with practical and handy connectors.
The buttons are directly accessible on the helmet. We find the volume control wheel and a button to mute the microphone on the left ear cup. On the other hand, the right ear cup features the on / off button and a control for adjusting the sound between chat and game.
A proprietary connector for wired connection, a 3.5 mm jack plug for connecting another headset, and a micro-USB port are also present on the left ear cup. The power button illuminates green when the headset is in use, but its color varies depending on the battery status.
The Design
The Arctis 7 headphones are available in two models: steel/black and steel/white. The fabric that constitutes the inner hoop and covers the top of the outer round is black. The materials used exude quality. Indeed, in addition to the outer arch's steel, the ear cups are made of good-density plastic. 
There is no particular complaint about the level of finish, which seems neat. The cables themselves are quite thick and appear sturdy.
However, it should be noted that the semi-flat shape of the outer hoop limits the extension of the inner fabric hoop, which poses some problems for users with a large head.
The ear cushions are made of soft and breathable fabric to ensure better wearing comfort even over long gaming periods.
However, they do not provide sound insulation comparable to that found on noise reduction headphones. For nomadic use, it is, therefore, sometimes necessary to reckon with ambient noise.
The software
The Windows and Mac compatible Steelseries software allows the Arctis 7 headphones to be configured. It offers several comfort settings for an enhanced listening experience, such as DTS Headphone: X v2.0 surround sound tuning with the ability to choose between 3 presets.
The software also gives access to a 5-band equalizer with several presets and virtual volume control.
Wireless Connectivity
Its exclusive 2.4GHz wireless connectivity, the Arctis 7 demonstrates the extreme transmission speed for a sound experience worthy of the best headphones on the market.
Under the right conditions of use, 2.4GHz technology guarantees lossless and interference-free audio quality over a transmission distance of up to 12m.
Battery life in wireless mode can be up to 24 hours, enough to cover long gaming moments or semi-intensive to heavy-duty mobile use.
Sound Quality
Sound is naturally one of the strengths of those Arctis 7 headphones from Steelseries. It is not for nothing that this product has been awarded several times for the sound quality. We can cite a few of the distinctions he has received:
Wireless gaming headphone of the year award by PC Gamer.
Best gaming headphone by Tom's Guide.
Digital Trends.
Even Trusted Reviews.
But in reality, what is it worth? Because of its technical features and sound, it was evident that this headset offers excellent performance. The first point to remark comes from the use of S1 40mm neodymium magnet transducers.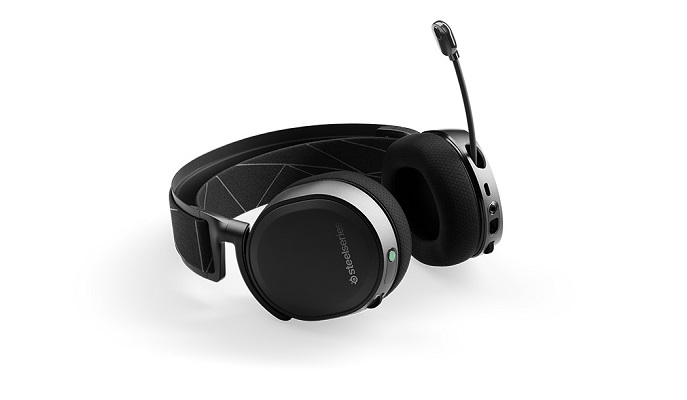 They deliver quality sound with a shallow level of distortion below 3%. Their 98dB sensitivity also makes them easy to power without sacrificing battery power. Also, there is an outstanding bandwidth of 20 to 20,000 Hz, which allows the full spectrum of sound to be heard. The second point is linked to Arctis 2.4G wireless transmission technology's performance, which guarantees ultra-low latency for lossless audio quality. 
The reproduced sound is comprehensive and robust, without distortion, even at high volume. However, in a listening situation, the rendering is still perfect. Indeed, the bass is a little too present than the other spectra, and a lack of articulation and precision characterizes them. 
Also, the highs show a touch of acidity that audiophile purists are sure to notice. Fortunately, what can improve the sound rendering by using the software via wireless mode. However, you should avoid using presets that only highlight part of the sound spectrum without real improvement in rendering. We prefer a personalized setting that will allow you to obtain a more balanced sound.
When it comes to DTS Headphone: X v2.0 surround sound, here again, there are a few caveats. The headphones fail to be very precise about the different locations of the virtual 7.1-channel speakers. But overall, the surrounding atmosphere is still present, and under the spotlight, we quickly forget these small details.
Compatibility
Versatility is one of the Arctis 7 headphones' strengths, and we find this quality in terms of its compatibility. It can work in wireless mode with a PC, a Mac, a PlayStation, and a Switch console. 
Use with a mobile device such as a smartphone, tablet, or player is via the wired connection via a 3.5 mm jack socket. The dedicated application is easily installed on the tool you use to manage the wireless transmission.
The Microphone
It was recognized as one of the best gaming headphones on the market. The ClearCast microphone certified discord, and bi-directional type, delivers clear, studio-quality sound that is perfectly understandable and offers a background noise reduction function. 
Its features are there to prove its frequency response from 100 Hz to 10,000 Hz, the sensitivity of -38 dB, the impedance of 2200 Ohm. 
Retractable, what should not place it near the mouth to avoid degrading the sound. It is also advisable not to use it in a noisy environment where noise reduction would be less effective.
Our Opinion
The manufacturer Steelseries offers us the Arctis 7, an aesthetically and technically very successful gaming audio headset. The brand's reputation and its know-how in gaming are guaranteed to bring you a listening experience and a gaming environment of the highest level.
These headphones offer several undeniable advantages, such as excellent build quality, ease of use, and sound qualities that are all respectable. For its price and its overall technical attributes, it is a benchmark. 
In use, gamers and music lovers will appreciate its quality of reproduction, versatility, and ultra-efficient wireless connectivity.
Whether you use it to play your favorite PC games or on a console, or whether you instead intend it for mobile use, it will be able to satisfy you fully. It is the benchmark gaming headset of the moment and a must in quality/price ratio. A price within reach of all budgets
Affiliate Disclaimer : As an Amazon Associate I earn from qualifying purchases.