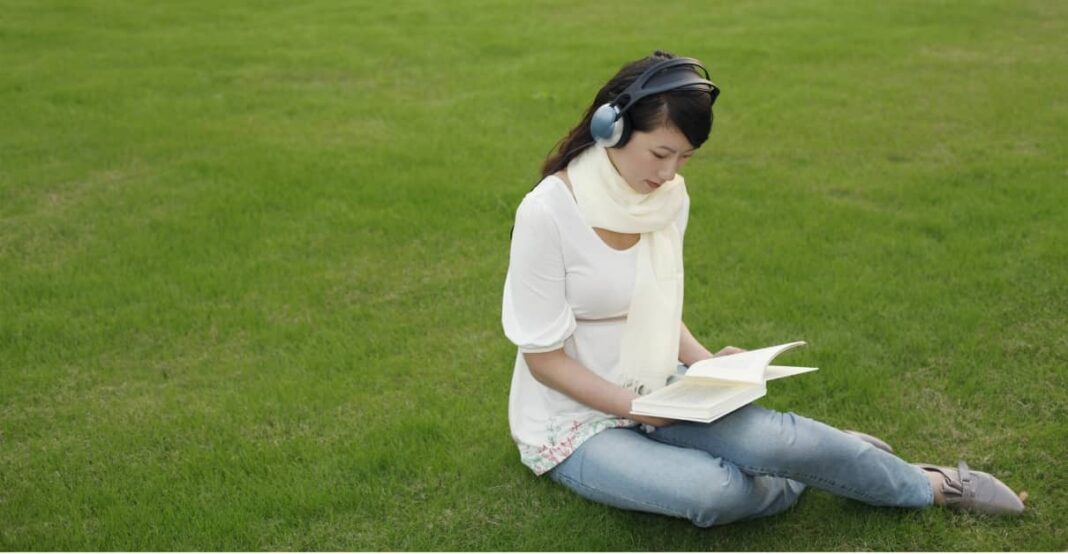 Do you know more than 11 million headphones are sold every year? But the fact is not everyone can afford a Bose QC35 II or a Sony WH-1000XM3 top-brand bluetooth headphone. because they have a budget problem.
However, nothing prevents you from getting comfort for less than 200 USD as long as you know the brands that matter (Jabra, Plantronics, Marshall…).
Check out our guide to the best bluetooth headphones under 200.
Plantronics BackBeat GO 810 Wireless Headphones
Plantronics BackBeat GO 810 Wireless Headphones, Active...
Plantronics signature audio: Over ear headphones equipped with 40 millimeter drivers that deliver...
Noise canceling headphones: Accessible through the backbeat fit app, dual-mode active noise...
Long lasting battery: Bluetooth headphones have upto 22 hours of wireless listening with anc and...
The beautiful Plantronics BackBeat Go 810 is available in 3 colors: navy blue, black, and white. These inexpensive wireless headphones weigh less than 250g, with large leatherette cushions that entirely cover the ears. Note the ergonomic and easy-to-reach controls. Active noise reduction is powerful and allows you to enjoy your favorite tunes fully.
Also, these inexpensive headphones provide excellent sound that you can enhance with the EQ Bright equalizer. Besides Bluetooth mode, you can use it in wired mode! However, it develops a more robust and better-processed sound in wireless mode.
In both situations, the transmission without latency with noise reduction activated, the headphone has a battery life of approximately 22 hours. You have up to 30 hours of continuous running. Allow 2 hours for a full recharge.
Jabra Move Style Edition – Wireless Bluetooth Headphones
Jabra Move Style Edition, Black – Wireless Bluetooth...
Wireless headphones – Jabra move style edition provides unparalleled wireless sound quality. The...
Multi-functional Bluetooth headphones – Take control of your music and calls directly from the...
All day comfort – An ultra-light, adjustable headband means you can wear the move style edition...
The Jabra Move Style Edition is an on-ear headset with a clean design that goes straight to the point. Available in Classic and Style versions, these headphones are aimed at those on a very tight budget. Its reclining pads have good padding and therefore comfortable.
Wearing these headphones does not cause any trouble, even long time. And it adapts to any cranial morphology without exerting unpleasant pressure. 
The main controls are located on the left ear cup of the device. On the right ear cup is the power button, which also serves as Bluetooth pairing.
It is a multipoint headset with a very balanced sound for its price and good tone reproduction. Even the Jabra Move Style Edition can work in wired mode, and we recommend that you go for wireless mode, as the sound degrades more in wired mode.
Also, there is no microphone or control on the cable. Finally, the battery has a maximum autonomy of 16 hours in wireless mode. Besides the wireless mode, it also has a wired mode.
Marshall Major III Bluetooth Wireless On-Ear Headphones
Marshall Major III Bluetooth Wireless On-Ear Headphones,...
Bluetooth aptX gives you exceptional audio quality and the freedom and convenience to move with 30...
30+ hours of wireless playtime on a single charge
Iconic sound with 40 mm dynamic drivers that are custom tuned for enhanced bass response, smooth...
The Marshall Major III are over-ear wireless headphones. It uses AptX Bluetooth technology to deliver high-quality sound, with a range of up to 10m. Its multidirectional control button is very ergonomic and centralizes operations. You can also receive your calls through this headset while enjoying a fresh and fluid reproduction of conversations.
Marshall offers us, through these headphones, a sound with deep bass, clear mids, and crystal-clear highs experience. In wireless mode, the battery can provide up to 30 hours of continuous playback. 
Note that you can use the headset in wired mode by plugging the appropriate cable into its 3.5 mm jack connector. Finally, it has a timeless design with its ultra-comfortable square pads and its structure designed to last.
Sennheiser HD 450BT Bluetooth 5.0 Wireless Headphone
Sale
The Sennheiser HD 350BT is easy to transport and store due to its foldable structure. It uses Bluetooth 5.0 and its codecs like AAC, AptX, Aptx Low Latency to connect to your source device to enjoy your videos without sound lag. 
The device shines with its robustness and high reliability, with extraordinary audio quality illustrated by deep and dynamic bass.
The headset controls for music or calls are operated via the touch buttons on the headphones. The Sennheiser HD 350BT has an allocated voice assistant button that interacts with Siri or the Google Assistant. 
You can also personalize the sound by installing the Sennheiser Smart Control app on your smartphone. On the autonomy side, the battery can last 30 hours in continuous listening in wired mode.
Comparison Table Of The Best Bluetooth Headphones Under 200
Plantronics BackBeat GO 810 Wireless Headphones, Active...
Jabra Move Style Edition, Black – Wireless Bluetooth...
Marshall Major III Bluetooth Wireless On-Ear Headphones,...
SENNHEISER HD 450BT Bluetooth 5.0 Wireless Headphone with...




Technology
Wireless - wired cable also included
Wireless - wired cable also included
Plantronics BackBeat GO 810 Wireless Headphones, Active...

Technology
Wireless - wired cable also included
Jabra Move Style Edition, Black – Wireless Bluetooth...

Technology
Wireless - wired cable also included
Marshall Major III Bluetooth Wireless On-Ear Headphones,...

SENNHEISER HD 450BT Bluetooth 5.0 Wireless Headphone with...

⇛The sound quality
The quality of the sound is an essential element since the device is used to reproduce the sound. It must offer a pleasant listening experience with deep bass, clear mids, and finally crystal-clear highs. 
The more comprehensive the frequency range the headphones have, the better their sound quality. This frequency range is expressed in Hertz and defines the minimum frequency up to the maximum sound frequency to which the headphones can respond.
⇛Sound insulation
Sound insulation is essential if you plan to use headphones in noisy places like public transport or outdoors. Some helmet models feature noise reduction and passive isolation technology.
Depending on their effectiveness, you could fully enjoy your listening without hearing the outside environment. It also allows you not to disturb people around when you listen to your favorite playlist or while watching a good movie.
⇛Ergonomics
Also, think about the ergonomics of your headphone. It should not be too big or too heavy to carry. What can fold some models for easy transport? The controls should also be easily accessible and intuitive.
⇛Comfort 
The right product is a device that offers excellent user convenience. In this context, I prefer models with good padding at the ear cups' level, a perfect adjustable system so that it adapts perfectly to your head's size and that the various elements are not too hard to touch or cause by genes. 
⇛Autonomy
Autonomy holds an important place in the criteria for choosing a wireless headset. It will define the time of use of the device in wireless mode. Choose the models offering the most significant autonomy so that you can enjoy the device without having to recharge it many times during the day.
⇛Design
Wireless headsets come in a variety of designs. The preference is based on the user. The youngest prefer helmets with a more striking design with flashy colors. At the same time, older users are more inclined towards more sober and discreet models.
Circumaural headphones vs. supra-aural
⇛Circumaural Headphones
Over-ear headphones are more sedentary types, although who can use them freely in outdoor settings. They have a substantial size compared to supraaural models. They have ear cushions that wrap around the ears of the wearer resting on their skull.
These over-ear headphones provide greater comfort and sound insulation due to their design. Their weak points lie in the bulky size, the weight, which for some models is relatively heavy, and they can cause the ears to overheat during prolonged listening.
⇛Supra-aural Headphones
On-ear headphones are made up of a headband and earpiece resting on the user's ears' pavilions. The headphones is covered with pads made of leather, fabric, or plastic. They are lighter and less bulky. 
On-ear headphones are suitable for mobile use and sometimes have a collapsible structure for easy transport. 
The latter can be plastic or metal to exert absolute pressure on the user's head and maintain it sufficiently to prevent possible falls. This is both an advantage and a disadvantage because this pressure can become significant and inconvenience the user.
⇛Verdict
In conclusion, we recommend the supra-aural model for its versatility, ease of transport, lightweight offering a pleasant comfort, and quality models accessible to tight budgets for a cheaper headphone.
Benefits of cheap bluetooth headset
Even though cheap bluetooth headsets cannot be equipped with the moment's high-end features, be aware that they must have control buttons located on their ear cups to handle and access its various options. You can find quality models and make them from durable materials.
Indeed, you have to make some concessions in terms of an option compared to high-end products. But overall you get good sound quality and a reliable device.
It is useful to focus on sound quality in general and avoid relying too much on marketing material that might disappoint you, for example, active noise reduction or the presence of touch controls.
Bluetooth headphones can give you a good sound experience without being Hi-Res certified. Indeed, this technology indicates that the product offers a response at higher frequencies. This property, in the end, does not systematically ensure excellent sound quality as in popular belief.
As for autonomy, it is lower compared to more expensive models, but you can correctly find wireless headsets with freedom of more than 10 hours for a price of fewer than 100 USD.
Headphone Maintenance Guide
⇛Exterior cleaning
To prolong the life of your Bluetooth headset and for hygiene reasons:
Remember to clean it regularly.
Switch off or disconnect the device before cleaning.
Take a soft cloth moistened with warm soapy water and wipe the ear cups and earmuffs.
⇛Keep your headphone dry.
Before every recharge, check that your headphone is practically dry. After use for your sports sessions, exposure to rain, or during seasons with high humidity, wipe your helmet as soon as possible to remove sweat or moisture deposited on the various parts of the device. Even water-resistant models should not be subjected to smoke for a long time.
⇛Cleaning of internal parts
The atria inside can accumulate various elements such as sebum, wax, fatty deposits, or dead skin cells. They can cause degradation in sound quality by obstructing the inside of the ear cups. To get rid of these items, use a small soft brush to access the inside of the ear cups effectively.
⇛Protect your Headphone
Protect your headphone from humidity, extremely hot, or cold temperatures. It is recommended not to use them under these conditions. When not in use, always have the habit of storing it in its case or in a suitable cover to keep it from various attacks and dirt.
⇛Charging port and battery
The charging port and the battery compartment must be closed before storing the headphone. If the charging ports are exposed, it is necessary to regularly remove the dirt with a cotton swab and keep it always dry.
Frequency Ask Question
What are the best cheap Bluetooth headphones?
The best cheap Bluetooth headphones depend on your needs and your budget. Read our buying guide for the best products around.
What is the audio signature?
The audio signature is an audio quality specific to a headset model. Depending on the sound signature, the headphones may provide more or less bass, midrange, or treble. We can see on the market models with exaggerated bass levels compared to standard or also others which, on the contrary, have attenuated bass. Hip-hop enthusiasts prefer headphones with powerful bass. Simultaneously, fans of classical music opt more for models with more standard and balanced levels.
What are the concessions when buying a Bluetooth headset?
It makes sense that Bluetooth headphone models are less expensive and don't offer the same performance and sound quality as the higher-end models. It is, therefore, appears to make certain concessions on the quality of the sound. For this price range, it is also challenging to detect models with active noise reduction. Nevertheless, you can correctly find comfortable Bluetooth headphones with a sufficiently neat design.
Why can't my Bluetooth headset connect to my computer?
First, check if Airplane mode is not enabled on your computer running Windows operating system. If so, it is unable to detect Bluetooth devices. It is therefore imperative that you deactivate this mode. Then turn on the computer's Bluetooth again. Also, put your headset in discoverable mode and try to re-establish the connection.
How do I listen to TV on my Bluetooth headphones?
To listen to TV on your Bluetooth headphones, you will first need a Bluetooth device. This item will connect to your TV and send the correct signal to your headphones. It is the size of a USB key and plugs into the analog sound output of your TV. Then establish the connection between the two devices, and you're done.
Affiliate Disclaimer : As an Amazon Associate I earn from qualifying purchases.