Charging electronics like wall chargers, power banks, and car chargers are devices that we use on a daily basis and yet we don't know much about them.
Purchasing a charging electronic from just any retailer is a mistake because most of the time the technology is very behind and you're stuck in the past with some slow charging.
With that said, people should know that we're entering an age where things are changing because power banks are actually very useful with what they deliver for on-the-go purposes and car charger and wall charges are very powerful as well.
Not only that, some charging electronics go well together to improve the quality of each other.
In this post,
I'm going to be explaining what newer generations of power banks, wall chargers, and car chargers are bringing and why it's important to know what each has so you know what to look out for.
Power Banks:
Lots of charging ports and a High power Capacity
Most of the time when we think of power banks, it's usually the smaller power capacity kind that can, at most,
charge your smartphone only once; even though that's good, it's not the optimal experience that you can receive from using a power bank.
Instead, there are power banks that have power capacities of 20,000mAh and even more than that too.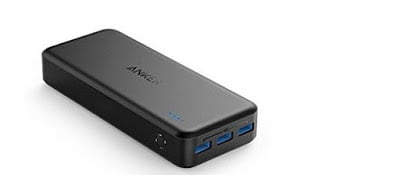 High Power Capacity
Take, for example, one of Anker's latest power banks.
It has a power capacity of 20,000mAh and it uses 3 charging ports.
It's great that it has 3 charging ports, but what are those 3 charging ports capable of? Well, a lot.
Charging Ports that are Beyond Powerful
Lots of charging ports on car, wall and portable chargers have their charging speeds capped at 5V/2.4A and that's a pretty good charging speed because it can charge most smartphones and tablets at their max charging rate.
However, there are smartphones that can charge faster than 2.4 Amps and that's when power banks like this Anker PowerCore II come into play because each of the charging ports is able to Output 5V/3.0A.
This faster-charging speed will definitely be able to charge nearly all USB chargeable devices at their max charging speeds.
The next step is to realize what the Max Output of the power bank is, and in this case, this PowerCore II has a Max Output of 6A.
Which means even when you're charging 3 devices at once and the power bank is being pushed to its limits, then each port will have a charging speed of 5V/2.0A
Faster Recharging: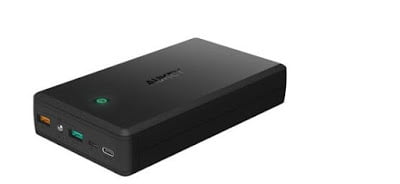 When a power bank has a high power capacity, that means it's going to have quite a long recharge time;
that's actually starting to become a false statement now because many high power capacity power banks have two Input recharging ports and by using them both,
you're able to recharge the power bank in a shorter amount of time.
In this Anker PowerCore II's case, it's able to recharge to its full power in under 6 hours because it uses two Micro-USB Input Ports.
Fast charging Options
Even though we did just mention that power banks have high power capacities, they can go even higher like this Aukey 30,000mAh power bank.
This is the kind of power bank that you'd take with you on those long road trips, hiking, camping and it can also be very useful as an everyday portable charger because the power will last for a couple of days before it's completely depleted.
With all that said, the most innovative part of this power bank is that uses two very helpful charging technologies.
This includes the usage of Quick Charge 3.0 and USB-C charging technology.
There are quite a lot of smartphones that are compatible with those fast charging methods and they're only going to become more prevalent as time moves forward.
In addition to those fast charging ways, this power bank can also charge 3 devices at once because it has a Quick Charge 3.0 port, the USB-C Port, and a regular AiPower USB port.
Also, recharging can be done by both Micro-USB and USB-C port at the same time.
By doing so, this power bank that has a very large power capacity of 30,000mAh is able to recharge to its full power within 10-11 hours.
Taking on Different Forms
A Power Bank Within a Charging Cable
Power banks are also being implemented within charging cables.
Take, for example, this Jackery Jewel.
The "Jewel" portion would be the power bank piece and it's such a great charging electronic product because it's both a charging cable and a power bank.
Even though the power capacity of the Jewel is 450mAh and the charging cable is a Lightning cable that is compatible with only iPhones and other Apple products; you can still charge an iPhone about 15% of the way through.
So this power bank isn't something that you would exactly rely on all the time but it's great for emergencies.
You can just use the cable as a regular charging cable too by connecting it to a wall charger and that will charge the power bank and then the power and will charge your device.
These are the kind of innovations that power banks are creating and how useful portable power can truly be.
USB Wall Chargers:
Surge Protectors with USB Ports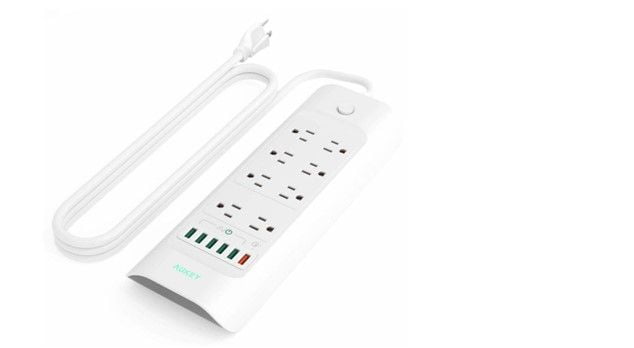 No Need for a Wall Charger
PowerStrips alone are very useful because they give us a bunch of AC Outlets to use your Appliances on.
With that said, most of the time one of those AC Outlets is going to be used by a USB wall charger because you want to charge your devices.
However, that can cause inconveniences like taking up an Outlet that you'd use for another appliance or even worse,
a wall charger can cover another AC outlet that's next to it.
This is when Surge Protectors that have USB charging ports can be very helpful because there's no longer a need to use a wall charger.
Take a look at the Aukey Surge Protector above. It has 6 USB charging ports and one of those charging ports have Quick Charge 3.0.
Not only is there no longer a need to use a wall charger, but you can even charge a smartphone that is Quick Charge 3.0 compatible at its max charging too.
Surge Protectors that basically implement wall charger into themselves erase the need to purchase separate charging electronics.
Large Charging Stations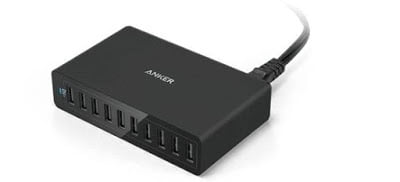 Masters of Charging
For the most part, people are satisfied to charge just their smartphone with a wall charger.
There's more to them than that though because you can have more devices that you want to charge and so you'd use a 5-6 port wall charger if the need arises.
It can even go beyond that, though, because there are 10 Port wall chargers like this Anker PowerPort 10 that has, yes, 10 charging ports.
It's with innovations like these, that makes charging 10 devices at once possible.
A lot of people usually wonder why on earth they'd need something like this but they can be very useful. Such as keeping it in a living room or a dorm room and just connect your device to your charging cable to begin charging.
Whereas you'd have to unplug somebody else's charging cable and then plug in yours without a wall charger that has fewer ports.
There's more versatility with charging stations that have lots of charging ports.
Car Chargers: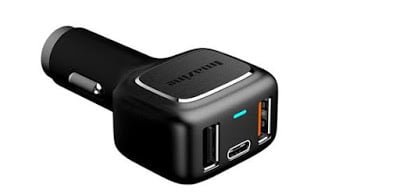 Power In Your Drive
Car chargers have become just as advanced as power banks and wall chargers and they're no longer the weak charging electronics that they once were.
I say this because there was a time when chargers were quite weak and gave rather slow charging speeds.
These days that's simply not the case anymore and they have a combination of charging technologies that are able to accommodate lots of devices to their full potential in terms of charging.
What does that mean?
It means that they're able to use multiple charging and each of those charging ports are very powerful, just like this Amazing Car charger above.
It has a standard USB charging port that has a charging speed of 5V/2.4A.
Next is a Quick Charge 3.0 port that is going to be very useful if you have a Quick Charge compatible smartphone because while you're driving and by the time you reach your destination, your phone is going to be charged up.
Car chargers are now able to use USB-C charging that matches Quick Change speeds too.
Using these fast charging technologies with a car charger is vital because you may want your device to be charged up to a good point so you can use it by the time you reach your destination.
This kind of technology is the perfect car chargers.You can read more about what power banks, wall, and car chargers are best for you at ChargerHarbor.com
Affiliate Disclaimer : As an Amazon Associate I earn from qualifying purchases.