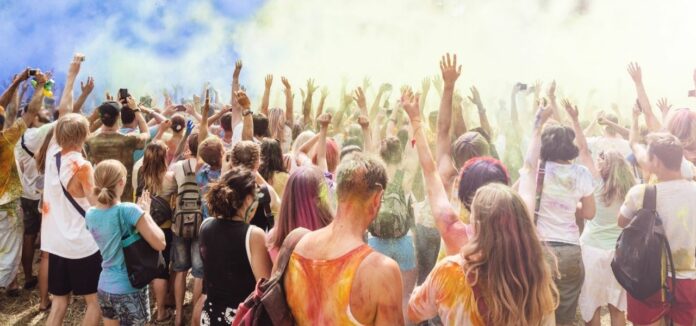 Festivals are expressions of people towards their culture, heritage, and traditions and divert from our stressful lifestyle to spend time with our family and friends. Moreover, during these festivals and celebrations, many business opportunities are created for the people.
These businesses include Christmas trees, Christmas decorations, Halloween decorations and costumes, Australia day flags, etc. Festivals are the only occasions where both the sellers and the buyers are equally happy. 
Festivals and celebrations help us to disconnect from our normal life and connect with happy moments. The most important festivals and celebrations in Australia are Australia day, Halloween, Christmas, New Year, Sydney mardi gras, Brisbane Festival, Melbourne international arts festival etc.
Significance of Festivals and their economic impact
Every festival carries a great history and importance with it. So celebrating the occasion reminds us of the greatness of the people who lived before us and fortified community sense.
Festivals can be grouped into national, religious, and seasonal festivals. 
Let's further discuss the importance of certain festivals and their economic impact below:
Christmas
We all know that Christmas is celebrated to memorialize the birth of Jesus Christ in December. Billions of people celebrate this festival right from the month start to the date he was born, i.e. 25th December. People celebrate the tradition by decorating Christmas trees predominantly with red, green and gold decorations.
In addition, colourful lights are added for more attraction and more importantly, the tree is crowned with the star of Bethlehem.
Other highlights of Christmas are the crib representing the birth of Jesus and the Surprise gifts placed around the tree.
Revenue of many decoration shops, gift shops, and bakeries are at peak during the season of Christmas.
Brisbane festival
With a pleasing Brisbane climate during September and October, the Brisbane festival is celebrated with lots of fireworks and cultural activities such as music, dance, drama, circus etc.
every year millions of people are attending the festival for its resplendence, therefore, contributing a large revenue for the food stalls, firework manufacturers, fun activities etc.    
Halloween
Halloween is a unique festival because Halloween is celebrated between summer and winter, which is often associated with human deaths.
So people wear costumes of their choice to repulse ghosts, giving treats, festooning with Halloween decorations and carve lanterns in pumpkins. As a result, costume creators, pumpkin vendors and sweet shops gain high revenue during the Halloween season.
Sydney Mardi gras
This is one of the most significant festivals in the world for the cause it was started. Mardi gras first started as a street festival for the homosexual community, becoming one of the largest celebrations for the LGBTQ community.
Though the festival faced many protests and criticism, it had grown large over the years because of its supporters worldwide. In addition, many people from the community get benefitted through fundraisers and get support to voice out their problems.
New Year
New Year's Eve in Australia is celebrated in most cities in music, parades, cultural events and entertainment. Thematic celebrations are observed all over the country, and resolutions are taken during this day to practice throughout their lifetime.
Since New Year's Eve is a fresh start to express their excitement for the next year, people celebrate by hugging, kissing and shaking hands after the countdown ends. Large revenue is created during bakeries, fireworks manufacturers, sweet and food stalls, gyms, clubs, bars, clubs, etc.
Affiliate Disclaimer : As an Amazon Associate I earn from qualifying purchases.