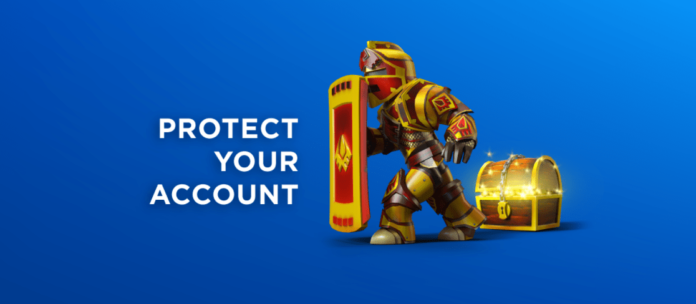 Online gaming is no more just a form of entertainment but has developed into a culture of its own, and even a way of life for some. Do you think you are a part of the online gamers community too?
Maybe just as a casual gamer who can choose from a range of game genres and styles to connect with individuals with similar interests all over the globe or even a professional gamer who already has achieved star status.
A global developer community creates it, and as it claims, any experience imagined can be made through Roblox powered by over 2 million developers through Roblox Studio.
Every solution comes with its problem. Just like technology, which is one of the greatest gifts to humanity yet comes with its own set of questions. Roblox is also the output of the same technology humans today have access to.
So everything now boils down to how safe our data is while we live in this world of technology?  
Roblox is a leading online gaming platform that gathers millions of users every month and you can earn extra coins and credit on the game through (https://prizehog.net/rewards/roblox). As almost any other site that has users are such big numbers, your account might be an intruder target.
Youth, the highest consumer of the Roblox services, share various data of theirs to be able to create "any experience imagined." Setting up security helps to make sure that your account is safe and secure.
So here's our 5 Stunning Tips for keeping your Roblox account safe.
Setting up 2-Step verification
Roblox recently implemented 2-Step verification for all its users as part of their ongoing security efforts.
This feature provides an additional layer of protection to your account by asking you to login in with your password and a unique 6-digit code that is sent to your email address once you or anyone else attempts to access a new or an unrecognized system.
This option prevents unauthorized access to your account and informs you via email whenever anyone tries to log in without your awareness. And that's why you can take preventive measures by changing your password.
So even if someone knows the password, they still cannot access the account.
Roblox will send you a unique code via email when you log in from a new device, without which you cannot log in.
In such a scenario, only you shall receive the security code as access to your email account remains exclusively with you.
Therefore, this is one of the most effective methods of protecting your account, and it is always recommended to allow 2-Step verification. Where will you find it?
This feature can be easily found under the Security tab in your Account Settings.
Always keep your Account details private
While it's not an issue to form friendships and connect on Roblox, keep in mind that you must not share sensitive personal information.
It's a standard rule; never give your name, address, phone number, date of birth, password, or any other personal detail with others on Roblox. Nobody can ask you for your login credentials.
This also includes Roblox itself.
Hence, never share or let anyone know your password or any information sent to your email address, say, for example, password reset links or security code for the 2-Step verification. These are only for your personal use.
Always think twice before giving someone access information to your account, especially when they offer to give something in return. 
Say NO to adding someone else's Email Address to your account
The only verified email address you should have under your account is your own or a parent's email address.
Using anybody else's email address will give them access to your account since they are the ones who will receive the password reset emails and other such essential mails where they can also lock you out of your account, which is something you don't want. 
Never Share Password or Cookies
This is the most common way users lose their accounts. Sharing login information directly with others or by filling out online surveys that are mostly fake can cost you much harm.
If anyone asks for your login DETAILS, do not provide them and be sure to report them to the moderators of Roblox. By using the Report Abuse feature. It's not just about passwords, though.
Never share information related to browser cookies, your details, or any sensitive computer information. Many say that they know tricks to win rewards for which they need some detailed information from you to get it to work.
This is where most of us fall into their traps because they are just trying to steal your account, that is only your data.
BONUS TIP: Keep in mind to have a different password for every online account you run. Don't use the same password you have already worked on another story. 
Always know that there are several Scam sites and Phishing messages out there!
Most of us, while using Roblox, come across messages or websites that claim to give out free Robux, Builders Club subscriptions, or other rewards.
These websites may look legitimate too because they have the logo or other assets they fake, but don't ever believe such messages because when you click on such links, they ask you to enter your credentials on a fake login page and sometimes also ask you to download unique apps. Now that's a scam! 
Learn to recognize such fake sites – 
The best way here is to avoid websites on Roblox that look suspicious or have special symbols in the link, such as the asterisks. 
A few extra tips to keep in your mind
Logout immediately after using Roblox On Public or Shared Devices
Very important. It's always safer to access your account through a personal device. However, there are times when you can't use it. In situations like these, it's best to logout immediately after playing so nobody else can access your account as soon as you have left. Also, If you leave your account logged in on any device, anyone can use that system and easily have access to your account.  
In-game Forms try to trick you into stealing your information
Your login information must be entered only on the official roblox.com website or on the login screen of the official Roblox apps and nowhere else. If any game asks for such information for any reason at all, though it may look like the official platform, leave the game and then report it. 
Parent Permission before downloading programs is a must
Malware and keyloggers are the names given to harmful programs, and that's why download or run such programs only with your parent's permission because that ensures the authenticity and confirms the source of any program. Check and remove browser extensions since malware programs can collect your personal information
We hope that these tips will definitely help you to stay vigilant and drive you towards safer, as well as a more enjoyable online gaming experience on Roblox. 
Stay safe, Play safe!
Affiliate Disclaimer : As an Amazon Associate I earn from qualifying purchases.