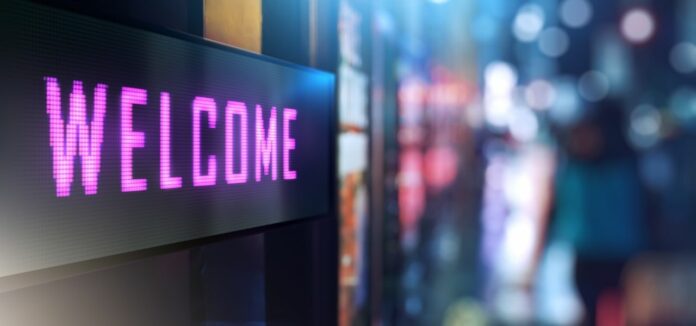 If you want to run a successful retail business that draws consumers and increases sales, you need to stand out—and that generally begins with signage.
When establishing your store, quality signage is an effective and simple method to generate foot traffic and interact with your consumers.
On the other hand, signage may generate overstimulation and even confusion if done poorly. Retail signage is equally as vital as web design for your retail store, and it should not be overlooked.
Let us guide you through the fundamentals of business signage, different forms of signage, and ideas for making signs for your company.
Types of Signage
Outdoor Signage
Because it is what draws customers in, outdoor signage is probably the most significant type of sign-in physical store. Outdoor signage might include chalkboard sidewalk signs, entry signs, window signs, murals, and awnings.
Place exterior signage in areas where it is visible to as many passers-by and drivers as feasible.
Outdoor signage should be well designed to entice customers and reflect the experience they may anticipate inside your establishment.
Informational Signage
These signs are also referred to as departmental organizational, directional, and navigational signs. They help your consumers navigate your shop more effectively.
Customers that come into your shop and find it easy to navigate will be more inclined to return in the future. And they are more likely to find the products they wish to buy.
Persuasive Signage
This signage, as the name implies, can assist you in persuading and convincing your clients. They can have appealing pictures on them. They can also be used to inform clients about a current deal.
They are useful when you wish to inform clients about items that are typically overlooked.
These signs can also bring new items, seasonal items, or highlighted products to the consumers' attention. They will assist you in increasing not just sales but also brand recognition.
ADA Compliant Signage
Making clients feel welcome entails every client Making parking, exits/entrances, bathrooms, fitting rooms, cashier stations, and elevators accessible will make your disabled clients have an enjoyable and comfortable experience.
If your facility has accessible amenities but does not advertise them, you are doing your clients a disservice.
You need compliant signage to inform customers about such amenities and where they may find them. Keep in mind that in the United States, all permanent interior signage must incorporate Braille and other tactile characters.
They will require contrast colors as well as readable fonts. They should also be positioned 40 to 60 inches above the ground for ease of access and uniformity.
Mats
You might be amazed at how adaptable mats can be. They could be used to greet clients and provide useful information.
They may be used for marketing and to display items such as your logo. Or assist with directional information and in locations where a sign cannot be hung.
They can also direct consumers to items within the shop by marking the location of a specific product category.
Benefits of Business Signage
Inexpensive Marketing Tool
Signage informs customers that your company exists. Signage attracts the attention of prospective customers and might assist you in becoming recognized.
It is a component of your branding strategy and has a significant influence on your bottom line.
Communicate With Customers
Signage is an essential visual communication component. Business signage interacts with consumers and directs them to their destination. In-store signage can accomplish a variety of goals, including:
• Assist customers in navigating your store.
• Assist customers in locating the items they are looking for./
• Encourage impulsive purchases.
• Assist in influencing purchasing habits
• Promote sales and marketing.
Best Signage Practices
Be Precise
Customized signage may deliver the correct message at the right spot. Include particular specifics, like location-specific directions and vital product information, when designing your sign.
Maintain a straightforward approach
The message on your retail signage displays should be clear since signs with too much information are typically ignored.
Apply the five-second principle: if you can transmit the key points of the signage in under five seconds, it is acceptable. If it takes more time, reduce your message or use a succession of signages rather than just one.
Create an effective call-to-action
Signs are ads, and as every smart advertiser understands, you must entice the client to take action. This is where a call to action comes into play. A good sign should entice customers to act.
Signage is an essential and multifaceted component of any sales and marketing effort. Don't forget to incorporate it into your advertising strategy.
Conclusion
When it comes to retail signage, there are a few options that you can choose from. Depending on your preference, location, and the type of customers you want to attract to your store or business, these different types of signs may be more appropriate than others. 
The benefits for each style of the sign will vary based on whether they're indoors or outdoors and their durability, so make sure you do some research before making any purchasing decisions in this area.  
If all this information makes you feel overwhelmed about how much work goes into creating a compelling retail space with the right displays and signage while still within budget, reach out! 
We have years of experience working with retailers both locally and internationally who need help developing a plan.
Affiliate Disclaimer : As an Amazon Associate I earn from qualifying purchases.