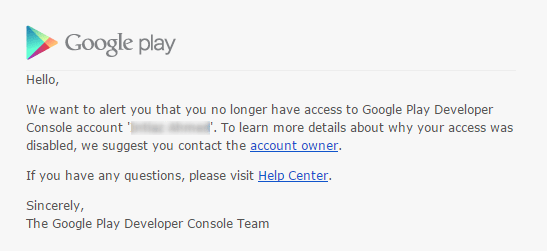 When I will completely make the android application project I don't have google play account because my Payoneer card date will be expired.
and I will upload my apps one off my circle person I will believe the person that's why  I will upload her account.
but one day I got mail from google "Account access disabled – Google Play Developer Console"
---
---
That's with any of both personal reasons he disables to my access Google Play Developer Console. I will try contacting the person.
he is in Malaysia and I'm in Dhaka. they don't pick my phone call don't reply to my skype and facebook messages. in the time I will open my google play developer account.
and ready to prepared transfer all of my apps into my account. after one month later the person are responding with me and he will agree to move my application to my account.
Maybe many others developer faces this type of problem that's why I will write this article for my personal incident how to move the application another's google play developer account.
maybe the article is helpful for someone. to successfully transfer your applications between Google Play Developer accounts need to both developer agreement otherwise not possible.
Original Account holder – that's means where your app is currently published .  Target Account – that means in your account want to transfer your app finally.
---
Prepare your Google Play developer account
See the Instruction on google support article See here 
After seeing this article now, you can need fill out the form to start transferring process
https://support.google.com/googleplay/android-developer/contact/appt
---
---
In the [3] & [5] number field we need both developers google wallet transaction id. you will find google wallet transaction id in wallet dashboard .
last field I will write down two of my application name with package name . if you interest move multiple application then write down line by line with [*] mark .
After Submit the request form you will see the message . to clear this you will need to wait until transferring will be finished.
however, google team need 2 business days but many times within a short time they will finish it.
Please note, we'll do our best to respond to your request within 2 business days. This depends heavily on the complexity of your app transfer request and the completeness and accuracy of the information you've provided. In addition, please expect delays during holidays. We appreciate your patience while we process your request.
Your transfer is complete!
Affiliate Disclaimer : As an Amazon Associate I earn from qualifying purchases.