No long ago, when parents look after their kids in playgrounds and keep an eye on their company of friends. The modern world's parents have more responsibilities than ever before. You may be thinking that how modern parents have to put more effort to protect theirs have safe internet for Kids?
The answer is very simple since technology has come into existence, it provides a lot of facilities in our lives, but on the other hand, it is also creating too many issues in our kid's lives and for parents as well.
Now every young kid has technology in their hands such as cellphone devices and its connection with the world of the internet.
The rise and rise of technology especially in the shape of the internet and mobile phones are creating dangerous issues for kids.
Kids are not secure when they are using the internet on the smartphones gadgets.
The following are the things which are really safe internet for Kids?
Inappropriate browsing
Kids who have cell phones, and I would say every kid has smartphones connected to the internet. Kids usually don't know that what type of content they should visit while using the internet.
Even sometimes plenty of links and ads shown on any website on which young kids make the click and which leads them towards carnal content and they got into the trap.
---
Initially, they just start visiting the inappropriate content, but with the passage of time, they got addiction of it, which resultantly play with the innocence of the young kids and teens.

When they got addiction of pornographic content, then they could not stop to seeing it.
Finally, they mostly got some psychological issues. Parents need to protect their kids from all online dangers such as visiting inappropriate websites.
They just need to use mobile tracking software and view browsing history within the kid's cell phone device. It will allow them to see all visited websites, a complete history, and all bookmarked websites.
Cyberbullying:
Online bullies are everywhere in the digital world. They also use plenty of social messaging apps and always looking to bully young kids and teens.
Teens and kids are the ones who usually have secret social media accounts whom they are not eligible off.
Resultantly, they don't have an idea that what sort of people is present on instant messengers, they got bullied online and get some serious issues such as deep depression, anxiety, and plenty of issues such as fear.
Therefore, parents are the ones who have the moral responsibility to look after their kids' activities all day long.
Mobile monitoring software empowers parents to keep an eye on all the trendy instant messaging apps easily.
It allows users to view all IM's logs, IM chats, text messages, and media sharing, and voice messages.
Addiction with the text messages:
We sometimes shock to see that, youngsters walking on the roads, sitting on a bench and even eating at home or restaurant frequently using their cell phone devices.
Sometimes they seem like freaks and behave like "zombies" they don't pay attention to other conversation which are trying actually sitting right next to them.
They also use their cell phone devices walking on the roads without realizing what actually is coming in their way.
According to some reports, plenty of kids and teens lose their lives due to freaky messaging addiction while driving and while walking on the streets due to accidents.
Parents need to keep an eye on their text messages, who kids and teens are talking to, whether it is their girlfriend or boyfriend. Parents can view all text messages through text messages spy app.
It allows parents see text messages, iMessages, MMS, BBW chat messages and others.
Stalkers:
They are the people who always want to keep plenty of boyfriends or girlfriends at the same time to play with.
So, they usually go for kids and teens that are usually a very soft target for them.
They use the digital world and view profiles through social media platforms and while having a conversation show themselves as the gentleman and win teens' heart through impressive language.
Once they got the trust of teens then fulfill their dark motives. Parents should use cell phone spy app in order to protect their kids and teens from stalkers.
If parents come to know that teen is planning to meet with their online friend, they can use track GPS location tracking app.
It allows the user to view the current location of teens, location history, and weekly location history and even they can mark safe and restricted areas in order to protect kids and teens.
Conclusion:
The cell phone monitoring app would be the best choice for parents to have safe internet for young kids and teens. Parents would be able to put their all worries to rest.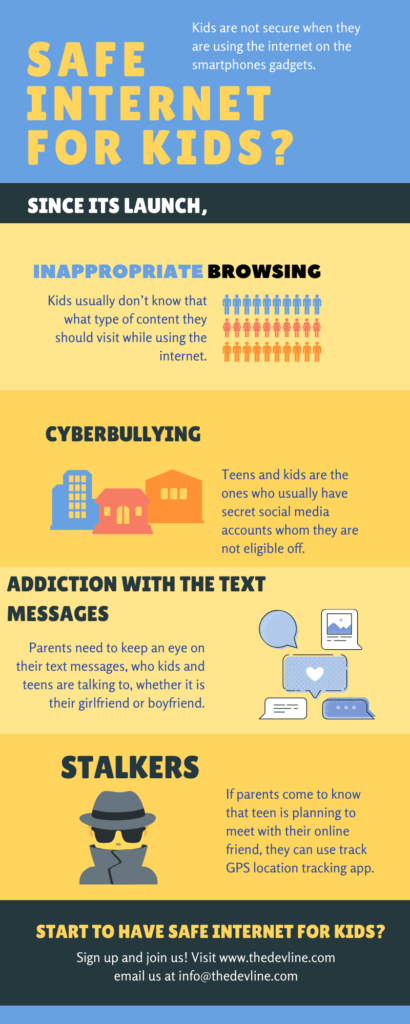 Affiliate Disclaimer : As an Amazon Associate I earn from qualifying purchases.