What constitutes a security camera to be the best? While the answer depends on the needs of the security camera owner, there are some basic features and functions that ideal security cameras possess.
Motion Detection
Motion detection is one of the most important features on a security camera, particularly a home security camera. The security camera's built-in sensor can detect movement (only within the field of view), which can then lead to an alert, or trigger video recording.
If the camera has this feature it is important to also have the capacity to adjust sensitivity and the range of the field of view. If this capacity is lacking, then false alerts might become typical and frequent.
Alerts
The alert function is another critical feature of a home security camera. This is a valuable feature that will allow you to be aware of any suspicious movements or events without having you monitor the video feed continuously.
Depending on the setting and capacity of the security camera, you may receive emails and/or alert texts when motion, sound, and/or a face is detected.
Face recognition is quite useful particularly if the security camera is to be used at home.
Apps
The app that is compatible with a security camera allows an individual to access the video feed, receive emails and alerts, and even control the security camera by manually recording using the App, control motion detection, sound sensitivity, audio speech and more.
Night Vision
We feel most vulnerable at night, and most break-ins occur after nightfall. Thus, a night vision feature is always in demand.
Most security cameras offer infrared LED illumination, as opposed to night vision based on thermal vision.
There are security cameras that can automatically detect change in light and trigger night vision, while others need to be customised to indicate a time for the night vision to take over.
Resolution
A security camera is useless if you cannot understand what is happening within the field of view. Blurry or distorted images will increase false alerts, while the video recording will be useless in case of an actual event or as evidence.
It is therefore, critical to have a security camera with a high resolution. With a high resolution, there are some sacrifices that must be made, including greater use of internet and Wi-Fi bandwidth and battery life.
If security cameras with high resolutions fall out of your budget, the zoom feature may be an adequate supplement.
These features do not automatically call for a higher price. The features and specifications mentioned above can be found on security cameras that are under 100 pounds.
Below are some examples of the best security cameras under 100 pounds:
TIME2 Wireless IP Home Security Camera HD With Night Vision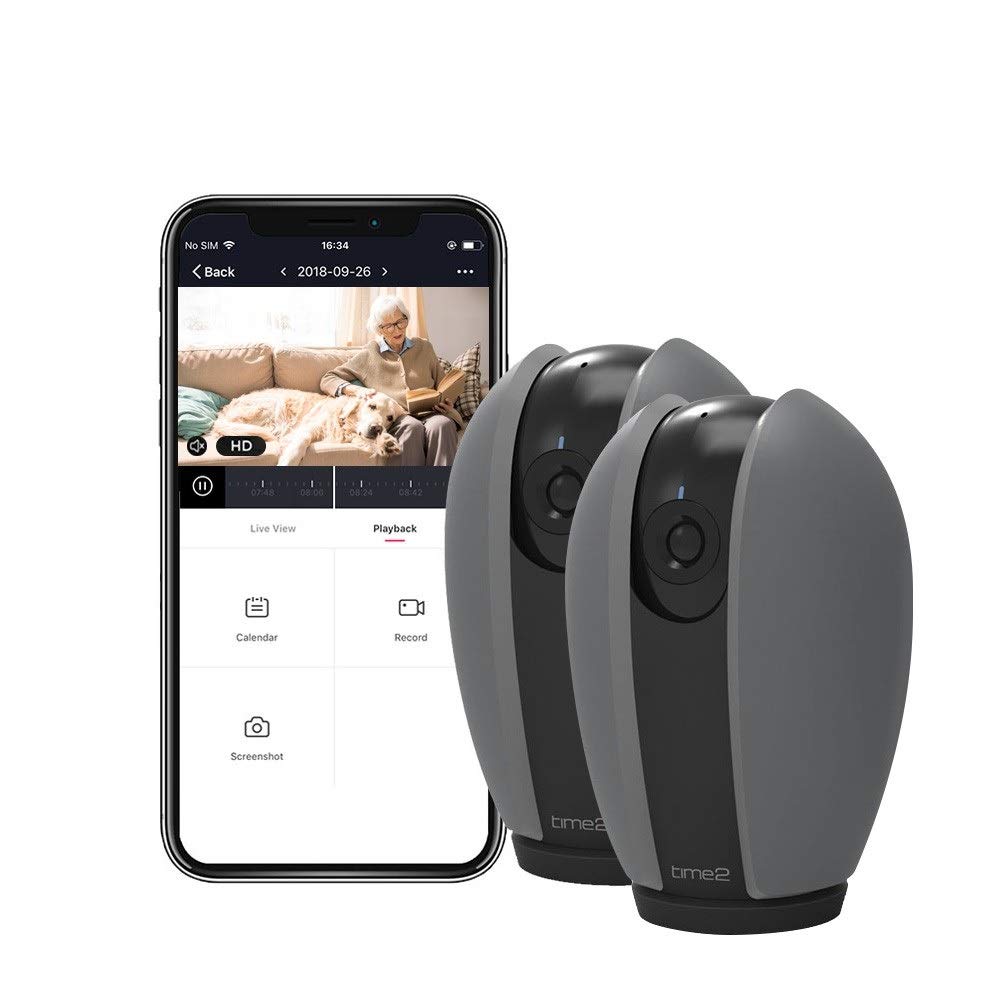 This security camera offers all the critical features while keeping the price under 100 pounds. It offers a full 720p HD on the PC or Smartphone App with the live video stream.
It also hosts motion detection, night vision with the enhanced display during low light periods (automatic night vision trigger setting)
and even audio sensors, meaning that the security camera can capture high quality feed during suspicious events, with immediate alerts to your device.
With its built-in speaker and microphone, you can not only receive audio feedback but also communicate through the security camera. The camera also tilts and rotates for an expandable field of view.
720p HD
24/7 live video streaming
App compatibility
Night vision
Audio sensors, microphone
Motion detection with alerts
Tilt and rotate
Reolink RLC-410WS
The RLC-410WS security camera is less than 100 pounds and offers motion detection recording and alerts via emails and notifications. The alerts can be received by its corresponding app, which also allows for live streaming.
The camera has a night vision features, 24/7 recording with a NVR or a computer and a unique feature of a dual mode WiFi with an option of choosing either a 2.4 GHz and 5.8 GHz, thus guaranteeing a continuous signal with minimum loss or interference.
Motion detection and alerts
Apps compatibility
Night vision up to 30 meters
Dual-mode WiFi, wireless
24/7 live streaming
24/7 recording with a NVR or computer
Zmodo Smart
The Zmodo Smart security cameras host LED infrared light night vision of up to 25 meters with automation detection and night vision trigger.
It also has motion detection with alerts through an app that is compatible with iOS and Android devices. Its performance and live video feed is seamless with full 720p HD image quality.
Works with iOS and Android devices
Apps compatibility
720p HD
Night Vision up to 25 meters
24/7 live streaming
IR night vision
Affiliate Disclaimer : As an Amazon Associate I earn from qualifying purchases.