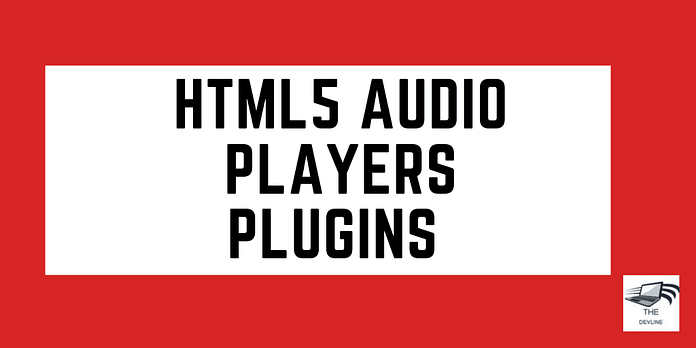 Last Update November 10, 2020: We improved the overall article.
A few years ago in a website with audio player handling in big problem & not so easy.
But today time has been changed since most of the developer wants to display an audio player on their website.
this can be done by jQuery audio player plugins
In this article, I have collected a few best html5 audio players plugins.
if you looking for javascript and html5 player than this collection might be helpful for your work.
Table Of Content

You can easily customize the way it looks and makes it fit the colours and style of your page.
HTML5 Music Player
The matching jQuery plugin for music player PSD created by Orman Clark.
---
Instead of offering an HTML5 player to modern browsers and a totally separate Flash player to older browsers, MediaElement.
js upgrades them with custom Flash and Silverlight plugins that mimic the HTML5 MediaElement API.
HTML 5 Audio Player

A proof-of-concept written in HTML 5 with JQuery and CSS3. No Flash!

An HTML5 player for your music!

SoundManager was written to meet a desire to have Javascript-driven sound for interactive web-based projects, and "to make it easy to play MP3s in the browser."
It is free for use in both personal and commercial projects. Supporting HTML5 audio can be tedious in modern browsers, let alone legacy ones.
With real-world visitors using browsers ranging from mobile Safari to IE 6 across a wide range of devices, there can be many support cases to consider.

ALAC.js is a port of the recently open-sourced original Apple Lossless decoder to JavaScript.
As its name implies, ALAC is a lossless format designed to reduce file size without compromising quality.
Conclusion
I have tested the player and it works fine on the latest Safari, Chrome, Firefox, Opera both Mac and Windows versions.
The player works well on Internet Explorer 9, 10 and gracefully degrades to mini mode on earlier versions.
I have also been lucky with iOS 6, Windows Phone and Android 4.2 default browsers.
However, the earlier Android versions do not support "audio" nor "embed" elements, so the player won't work there at all.