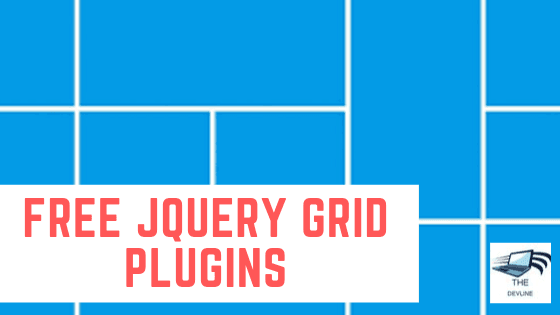 For this article, I have collected Best jQuery Grid Plugins that will let you create a grid, magazine, and Pinterest like layouts for your websites.
I hope you will find the list handy and useful for your projects.
So Let's try with this flowing Grid Plugins
---
This Blueprint is a responsive grid gallery based on the gallery by Google for the Chromebook Getting Started guide.
In this Blueprint we use Masonry for the grid and 3D transforms for navigating the items. For smaller screens, we have some example media queries that adjust the grid layout and also the gallery view.
Gridify is a lightweight jQuery plugin for creating a Pinterest-like grid with image loaded plugin.
It has support for loaded events, window resize event, dynamic item width, animation and many more.

Gridly is a jQuery plugin to enable dragging and dropping as well as resizing on a grids.

Masonry is a JavaScript grid layout library.
It works by placing elements in optimal position based on available vertical space, sort of like a mason fitting stones in a wall.
You've probably seen it in use all over the Internet.

The dynamic column grid layouts are so popular not only because it is used by Pinterest but also because it is a great way of displaying content with different sizes.
Wookmark, a Pinterest alternative, has released a jQuery plugin for creating such layouts, that work well on each browser, instantly. The plugin has very few options to set: the container element, offset (vertical/horizontal distance) and width of the items, that's all.
Once initialized, it gets the size of the window and auto-arranges the grid (yes, it is responsive).
Jui Data Grid

jui datagrid is an Ajax-enabled jQuery plugin, useful to manipulate database data in tabular format.
It has built-in pagination, sorting, editing, deleting and advanced searching.
Fully customizable, simple but powerful API, jQuery themes compatible, localization support.
Ingrid

Ingrid is an unobtrusive jQuery component that adds datagrid behaviors as column resizing, paging, sorting, row and column styling, and more to your tables.
Affiliate Disclaimer : As an Amazon Associate I earn from qualifying purchases.