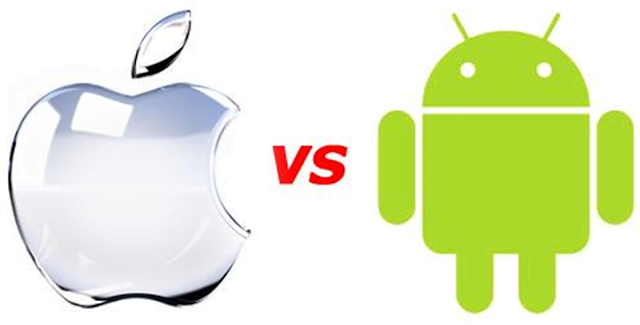 It's Android vs iOS. People have been debating this for a long time. Android users and iPhone users have been going at it since the beginning, but people can't decide which is better.
It is not easy to say which is the best phone. We will talk about Android and iOS. You might choose one or the other for a different reason, but we will compare them here.
Apple's iOS is only available on Apple's iPhone. But Android is available on many different smartphones and has many options.
Some people might find that there are benefits to having a variety of phone options, and it can be helpful to look at the pros and cons of each operating system before deciding which one you want.
Android Feature
Customization:
Android gets 5 stars when it comes to customization. One of the big things you can customize is how many user profiles there are.
You can share your device with your family and make sure they see only their stuff on the phone.
You can also put widgets on your screen that are not tied to Notification Center, unlike iOS. It is good if you want to change the way your phone looks.
Apps:
Google is the company that makes the Android phone. You can use them for many things.
One of these is to search on Google easily. Just say "Ok Google," and then ask a question. The answer will pop up on your screen!
Some apps only work on Android. There is no problem with this because most of the most popular apps work on Android and iOS.
You will still be able to play Candy Crush Saga, Clash of Clans, WhatsApp, Kik, or Angry Birds, no matter which operating system you choose.
Personal Assistance:
iOS's Siri is the best at performing tasks for you without your hands. But Google Now can do similar things. It makes predictions like, "You might want to know this."
It will help you, and it works by predicting information you may want to see based on your app activity, location, and search habits.
One problem with Google Now is that it doesn't seem as good at helping people as Siri does.
This app is still valid, but if you want an assistant like it, you should use iOS instead of Android.
Phone Specs:
Android is better than iOS because you can get it on different phones. This means that there are more options when it comes to the phone's specs.
For example, someone who doesn't want a fancy camera might be happy with how much storage space they have.
In that case, you might want a phone with more RAM instead of a phone with a higher megapixel camera.
On Android phones, people have this option. But on iPhones, they do not because it is exclusive to the iPhone.
The iPhone 11 Pro Max has a resolution of 1242×2688 pixels. The Samsung Galaxy S21 Ultra 5G has a higher resolution of 1440×3200 pixels.
On top of that, the iPhone 11 Pro Max only has a 12-megapixel camera, while the Samsung Galaxy S21 Ultra 5G is 108MP.
To get an idea of the difference between a 12 MP camera and a 108 MP camera, 108 MP is as good as what most people have on their digital cameras.
As for how big the picture will be, the average HD TV has a 1920 x 1080. The Samsung Galaxy S21 Ultra 5G has a better resolution than most peoples' TVs, and it has more RAM than the iPhone 11 Pro Max.
To get an idea of what 108 MP means, it is like most people's digital cameras. When you take a picture, the size of the image will be 1440×3200 pixels.
The Samsung Galaxy S21 Ultra 5G is better than most peoples' TVs because it has more RAM than the iPhone 11 Pro Max.
IOS Feature
Customization:
Android is better than iOS when it comes to customizing. But there are some customization features on iOS. It can arrange apps on the home screen, and widgets can be added, but they cannot be placed outside the Notification Center.
If you want to customize your iPhone, some apps are available that can help you with that.
Apps:
Many developers make apps for Apple products first and Android later. It is because it is easier to use Apple products, and so the apps come out faster.
Sometimes you can download an app for Apple phones before any app comes out for Android phones.
Android and iOS both have apps that are only for that operating system. It might seem like the Google Play Store has more free apps than the Apple App Store.
But when you consider how many apps there are overall in the Google Play Store, it makes sense.
The main difference between Android and iOS apps is that people say that Android apps don't work. They think this is because Apple is more strict about testing and monitoring the apps in their app store.
This can be good for those with an iPhone because it's common for people to get frustrated with an app if it doesn't work.
Be sure to use a VPN service. A VPN will keep you protected on the internet. It is a way to browse the internet without anyone knowing who or where you are coming from.
Hackers cannot see the data on your phone if you use a VPN. If you don't update Facebook or shop online, then they will see your data.
If you use ExpressVPN and it is compatible with iOS, no one will hack into your phone and steal your data.
Personal Assistance:
The iPhone's main appeal is the personal assistant. From finding local restaurants, sending texts, and customizing your iTunes Radio experience, she can do a lot! If you're feeling poetic today, she can read you a Haiku.
Phone Specs:
Android phones have better specs, but Apple offers the same high quality as other Apple products.
Their specs may not be the best, but they're not bad either.
It's hard to tell why, but their camera takes fantastic pictures- even though it has half as many megapixels as a Samsung Galaxy S6 Edge.
Android vs iOS – So Which Is Better?
It depends on what you want. If you like customization, then use Android. But remember that Siri won't be able to come with you. That means that your phone will not work and nothing will be helpful too.
This way, if you want, you can update Facebook or do anything else online without worries because you're safe from data scramble, and everything is ok!
Affiliate Disclaimer : As an Amazon Associate I earn from qualifying purchases.