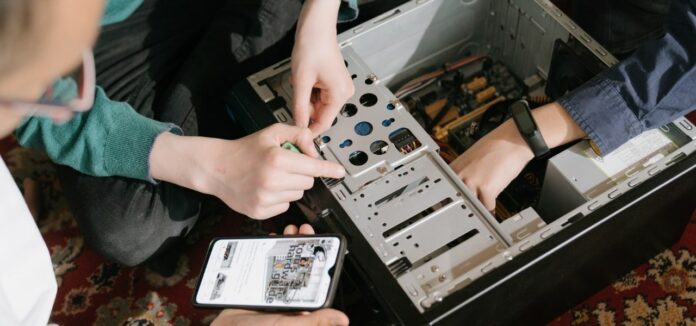 Melbourne, the capital of Victoria, is also known as the tech city of Australia. It is one of the biggest contributors to the state's technological advancement. You can find many tech companies and start-ups in the city.
A survey showed that an IT professional in Australia earns an average of $98,226 a year.
The city produces many digital games, online stores, and tops digital marketing services. It has also hosted many gaming expos and has attracted many young talents, and they are tremendously developing the IT industry.
The need for a good tech service provider is high every time, and a shop for computer repairs in Melbourne is not that easy to find. You may find many repair shops and freelancers, but a trusted and genuine service provider is hard to find these days.
Being a tech hub, Melbourne has many who rely on computers for doing their jobs. And with heavy usage comes many problems.
Before, people rushed from home to the office, and now everyone is working from home and managing chores at the same time. This situation can fuel low maintenance of computers, and it slowly affects the performance, and later, freezing problems occur frequently.
So, while looking for computer repair service professionals, you need to keep these five points in mind:
Check Their Website and Credentials
The first thing you need to know about the repair service is their whereabouts and credentials. Check their website and contact them through the contact details provided in it.
Analyse their certification and policies and if they seem to be good, ask if they provide periodic computer maintenance services to keep your PC up to date and smoothly running.
Compare the Fees/Charges
A genuine service provider will only charge reasonably for their services. The charges will usually be similar to the market standards.
But if they charge more than the standard fee, always consult with some experts you trust before you avail of their services.
Reach Them Through Your Trusted Contacts
It is always safe to consider someone your friends or relatives are familiar with. They will only suggest to you the repair professionals they are satisfied with. This way, you'll be able to know about their working style and their fees in advance.
Contact the Nearby Technician
Technicians near your area are always a better choice than big companies, which usually hire freshers or rookies at a low budget. But, again, consulting a technician near you makes it easy for you to meet them in person if there's an emergency.
Check Out the Reviews
Always check the online reviews of the shop/technician you would like to contact for PC repair. You will be able to find the reviews on their website or on other trustworthy forums and queries. 
There might be some negative reviews about every company/professional's services, but too many negative reviews are a sign that you need to walk away from them. 
Finding experts who offer computer repairs in Melbourne is tough, but you can find a  good technician by following these points.
Likewise, always remember to prioritise the quality of service over their charge and stay away from those who promise quick solutions for every PC problem. Remember, going cheap on computer repairs will only cost you a lot more in the long run.
Conclusion
When you need computer repair services, it's imperative that the technician be qualified and experienced. The right person for the job will have an expert understanding of how a computer works, as well as what might go wrong with one.
You'll also want to make sure they're using top-of-the-line parts when repairing your machine; if not, this can lead to future problems down the line.
Affiliate Disclaimer : As an Amazon Associate I earn from qualifying purchases.